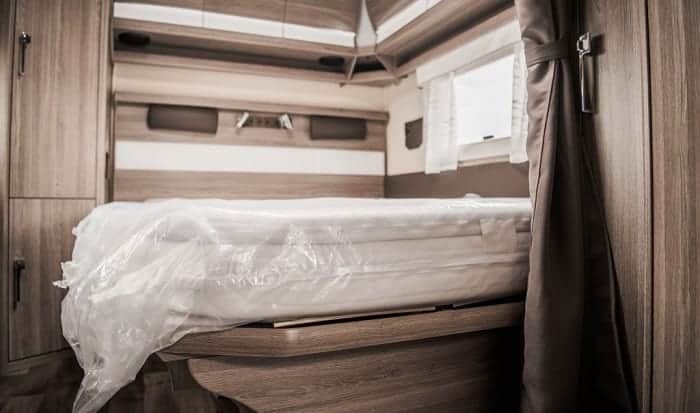 Are you planning to hit the roads this summer in your RV? Or is the lack of a bed that's stopping you from heading out for an adventure? Looking up the perfect RV bed can be stressful, especially for the first-timers who are yet to figure out how different RV mattresses are from regular mattresses. So, we have compiled the following piece to answer your questions about RV queen mattress vs. regular queen mattress for your comfort, on-the-go!
RV Queen Mattress vs. Regular Queen Mattress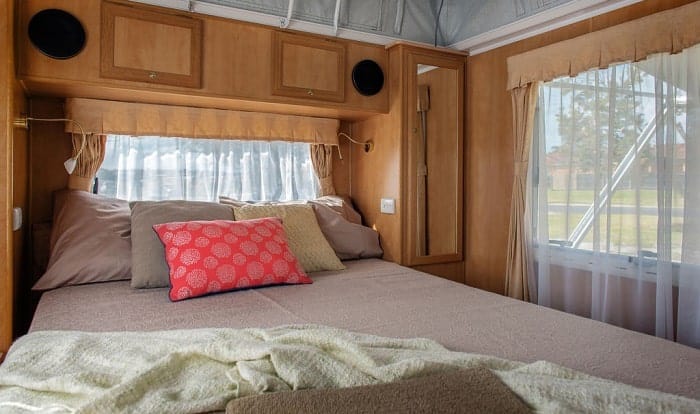 A well-made RV bed can be the most comfortable addition to your RV. Investing in one can save you a fortune on spending the nights at motels and hotels. Do you know that you cannot drag along your regular queen-sized mattress to fit the bed? You will need to purchase a separate mattress for your RV trip. Or at least you should have an RV sofa bed.
On the one hand, you can have dense and heavy mattresses offering comfort in your bedroom. On the other hand, you should restrict yourself to opt for light and thinner mattresses for your RV to reduce the load. The good news is, RV mattresses are designed to be just the perfect amount of weight lightweight enough for your axles and perfectly dense to support your body weight.
Overall, RV mattresses tend to be shorter and can be customized to be leaner to ensure space optimization. Also, flexibility is another advantage of utilizing a mattress specially designed for RVs since you might have to move it every now and then.
Is It Okay to Use a Regular Mattress In an RV?
Honestly, no. In fact, we can understand that it can be quite an investment to buy an additional mattress for your RV. However, we should stop you immediately if you are planning to it is not ideal to load your regular mattress on the RV bed.
For starters, the regular mattresses tend to be more relaxed in terms of dimensions. Created with strict space-optimization, they might not sit well in your RV. Even if your regular mattress is well-fitted perfect for the vehicle, there are good chances that it is much heavier in terms of size. Now, you would not want your vehicle to carry such a burden while you are on the road for days, would you?
Moreover, RV mattresses are light to lift and flexible enough to be moved around. In case you have the mechanics of RV under the bed, you can easily stand the mattress vertically, run your checks, and put it back in place. These are some tasks that a regular mattress renders impossible when on the road.
What Makes an Ideal RV Mattress?
If you are planning to go RV mattress shopping soon, here are some tips suggested.
Budget: Make sure that you decide upon a budget before you begin looking up mattresses for your RV. Although they tend to be cheaper than regular mattresses, the price range varies and can go way up.
Type of RV: If you have larger RVs with fifth-wheels trailers or Class sized vehicles with separate sleeping quarters, you can opt for smaller versions of queen-size mattresses. Then again, for the smaller motorhomes toppers are the best options to invest in.
Dimensions of the RV: There is no rocket science in figuring out that your mattress should fit the dedicated bed area. So, spend some time in measuring the van first.
Thickness and density: The thicker the mattress, the heavier it is. Hence, you should look for the most comfortable options in a lighter weight.
Temperature Sensitivity: You should choose the mattress according to the climate you experience. As memory foam tends to trap body heat and gets warm, you can go for a gel foam layer on top.
Pressure Relief: Adventures can be tiring and you need a mattress to support your sore hips, back, and neck when you are back from hiking and trekking. So, your mattress should have a pressure relief layer too.
What You Need Is an RV Queen?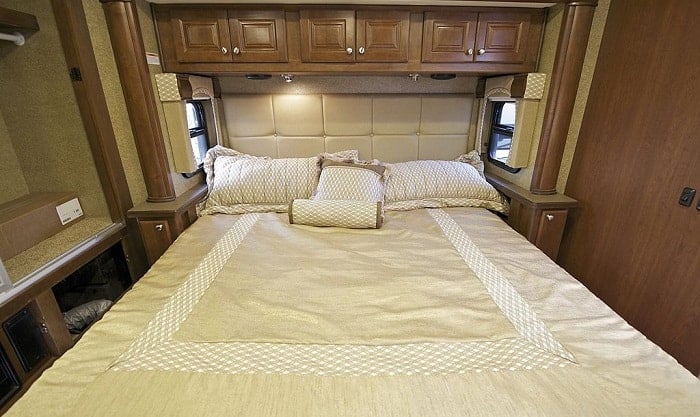 The queen-sized mattresses you employ at home measure 60x80x11 inches in general, which can be quite large for RVs. Therefore, manufacturers make smaller mattresses called RV queens shorter by a few inches (60x75x11) to fit the limited space. 'RV queen' is the term used to refer to the mattresses specially designed to be shorter and fit RVs.
Top RV Mattresses to Buy
Here are our top picks on the RV queens you must check out.
1. Mobile InnerSpace Truck Sleep Mattress
If you are looking for a comfortable, affordable, and practical solution for all your RV bed requirements, this 28*73*4 inch mattress is perfect. We can understand that it sounds like a kids' mattress and certainly not a queen. However, it will fit perfectly in your small truck without taking up much space.
Apart from increased space in the vehicle, you will get a good night's sleep on the high-density polyurethane foam. The superior compression makes it light and flexible, allowing you to move it around. Plus, it can support you for a 30-day long trip without any hassle whatsoever.
2. 10 Inch Deluxe Memory Foam Mattress for Trailers by Zinus
Another RV queen in town is the incredibly light and maneuverable memory foam mattress by Zinus. It is the perfect option to have something to support your back as it stands 10 inches wide. This plush foam will conform to your body shape, and the Pressure Relieving Comfort Foam on the top will create an extra layer of depth, allowing you to sleep like you're on clouds.
Plus, it uses BioFoam, saving you from the foul smell of petroleum-based foam if you had to keep the van closed all day. You can install a longer mattress version that is also available online if you require more legroom and have space for it.
3. The 4-inch Tri-fold RV Queen by Best Price Mattress
If you are looking for a mattress that can be stacked up during the day to create space in the RV and can serve as a fully-fledged bed at night, then the Tri-fold RV Queen from Best Price Mattress is the one for you. It is light, layered, affordable, and has perfect dimensions (74*60*4 inches) for your RV.
Apart from being layered with the CertiPU materials for your comfort this is the most functional RV mattress. You can stack up the mattress by folding its length into 3, reducing it to just 24.6 inches. Now, you can go about your day without a mattress blocking your space.
The mattress also comes with a poly-Jacquard cover, which can be zipped around the mattress when required and washed in a washing machine after a trip. So, you do not have to worry about the spills as they are less likely to reach your expensive memory foam layers.
4. New Cool Breeze Mattress by Dynasty Mattress
Dynasty Mattress is famous for its uber-comfortable mattresses designed concerning rising high temperatures in an RV. Therefore, the Cool Breeze mattress has 3 inches of gel mattress and 9 inches of state-of-the-art airflow foam layer to allow you a breezy sleep even on the hotter nights.
The high-quality, layered construction of the mattress is bound to last you a good two years. If you do not feel satisfied with the mattress, you can return it within 120 days of purchase, with no questions asked. The company's confidence on their mattress is pretty strong and is reflected well through the 30 years of Limited Warranty they offer on the mattress.
While some RV queens can be heavier than others, you can always optimize the weight by doing away with the bed frame altogether. The 10 to 12-inch foam mattresses come with a customized and washable cover, allowing you to use them as beds in your RV.
Final Thoughts
In the end, your regular mattresses cannot be used as RV mattresses as they are too heavy for your wheels and axel to carry. Instead, you should
Invest in an RV Queen mattress that fits your budget
Make sure it is comfortable and long-lasting.
Check the warranty offered by the manufacturer.
Ensure the material used is suitable for the climate your region experiences
Opt for the mattresses with machine-washable covers for easy maintenance.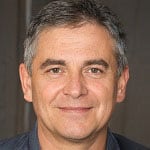 Hi, I am Tom Hank, an RV-er since 2014. Back then, I started without much help. As you can imagine, the struggles are endless. But now, you do not have to begin your adventures knowing next to nothing about RV lives.