Travel season is coming to an end as RVers have to park their vehicles for the winter. In some cases, you can't winterize your RV with a dedicated product. With that in mind, how to winterize RV without antifreeze?
Take note that it's possible to winterize your motorhome or travel trailer without a store-bought antifreeze solution. But you need to gather the necessary tools, such as an air compressor and blow-out adapter.
Then, you need to follow a series of steps like flushing wastewater out of your vehicle's tanks and pumping compressed air into those empty containers.
You should continue reading to know the details of winterizing RV without antifreeze to avoid mistakes.
What You'll Need
In many cases, maintaining a travel trailer is as easy as using a few on-hand tools. The same can be said when you want to winterize a travel trailer without antifreeze.
Here are the things you'll need for this task:
Standard Tool Kit
You can purchase a basic tool kit from a reliable hardware store. Another option is to assemble an RV tool kit.
The things you'll need to build a standard tool kit are:
Screwdrivers
Hammer
Tape measure
Pliers
Utility knives (with extra blades)
Wrenches
Level
Flashlight
File
Additionally, don't forget to add some safety gear to your RV's basic tool kit. Things like safety glasses and gloves will help prevent injuries during most motorhome maintenance operations.
Air Compressor
Take note that the air compressor is the most important piece of equipment to winterize a camper without antifreeze. This machine will help remove wastewater from your RV to winterize the vehicle properly.
If you don't own an air compressor, you can rent one from a trustworthy establishment. However, keep in mind that you might be needing the device throughout the winter frequently.
Therefore, consider investing in a dependable air compressor. That way, you won't have to worry about expensive rental fees piling up.
Water Hose
You'll need this component to connect your wastewater tanks to the air compressor.
Take note that the hose should only connect to your wastewater tanks. Connecting it to other pieces of equipment can increase the risk of cross-contamination and many health issues.
If you don't have a water hose, you can purchase it from a nearby hardware store or an online shop. You can also borrow the equipment from another RVer. But make sure that the RV owner only used the hose to empty wastewater.
How to Winterize RV without Antifreeze

Step-by-Step Instructions
After acquiring the necessary equipment for the task, you can now proceed to winterize RV with air compressor. Take the time with each step. Rushing this operation can increase the risks of costly errors.
Step 1: Remove Wastewater From the Tank
Park your RV near a wastewater dump station. Then, connect your wastewater tanks to the dump area using the water hose. If you're having trouble figuring out which component can form a connection, many dump stations have marked areas to help RVers with this procedure.
Once everything is connected, remove the wastewater from the black water tank first. It's because this tank connects to the toilet. After that, connect the gray water tank to the dump station and remove the wastewater from that container.
Step 2: Let the Water Flow Out
After removing the wastewater, it's now time to take out the water from your RV's pipes. Do this step by finding the petcock, which is your vehicle's main water drain. Many motorhomes and trailers have this feature underneath the vehicles.
Remove the petcock using an appropriately sized wrench from your toolbox. Then, let the water flow out normally. But ensure that the trailer is leaning towards the direction of the petcock. That way, the water drains faster than normal.
You can make this step even faster than intended if you open the trailer's faucets and shower. Flush your toilet a few times as it'll also help remove the water from your vehicle's pipes.
Step 3: Connect the Air Compressor
The last step is to connect the air hose of the compressor to the water inlet of your trailer to prevent the air pressure from getting too strong. Also, don't reattach the petcock yet. Instead, use some Teflon tape on the opening to create a good seal before replacing the petcock.
Turn on the compressor and pump air into the system at 30-second intervals and 30-50 PSI. In turn, it'll help prevent the overstressing of the pipes, which can cause problems when they're exposed to the cold.
Turn off the air compressor when you see no water from the drain. The faucet, shower, and the toilet's inlet valve should also be closed.
Conclusion
Did you enjoy this guide on how to winterize RV without antifreeze? If so, don't forget to leave your thoughts and experiences in the comment section. You can also share this article so other RVers will know how to do this process.
Remember, gather the necessary pieces of equipment first before attempting to winterize your motorhome or travel trailer without an antifreeze solution. Also, practice patience in doing the steps to avoid costly mistakes.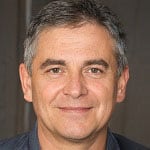 Hi, I am Tom Hank, an RV-er since 2014. Back then, I started without much help. As you can imagine, the struggles are endless. But now, you do not have to begin your adventures knowing next to nothing about RV lives.