If it is the first winter season of your brand new RV, it is most likely the first time for you to winterize a vehicle. In such a case, note that one of the most important things that you will need to invest in is the best RV antifreeze.
The antifreeze will keep your RV in tip-top shape and prevent severe damages caused by the harsh winter months, especially the plumbing system.
If you do not winterize your plumbing correctly by completely emptying the pipes, the water left inside will freeze and expand. It will cause the pipes to crack and possibly even burst.
Through our materials in this article, you can know much about how to find the best antifreeze for your RV, effectively do its job, and protect your RV even in sub-zero weather.
Best RV Antifreeze Reviews
1. RecPro RV Antifreeze Winter-Pruf
The RecPro RV Antifreeze Winter-Pruf truly leaves a good impression on users with its GRAS (Generally Regarded as Safe)certification from USDA. It proves to be exponentially different compared to the highly toxic antifreeze products. In other words, this product made by RecPro is an entirely safe and non-toxic RV antifreeze.
Another good thing about this product is that it is highly versatile. Aside from serving as an effective winterizing agent, this product also helps prolong your RV's piping systems. It also helps lubricate the rubber seals and gaskets in the water pump, making it function more efficiently.
Furthermore, the RecPro antifreeze RV contains additives that prevent rust and other corrosion forms from happening in the metal components of your piping system. It not only significantly extends the service lifespan of the steel, copper, plastic, or brass pipes, but also maintains their safety. You can be sure that you will not be drinking rust-laced water when you use this product.
This antifreeze is also very convenient to use because it is already pre-diluted. You can pour it directly into your RV's freshwater storage tank. Plus, this product comes with detailed yet easy to understand instructions. You do not need to be an automotive expert to understand and follow the directions provided.
Still, this product is not that brightly colored. This issue makes finding leaks using this method a bit more complicated. However, it does not take away anything from the effectiveness of the product itself.
What We Like
Non-toxic and safe for use
Highly versatile as you can use it in different applications
Can lubricate rubber seals
Prevents PVC pipes from drying out and getting brittle
Comes with anti-corrosion additives
Helps extend the service lifespan of the pipes and other fittings
What We Don't Like
A bit challenging to see the leaks with its dark color
This low-priced RV antifreeze comes in a pack of four 1-gallon jugs, so you will have enough to winterize your RV regardless of how big it is.
2. STAR BRITE Non-Toxic Anti-Freeze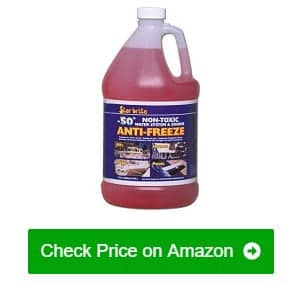 I am happy to say that this product from STAR BRITE is not just an antifreeze but also works as an excellent lubricant for the freshwater pump.
The use of this antifreeze to winterize the pipe system of your RV will, therefore, have the added benefit of lubricating the water pump and extending its usable lifespan.
Notably, the new formulation used by Star Bright is completely non-toxic. Hence, you can safely use it for the freshwater system of your RV because it is entirely safe to ingest. If you accidentally spill some, you can be sure that animals will not be harmed when accidentally drinking it in the water later.
This product is also very versatile, as it is not just for winterizing your RV. You can also use this product to protect your swimming pools, water heater, and even the plumbing of your house (that is if you will be leaving for a couple of weeks for the holidays).
If you do not use the leftover antifreeze, you need to store it properly and use it for next year. It is because it takes a long time for it to go bad.
Another neat feature of the StarBrite antifreeze is that it also contains anti-corrosive additives that prevent the metal parts of the piping system from rusting and corrosion.
Moreover, it prevents PVC pipes from drying up and getting brittle, which usually happens when you leave them completely dry and empty. This product essentially also helps keep your plumbing system on tip-top shape.
The only problem this antifreeze has is that it does not reach up to the advertised -50 degrees F. It starts turning into slush at around -20 degrees in my freezer, though, I think that it might be different when it is in the piping system, and the outside temperature is much colder.
What We Like
Can be used in RVs, swimming pools, and many more
Has corrosion inhibitors that protect the pipes and other metal components
Completely non-toxic and safe for the environment and animals
Effectively protects the pipes against bursting
Ideal for use on all pipe materials
What We Don't Like
Starts turning to slush at just -20 degrees F
If you are thinking of winterizing, not just your RV but also other pipes in your home, this product from STAR BRITE is the perfect solution.
3. Camco Mfg. 30757 RV Antifreeze
What most users like about the Camco RV antifreeze is that it is completely odorless and tasteless. Compared to other antifreeze products that I have used that smell, I find this one most ideal.
You do not have to worry if your pet drinks some of this substance since it is made non-toxic. Furthermore, this antifreeze works as advertised. It has a low freezing point, although it does turn slightly into slush at around -20 degrees F.
Thankfully, it does not freeze solid and expand quite as much as water does. This antifreeze also protects against pipe bursts when the temperature reaches -50 degrees F.
This product is also very convenient to use. First of all, it is ready-to-use. It means that we do not need to dilute the stuff in the water. Just take off the cap and pour the substance into the water tank of the RV.
Secondly, the product comes with detailed instructions right on the label. It shows how much of this antifreeze you need to use, depending on your RV size. It also teaches you where else to pour the antifreeze into. If it is your first time to winterize your RV, you will not have any trouble following the instructions.
It would be better if this product's package – the plastic gallon bottles are made more durable to preserve the inner substance longer.
What We Like
Completely odorless and tasteless
Non-toxic and is harmless to the environment
Effectively prevents pipes from bursting in freezing weather
Easy to use – Pour it straight out of the bottle.
Comes with detailed and easy to understand instructions
What We Don't Like
The should be a bit sturdier
Despite the flimsy plastic bottle packaging, the contents are still very effective at what they are supposed to do, and that is what truly matters.
4. PEAK RV & Marine Antifreeze
Another product that receives GRAS approval by the US Food and Drug Administration is the PEAK RV & Marine Antifreeze. Since this substance is made free of toxins, you can rest assured that using it does not harm your health. Hence, it is perfectly safe to use on the freshwater pipes of your RV.
Buyers can rely on this Peak RV and marine antifreeze to deliver on its promises. The product is guaranteed to protect your freshwater and wastewater pipes from broken during icy winter days. It can withstand freezing to -50 degrees F, which is almost Antarctic weather conditions.
Aside from winterizing your RV's pipes, it can help lubricate the components of the freshwater pump. Unlike other mechanical components of your RV, the water pump should not be lubricated using petroleum-based lubricants for apparent reasons. It helps by keeping the rubber seals and gaskets moisturized and flexible, preventing them from drying out and cracking.
Furthermore, corrosion is no longer the problem for most RV owners when they use this freezer. It contains anti-corrosion additives that prevent rust from forming on steel pipes. Also, the product helps prevent corrosion on brass and copper pipes as well.
Apart from that, the antifreeze keeps PVC pipes from drying up and getting brittle, which is also perfect for household applications.
However, this product will not fix any leaks in your pipes.
What We Like
Non-toxic and safe for the environment
Pet and wildlife-friendly formulation
Keeps the internal parts of the water pump running smoothly
Comes with rust and corrosion protection
Various applications
In conclusion, this affordable product can be a good choice for the upcoming winter to keep the pipes safe and sound.
5. Century Chemical TF-1 Heat Transfer Fluid
The Century Chemical TF-1 Heat Transfer Fluid is not just an ideal antifreeze for your RV in winter. You can also use it as your engine coolant, which is known as heat transfer fluid.
In detail, this product performs excellent at the opposite extremes of the thermometer. As an engine coolant, you can rely on it to efficiently draw out the heat from the engine, and thus cool it down considerably.
It has a very high boiling point and a low coefficient of heat expansion. That means we don't have to worry about overheating and the radiator bursting from the steam.
On the other end of the temperature spectrum, this product also works quite well as an antifreeze. It only starts to show signs of getting frozen right at -34 degrees F but will turn hazy at the -50 degrees F mark. This antifreeze will only freeze when exposed to -100 degrees F cold, which is an impressive level compared to other antifreeze liquid.
Another reason I like this product is that it is ready to use straight from the bottle. There is no need to dilute the product before putting it in your freshwater pipes.
This product also has anti-corrosion additives, so you are conditioning the pipes, keeping them protected against different kinds of corrosion, like rust. It also helps keep PVC pipes safe by keeping them moisturized and preventing them from drying out.
If your RV uses PVC pipes for its plumbing, you will not need to worry about them drying up and cracking in extreme cold.
However, this product might cost you a little more than the usual antifreeze due to its excellent efficacy.
What We Like
Serves multiple functions
A good antifreeze and efficient engine coolant.
A high boiling point
Does not expand much when freezing
Has a low freezing point at -100 degrees F
Comes with corrosion preventing additives
Keep PVC pipes and rubber seals and gaskets moisturized and strong
Overall, this product comes highly recommended by any seasoned RV owner and traveler alike, so it is undoubtedly worthwhile to check out.
6. Camco 36190 RV Winter Readiness Kit
The best thing about this Camco 36190 RV Winter Readiness Kit is that you essentially get all the things you need to winterize your RV completely.
You do not need to purchase the necessary items separately. You can get all of them in just one package. The best part is that you will save money by buying the entire kit and getting quality items to boot.
One of the things that many people forget to get when winterizing their RVs is a good dehumidifier. Notably, this kit comes with a large dehumidifier that can help draw the moisture out in the air inside the RV. It means you will not be dealing with the moldy smell that you usually get after the winter season when you first walk into your RV again.
Other neat items that come in this kit include an odor eliminating bag that you hang inside your empty RV fridge. It can help draw out the moisture inside the refrigerator and also keep it smelling fresh.
Also, you will benefit from using the hand pump provided in the set. It helped make the entire winterizing process go about much quicker than usual while letting the antifreeze reach deep within the piping system.
It was also nice that all of these things come packaged in a large plastic bucket. Aside from the fact that it helps contain all ten pieces of the kit, it is also useful when it comes time to drain the antifreeze. This bucket can carry the used antifreeze and make it easier to dispose of later.
The fact that it has a tight closing lid is also a significant advantage as you can be sure that little kids and/or your pets will not be able to get to the contents accidentally.
The only thing that I wish would have been better is that it only came with a gallon of antifreeze. It is usually enough for a trailer or a smaller RV, but I have a larger RV and needed twice that amount.
What We Like
Comes with all of the items you will need for winterizing your RV
Features deodorizing items to keep your RV fresh
Includes a nifty hand pump for easier application of antifreeze
Includes a handy bucket to dispose of it properly
Provide adequate burst protection
What We Don't Like
Does not contain enough antifreeze for large RVs
I think it is a complete winterizing kit for an RV that makes this product more than worth your time and money.
7. SPLASH 619526 Automotive Accessories
One of the reasons why I also highly recommend using Splash premium antifreeze is that it has a very high freezing point. Unlike other antifreeze products out there, this one can protect against burst pipes for up to -75 degrees Fahrenheit.
It is incredible to find out that this antifreeze is mostly made of organic, plant-derived materials. As such, this product is completely biodegradable, unlike the older formulations of antifreeze wherein they pose a hazard to the natural groundwater. However, it does not mean that you can dump the used antifreeze into the storm drain or the ground. You should still be responsible with RV antifreeze disposal. Do not just dump it all down into the drain or the ground.
Apart from that, this product is completely non-toxic. With the Splash antifreeze, you need not worry that you will accidentally poison your beloved pets.
I also like how convenient it is to use this product since diluting it with water is unnecessary. Please note that you will only need one gallon for a small RV or a fifth wheel. If you have a class B vehicle, then you will need two.
This product is also very versatile. You can use it to winterize your pool. Also, because it is non-toxic, you can use it to winterize the pipes in your home.
The only thing that I did not like about this antifreeze is that it is a bit more viscous than some other products. It means that flushing it out after the winter season is a bit more complicated. Doing so also uses up a bit more water than usual.
What We Like
Can protect against bursting up to -75 degrees Fahrenheit
Proven to be convenient to use
Made of biodegradable materials, making it easy to dispose of
Non-toxic, making it safe for accidental ingestion and marine life
One gallon is enough to winterize a small travel trailer.
What We Don't Like
A bit more viscous than other antifreeze products
This effective antifreeze gains lots of compliments from users. Save yourself from thousands of plumbing repairs come springtime by using this antifreeze.
8. Sanco Industries Antifreeze Solution
This product is not a true commercial propylene glycol RV antifreeze. Still, since propylene glycol is the main ingredient of most antifreeze, you can use it to make homemade antifreeze solutions.
Suppose you are familiar with how to mix the right proportions of RV antifreeze ingredients and other additives. You can save a lot of money on propylene glycol-based antifreeze, whether it is for the engine or the plumbing of your RV.
It is also completely non-toxic. Many products use it – one of the most popular is vape juice. If you are an avid vaper, you can use it to make your juice and save hundreds of dollars.
This propylene glycol is food-grade. You can also use it in other foodstuffs. In most cases, you can use it as a preservative to extend the shelf life of certain foods.
Aside from antifreeze, you can also use propylene glycol for making various other products, like soaps, shampoos, and the like. This product contains absolutely no trace of alcohol, making it safe for the skin. It will not also cause the skin to dry out. If you are an entrepreneur with a small soap making or candle making business that you run from home, you will find many uses for it.
The best thing about this particular propylene glycol is that it is certified by the United States Pharmacopeia (UPS), which is proof that it is safe for human consumption.
Beyond that, you should know that this product is sold at a higher price than many types of antifreeze in the market.
What We Like
Ideal for use on many different products
Food-grade and safe for consumption.
Useful for making homemade antifreeze
Can be used for a cigar humidor, engine coolant, and the like
Helps save money in the long run
All in all, this is a worthwhile investment for a versatile and safe product that comes in handy when we need to get our RV ready for the winter.
9. Camco 30054 Pool Antifreeze
Although advertised as a pool antifreeze, this Camco RV antifreeze can also be used in other plumbing systems.
It is also available in most home depot, Walmart near me, so it is pretty easy to find. One of the things I genuinely love about this product is that it can protect your system up to -100 degrees Fahrenheit. When this product is used at full strength, meaning no dilution whatsoever, it can withstand extreme cold weather.
It means that even if your entire RV got buried under ten feet of snow, you could be sure that the plumbing will survive unscathed.
Also, we all need to use antifreeze brands that are non-toxic and cause no harm to the environment. Hence, purchasing this one is an excellent decision. Not only is this product completely non-toxic, but it is also readily biodegradable. However, please be responsible and drop it off at the correct disposal agent.
I am also pleased that we can use it on all kinds of plumbing systems. It contains additives that prevent rust and corrosion in steel, iron, aluminum, copper and brass pipes. It is also ideal for use in PVC plumbing. It prevents the plastic from drying up too much and getting brittle during the wintertime.
When using it as an antifreeze for your RV, you should dilute it to the right concentration for your intended purpose. We also get a handy and easy to understand dilution chart to know how much water to add to the concentrated antifreeze. Also, because it is non-toxic, it is perfectly safe to use in the freshwater plumbing of your RV.
I only have one little issue, though, and that is you cannot use it as a coolant for your radiator. It uses propylene glycol, which turns into a sticky sludge when heated. Although it is excellent for winterizing pipes, it does not have an extensive working temperature range.
What We Like
Has a wide range of winterizing uses
Can protect pipes from bursting up to -100 degrees Fahrenheit
Comes with detailed dilution instructions
Can set amounts for different plumbing systems
Contains anti-corrosion additives
Non-toxic and readily biodegradable
What We Don't Like
Cannot be used as engine coolant
If you are looking for an honest-to-goodness antifreeze that goes well beyond the usual expectations, this product is for you.
10. Chemworld Boiler Antifreeze
Although the Camco RV antifreeze concentration is not as convenient to use as pre-diluted, this product has a distinct advantage: you have control over the slush and freeze protection.
If it does not get all that cold during the winter in your area, there is no need to use a pre-diluted antifreeze to protect up to -100 degrees F. You can just get a Chemworld boiler antifreeze and dilute it to just the right consistency for your needs.
Furthermore, other than pure propylene glycol, this liquid also contains anti-corrosive additives. Hence, it can protect the RV plumbing from bursting from the extreme cold, and also prevents the formation of rust and other kinds of corrosion on metal pipes.
Remarkably, it also helps condition and strengthens PVC pipes. Using a liquid antifreeze is better than completely drying the plumbing because it will cause PVC pipes to dry up and become brittle.
Because it mostly consists of propylene glycol, it means that this antifreeze is completely non-toxic and safe for pets and other animals in case of accidental ingestion. Another reason why most users love this product is that it is eco-friendly since it is readily biodegradable.
On the other hand, since this product contains mostly propylene glycol, you cannot use it as an engine coolant.
What We Like
Offers control over the temperature protection provided by the antifreeze
Contains anti-corrosion additives to prevent rust and corrosion
Moisturizes and conditions PVC pipes to prevent brittle
Completely pet and wildlife safe
Contains non-toxic and food-grade ingredients
Readily biodegradable as it will not harm the environment
What We Don't Like
Cannot be used as radiator coolant
Although you cannot use it as an engine coolant, or even for winterizing the radiator system of the RV, it is still a good investment as it will effectively protect your plumbing from bursting even in the harshest of winters.
Best RV Antifreezes Buying Guide
You will discover that hundreds of different RV antifreeze brands are out in the market today, so choosing just one to use on your RV can be challenging. This article will help make this decision easier by providing you with a simple guide that includes all of the important things you need to look for.
With that, you will not end up spending thousands of dollars on RV repairs because you chose the wrong one to use.
Cost vs. your Budget – Of all the things that you can cheap out on, RV antifreeze should not be one of them. Anyway, you do not have to worry too much as the price of antifreeze is not that high, but you should expect to spend around a hundred dollars to thoroughly and properly winterize your RV. You will be paying more if you own a larger sized RV.
Note that some retailers will give a considerable discount for customers who buy RV antifreeze bulk (more than five gallons usually). Five gallons is usually more than enough for a large RV. If you are thinking about whether RV antifreeze goes bad, note that it usually takes a couple of years to store any leftovers.
Diluted and Concentrated – This decision will come down to the level of convenience that you are looking for, and the size of your budget. If you want something that you can directly pour into the plumbing, choose to use the pre-diluted antifreeze. This product is more convenient as those already come ready to use right out of the bottle.
However, these are considerably more expensive than the concentrated variety. Speaking of concentrated antifreeze, it is significantly more affordable than pre-diluted, but you have to dilute it yourself until it reaches the right level. It will require quite a bit of skill with measuring volumes and a solid grasp on proportions.
It will take some time to use, but if you know what you are doing, you will save quite a lot of money. You can come up with your proportions that will protect against bursting based on the lowest temperature recorded in your area, meaning you do not have to use quite as much antifreeze.
Formulation – The RV antifreeze formulation is one of the major things that you need to consider. You need to carefully read the label of the packaging, not just the front one. You have to check out the actual contents of the antifreeze, too.
First of all, do not purchase antifreeze that contains phosphates. This substance will cause chemical deposits in the pipes, leading to rust and corrosion later on. Also, use the modern formulation of antifreeze as the old formulas are not that great for the environment.
Those are caustic and highly toxic, so it is a good thing that there are not that many RV antifreeze brands that still use the old antifreeze formula. However, take note that they are still out there, so do your best to avoid them.
It is essential because you will spill a bit of the antifreeze in the winterizing process, and later when you will be flushing it out again. With that in mind, it would be better for the environment and animals that might potentially get poisoned to use modern, eco-friendly antifreeze.
Temperature Rating – Probably the most crucial factor that you need to take into consideration regarding antifreeze is the product's temperature rating. It is the absolute lowest temperature that will cause the antifreeze to turn into slush and consequently freeze solid.
You will need to factor in the lowest recorded temperatures in your area, or where you will be parking the RV for winter. If winters rarely go down double digits below zero in your area, you will only be wasting money on antifreeze rated for -50 degrees F. Just get one that is nearer to the winter climates in your area.
The rule of thumb here is to take the lowest recorded temperature and add another -20 degrees F to it. The result is the ideal antifreeze temperature rating for you.
Versatility – Ideally, the antifreeze that you should buy can also be used in other applications, not just for your RV. It will be great when you still have enough left over to winterize your pool, boat, and maybe even your summer vacation homes.
How Many Types of Antifreeze for RV Are There?
When searching for the best Antifreeze you can use for your vehicle, take note of the two common variations of it, namely:
Inorganic Acid Technology (IAT) – This type is the first and original formulation of Antifreeze, which is surprisingly still sold today, considering that cars manufactured after the 1990's no longer use this type of Antifreeze. One of the reasons why this product was phased out is that they contain silicates and phosphates.
This product is both toxic and harmful to the environment. It is highly recommended that you do not use this type of Antifreeze. Aside from being detrimental to the environment, the phosphates will also cause your pipes to rust quickly.
Organic Acid Technology (OAT) – Because this formulation of Antifreeze does not contain either phosphates or silicates, it is already a more environmentally friendly option compared to the first choice. However, even though it is not toxic, it still contains other chemicals that serve as corrosion inhibitors to protect the metal pipes.
If you have a lot of household pets, you need to dispose of it properly and make sure that none of it spills onto your driveway. This orange liquid smells and tastes quite sweet, so your pets might be compelled to drink it, and they will fall dead later.
How Do RV Antifreeze Work?
In terms of winterizing purposes, an antifreeze works by taking the water in the pipes of your RV so that when sub-zero weather conditions come, you can be sure that they will not burst. If you leave water inside the pipes and freeze during the extreme cold weather, the water will freeze.
Because of the unique property of water wherein it freezes into ice, it will expand and increase in volume and cause the pipe containing it to rupture. Antifreeze replaces the water in the RV pipes, and because it has an exponentially low freezing point, it will not freeze or turn into slush or turn into solid ice.
It eliminates any possibility of burst pipes. Moreover, using Antifreeze is much more convenient than the alternative. It is completely draining the pipes and waiting for them to dry up completely. If you are aiming for something breezy and convenient to use, you need to use Antifreeze for winterizing your RV.
What is Different About RV Antifreeze?
Is the Antifreeze that you use for your radiator the same as the one used for winterizing your RV? Technically, yes, it is the same product. However, you need to make sure when using the Antifreeze for winterizing your RV that it needs to be non-toxic. It is because you will be using it in the pipes that also carry your drinking water.
When you have to dispose of the used Antifreeze, and accidentally spill some, there is no risk of your pets getting poisoned or any harm to the environment.
Another thing that is different about RV antifreeze and the one used as a coolant for radiators is that the ones used for RVs need to be diluted in water. The coolant used for the radiator needs to be a bit more concentrated because it will be protecting components that are more fragile than water pipes.
Is It Safe to Drink Antifreeze?
First of all, if you accidentally ingest a small Antifreeze (the modern non-toxic formulation), you should be fine. However, the keyword there is a small amount. It is because if you drink a whole bottle of the stuff, there is no guarantee that you will come out of it unscathed.
Is RV antifreeze safe to drink? Please avoid drinking it since the chances of you getting severe diarrhea for the next couple of days are very likely.
Will Antifreeze Hurt Animals?
In the past, properly disposing of used Antifreeze was taken seriously. Back then, Antifreeze contained toxic chemicals like phosphates and silicates that can quickly kill small animals that would accidentally ingest them.
However, modern formulation antifreeze no longer contains harmful chemicals. Even if you accidentally spill any of it on the ground during disposal, there is no chance that animals would also get sick from ingesting it.
It does not mean that you should not dispose of used Antifreeze irresponsibly. You still need to dispose of it as you would any toxic material. Never think of throwing it into the sewer system.
Can I Dilute RV Antifreeze?
If you buy the concentrated kind of RV antifreeze, you need to dilute it in some water. The exact amount will depend on the brand, so check out the instructions on the container. On the other hand, if you buy the pre-diluted Antifreeze, you can just pour it straight out of the bottle.
You might be thinking if it would be alright to dilute pre-diluted Antifreeze further so you can get more mileage from a single container, but that would not be a good idea. As mentioned, the Antifreeze is already mixed with the proper amount of water to significantly lower its freezing point.
If you dilute it further, it will lose its effectiveness. If you are not familiar with the Antifreeze's chemistry and you dilute it too much, it might freeze just a little under the freezing point of plain water, making it virtually useless.
Care and Maintenance
Antifreeze's great thing is that, if kept sealed in the original container, it has an indefinite shelf life. If you miscalculated and ordered one or two extra containers of Antifreeze, you can still use them for the next winter season, and even for many years after that.
Once opened, but still undiluted and kept inside the original container, the Antifreeze would still last around three to four years. However, to keep extra Antifreeze for longer, you need to store the containers somewhere dark and cool, away from direct sunlight.
We also have a list of the RV roof sealant for your reference. Furthermore, check our reviews about the most trusted rv caulk if you need.
Other RV Antifreeze We Reviewed
Camco 30027 100-degree Boiler Antifreeze
This product is made for protecting industrial boilers from freezing over, so you can be sure that your RV pipes will be perfectly fine.
Key Features:
Can withstand temperatures down to -100 degrees Fahrenheit
Non-toxic, making it safe for animals, plants and even people
Virtually odorless with just a very slight chemical smell
STAR BRITE AMRS-31500 Winter Safe Non-Toxic Antifreeze
This product will protect your pipes from icing over, and also has premium additives that protect the metal in your piping system, preventing them from rusting.
Key Features:
Can withstand freezing up to -100 degrees Fahrenheit
Dyed a bright blue color so you can easily see if there are any leaks in the system
Contains premium additives that prevent rust and corrosion in aluminum, brass, copper, and solder.
BioTherm Fluids RV Antifreeze 5 Gallons
If you are looking for an environmentally-friendly, biodegradable antifreeze, you need not look any further than the Biotherm Antifreeze.
Key Features:
Completely biodegradable, so you do not need to worry if you spill a bit of it while changing antifreeze
Non-toxic formula, eliminating your worries in case your pets ingest a bit of the pink stuff
Made of biological ingredients
Chemworld RV and Marine Antifreeze
If you think that diluting your own RV marine antifreeze is such a big hassle, especially if you do not have the right measuring implements, this product removes all of the guesswork involved hassle-free to use.
Key Features:
Easy dilution process – Just fill up the container to the marked amount.
Dyed red for easy detection of leaks if there are any
Provides additional protection against rust and corrosion
TRUEGARD Marine RV 100 Antifreeze
If you want to stock up on antifreeze, this 55-gallon drum of Truegard antifreeze might tithe you over for the next couple of years.
Key Features:
Can protect pipes up to -100 degrees F
Safe to use even on PVC and copper pipes
Contains additives that protect against corrosion
Century Chemical 19910-32Y Super Concentrated Transfer Fluid
This product is the only antifreeze certified and recommended by the Aqua-Hot Heating Systems. This means that if they use it, you can be sure that it is good.
Key Features:
Provides protection even against sub-zero temperatures
Comes with low toxicity levels – It is generally regarded as safe by the USDA
Easy dilution instructions – It involves one part antifreeze concentrate on two parts distilled water.
Prestone RV Antifreeze
Prestone has always been one of the leaders when it comes to automotive fluids, and Prestone antifreeze solutions are among the best that money can buy.
Key Features:
Suitable for all are potable RV water systems
Can prevent pipes from bursting up to -50 degrees F
No need to dilute as it comes ready to pour
Camco Antifreeze Hand Pump Kit
If you want to make the entire winterizing process much faster and a whole lot simpler, then you need to get this hand pump kit from Camco.
Key Features:
Pumps the antifreeze directly into the water lines
Forces the antifreeze to reach even the deepest portions of the freshwater system
Makes the entire process quicker, making it possible to winterize an RV in under an hour
BioTherm Fluids RV Antifreeze 1 Gallon
This antifreeze is completely eco-friendly and pet-safe, so you do not need to worry about spilling out on the ground.
Key Features:
Made of completely biodegradable materials
Safe for ingestion, which proves that it is completely non-toxic
Can be used for potable water lines
Dynaflux Defense R-T-U Pump Antifreeze
This antifreeze is an all-around product that you can use as an engine coolant and pump lubricant. Of course, you can also use it for winterizing your RV pipe system.
Key Features:
Highly versatile as you can use it in different applications
Can effectively protect against bursting and slushing
Very affordable as it is priced competitively
Conclusion
Using antifreeze when winterizing an RV makes it a lot more convenient since you do not need to dry the pipes. Hence, it makes sense to spend a little more on antifreeze rather than hundreds or thousands of dollars on plumbing lines and water damage repairs every year.
Hopefully, after reading our material, you know everything you need to find the best RV antifreeze. It is true that after narrowing down your choices to a more manageable amount, making the final decision will be much easier.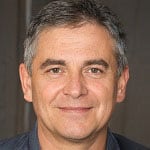 Hi, I am Tom Hank, an RV-er since 2014. Back then, I started without much help. As you can imagine, the struggles are endless. But now, you do not have to begin your adventures knowing next to nothing about RV lives.