The best campsite lighting, whenever you are out in the great outdoors, is a small campfire. However, it is not always possible, nor is it legal to do so, especially if you camp in a rather crowded RV camping site. Rather than trigger your neighbors into reporting you to the camp rangers, you can install the best RV awning lights.
With such an RV light, you can enjoy every moment in the campground. You have many choices of LED camper awning lights. You can also find them in a variety of colors and shades. This awning lighting does not just provide light but also set the mood for your campsite.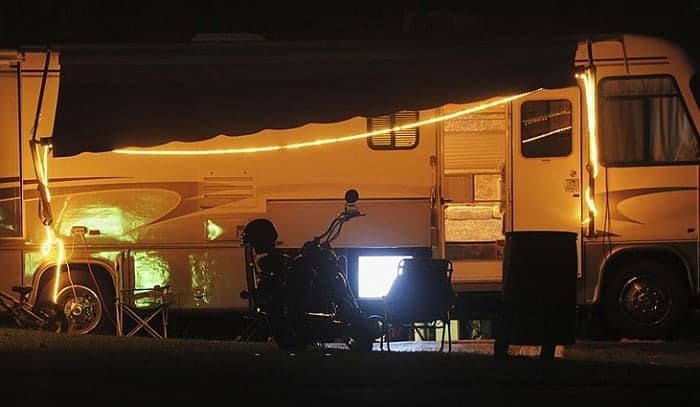 Do you want to give off a festive vibe? String up different-colored lights and have them blink all through the night. If you want something relaxing, get a LED strip, a programmable one if you can, and install it in such a way that it gives off a soft ambient light.
You can also choose from the many LED lights for RV awnings available right now. However, because your options are somewhat too numerous, you might get confused during the selection. In such a case, this article will serve as your buying guide.
It will teach you the basics of awning lights, and give a couple of suggestions on products that you should try. Although these lights are not that expensive, you will still do well to buy those that make you feel happy, especially those with a relaxing and party vibe.
Best RV Awning Light Reviews
1. RecPro RV 16′ LED Awning Party Light
One incredible thing I love about this choice for LED lights for camper awnings is that it can produce quite a lot of light. At 1500 lumens, this choice for LED lights strip is bright enough for you to host a dinner party in your patio while allowing everyone to see clearly.
This product has a total length of 16 feet. It is more than enough for most RV awnings. The great thing about these RV awning lights is that you can cut the LED string lights to the exact length you need. You can also use the pieces independently.
This LED RV awning lights kit also comes with four pieces of white polycarbonate mounting channel – with each piece being 4 feet in length. These channels make it easy to install the LED strips in a straight line. The white background also makes the lights match the paint of your RV.
This LED bulb strip also comes with a clip-on lead wire. It means you do not have to solder anything, unless, of course, you cut the strip and want to use the leftover piece. The lead wire can then be directly connected to the 12v system of the RV.
I have one problem with this awning lights for RV kit, though. It is that the wire leads are too short. You will need to splice additional wires to connect the lights to the electric line effectively.
What We Like
Can be cut to length
No soldering needed
Completely weatherproof
Provides ample light
Easy to install
What We Don't Like
Somewhat short wire leads
All in all, this LED light strip exceeded all of my expectations. It is an excellent investment for RV owners considering its superior quality.
2. Camco LED 16′ Camper Interior and Exterior Lighting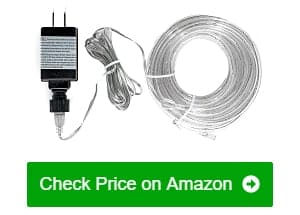 One thing that impressed me about these RV rope lights is their cool, relaxing color. This rope light contains blue and white RV awning led lights. This combination is conducive to relaxation. It is the reason why most street lamps these days use this color of light, instead of the incandescent yellow.
These lights are straightforward to install. First, you can easily thread them through the utility track of your awning. It is useful in giving off a cool aura like a lighting effect. You can also buy awning clips or hooks, and use them to hang the lights.
These LED lights for RV interior are encased in clear acrylic tubing, making them weatherproof. It means you do not have to take these glow lights down no matter what the weather conditions are, like when it is pouring rain outside.
These string lights are also very flexible, so you can bend them into any shape that you like. In fact, if you want to use the items as an indoor awning string light, you can expect it to wrap around the corners effortlessly. This string of lights also plugs into any 120v outlet.
The one thing that I consider as a fault in this product is the somewhat short power cord. You have to splice more wire to make it reach the outlet, or get an extension cord.
What We Like
Long enough for most RV awnings
Easy to install and fits inside utility slot
Can bend easily at the corners
Waterproof and dustproof
Has a nice, cool, and relaxing color
What We Don't Like
The lead wire going to the power outlet is too short.
It is not just one of those outdoor LED RV light strips. You can also install these 12v light fixtures indoors for great ambient lighting. That alone makes it worth the money, but there are even more benefits in store.
3. Areful 16.4 Feet Flat LED Rope Lights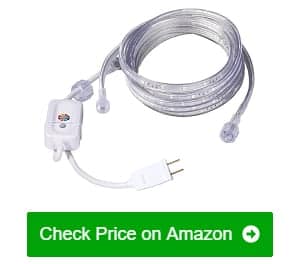 I like many things about these rope led lights. However, one of my favorites is the fact that you can use a remote control to change the lights of the LEDs. You can choose from any one of the eight preset colors, making it perfect for giving a party glow.
You can also choose to make the LED lights for awnings pulse or fade in and out. It makes these lights not just an excellent porch light, but also an attractive ornament for the holidays like the 4th of July, or when having an awning party.
These 12-volt LED RV awning lights are also easy to install. IT comes with clips that you can screw onto the surface to hold the LED strip in place. You do not even need to hardwire it to the RV's electricity. It just plugs into any power outlet.
These lights are also weatherproof, so you no longer need to hustle to get them down at the first sign of bad weather. Just leave these awning light outside without worrying about them getting damaged.
However, I did not like the mounting clips of these strip lights. The clips that came with the RV lights package are quite flimsy. It would have been better and more secure if there are clips at every 16 inches, but with the number of clips included, you can only manage one per 28 inches. I find it not secure enough.
What We Like
Can change from any one of eight preset colors
Can make the lights blink or fade
Easy to install without any wiring needed
Completely weatherproof
Comes with a control box for controlling remotely
What We Don't Like
Somewhat flimsy mounting brackets
The issue is minor, though, so I can still say that this product is one of the best awning lights today.
4. Govee Outdoor String Lights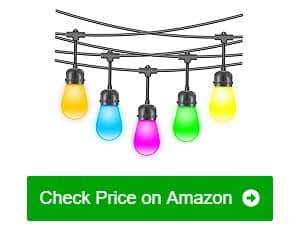 The neatest thing about this RV awning light is that you can control it via the Govee smartphone app. Just download the app and connect your smartphone to the lights via Bluetooth. After that, you will have full control over these RV camper string lights.
One of the best features of these 12v lighting fixtures is the system that allows the string light to pulse and change color depending on the music you are playing. It is excellent when having RV and garden parties since it can provide you with a good dance floor light awning kit.
These lights are also easy to install. If you are placing them in your awning area, you can hang them using awning hooks. Just take advantage of the built-in hoops over the bulbs. You can also just drape them over any overhang.
These led awning lights are also waterproof. It means you do not have to worry about them getting drenched in the rain. You just need to unplug them when it is raining outside. Once the rain stops, you can use them once again.
The only downside that I found with these string of awning lights is that the length of wire in between the plug and the first bulb is just around four feet. I find it not long enough not to get a bulb or two hanging down when you install it without an extension cord.
What We Like
Can be controlled using a mobile app via Bluetooth
36 feet long
Color changes between eight different color options
Can be used as dance floor lights
Water and dustproof
What We Don't Like
The wire between the plug and the first bulb is too short.
Although it is not the perfect RV awning light kit, it does comes close. It has so many functions that make it a very worthwhile purchase.
5. Camco Hanging Party Glow Lights
One thing I find remarkable in these RV LED awning lights is the way they are shaped. The RV awning lights are shaped like tiny classic trailers. Although a bit corny, these items are quite adorable little additions to your RV.
Although these RV novelty lights cannot produce nearly enough illumination for your RV porch, they give a beautiful glow that adds to the ambiance. If you want to sit back and relax outside after a hearty dinner, these lights are great.
These lights are weatherproof, so you can use them outdoors, instead of hanging them underneath the RV awning. They do not heat even after hours of use, which makes them useful as indoor mood lighting or night lights.
This string of lights has a total length of 8 feet, making it the perfect length for most RV awnings. You can hang the items using any kind of awning clips or hooks. You can also plug them into any regular 120v outlet.
Do not expect these lights to be bright, though. These products just light up enough that you can see the details of the tiny campers. On their own, these RV LED awning lights do not do much in terms of illuminating an area.
What We Like
Has cute and whimsical designs
Easy to hang
Ideal for use indoors as they do not heat up
Useful outdoors as they are weatherproof
Plugs into any 120v outlet
What We Don't Like
Does not light up that brightly
This string of lights may not light up your RV porch considerably, but it sets the tone for having a fun little party.
6. RecPro Blue RV LED Awning Party Light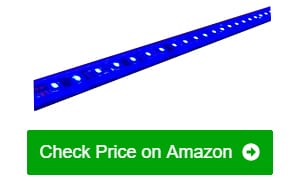 Not that many people would choose to use exclusively blue RV led lights for their RV awning, but it is a nice little accent that gives your vehicle a bit more style. Plus, when coupled with a white LED, the light it produces will be nice and relaxing.
Thanks to the black polycarbonate mounting channel, it is also effortless to install these lights. I would not dare to try installing the LEDs without the PCB track. The lights are so flexible that mounting them skewed or crooked is easy.
These lights also have an IP65 rating. It means the product is completely dustproof. It is also highly resistant to water. This light strip is unlike other lighting solutions that you need to bring inside when it starts to rain. The lights will still function as usual even after a torrential rainstorm.
Aside from connecting the lead lines to the power, there is no need to drill holes on the side of your RV for these RV awning track lights. You can hold everything in place using heavy-duty mounting tapes. The lights will not be going anywhere once you stick or hang them.
Like with the other RecPro LED strip light reviewed earlier, the only problem I have with this LED light strip is that the lead wires that should be plugged into the 12v system are quite short. I had to splice a length of additional wire to make it reach the junction box.
What We Like
Lights up brightly, but does not produce heat
Bright blue light does not attract bugs
Easy to install properly
No need to drill or do mods to the RV
Dustproof and highly water-resistant
What We Don't Like
The lead lines are too short.
Despite its minor flaws,
this LED light
strip is a good buy. It delivers on all its promises, making it a wise investment.
7. Boogey Lights KRV-VS-MC-BK S LED Awning Light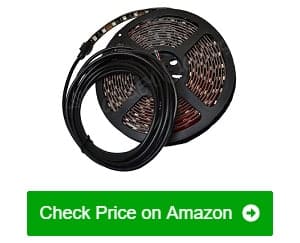 The thing that I liked the most about these LED strip lights for RV is their high intensity. The lights are not just used to light the awnings. You can also use it as accent lights that call attention to your RV.
This awning light is not your ordinary, single color light. It is a party light that can change from any one of seven different colors. You can do that with just a press of a button. You can also set the LED bulbs to blink, fade in and out, cycle through colors, and even use a strobe effect.
You can control the multi-color RV awning lights using either a smartphone app or a key fob. If you are an old school RVer, the key fob might be more to your liking. If you are tech-inclined, the app might be more appealing as it has more features.
If your awning is less than 16 feet long, the total length of this awning party light, you can cut the strip to whatever length you need. Also, everything that you need to install these boogie lights RV awning is already part of the kit.
The only problem I have with this color-changing LED lighting kit is that there is no mounting channel that will guarantee the straight and easy installation process of the LED strip. If you are not experienced in laying down LED strips, it is easy to mess up and get the lights all crooked.
What We Like
Cycles through seven different colors
Uses high-intensity bulbs
Controllable using a smartphone or key fob
Can be cut to size using plain scissors
Connects directly to the RV's 12v outlet
What We Don't Like
This kit does not come with mounting brackets.
All in all, I was pleasantly surprised at how easy it is to use this party lighting system disguised as an awning light.
8. Adventuregy RV Awning Lights
I love this next recommendation for awning lights because you can set them up in just minutes. The lights are not permanent, but you can secure them so that even a storm will not blow them away from their install points.
You can also mount the lights easily using the strong built-in magnets in each of the four strips of LEDs. If there are no magnetic metal surfaces available, you can secure the lights in place using the included Velcro straps.
You will also find these lights useful during an emergency. This product is the ideal choice for lighting, as it can directly plug into the lighter socket. You can also plug it into a 120v outlet (using the appropriate adapter). Aside from that, you can also use a USB power bank as the power source.
The light strip is not just suitable for RV awnings. You can place each light at the corners of your workspaces if you have a small shed or workshop. With that, you can flood the whole room with a bright light.
The only gripe I have in this LED light kit is that instead of using mounting brackets, or even just the utility slot of the awning, you have to use strong magnets. Although the magnets are strong, more robust mounting methods are still necessary to make them stay in place.
What We Like
Various sources of power, including 12v connection, 120v power outlet, or a USB power bank
Easy to install and remove
Can produce 1920 lumens
Can permanently light a small area
Can be used with all four connected or individually
What We Don't Like
Although the magnets are strong, the lights need additional support for security.
If you just want something that you can set up in minutes and take down just as fast when you need to, then this product is good for you.
9. Camco 42761 RV Awning Globe Lights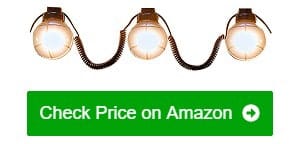 I am so pleased with the way these RV awning globe lights are designed. The product appears as large bronze globes that do not just provide a warm light but also serve as neat-looking accent pieces that will benefit all kinds of RVs.
Although the globes might look dainty and easy to break, they are pretty tough. Each of the six globes included in the set is made of durable, shatter-resistant polycarbonate. These globes are also UV-stabilized. It means they will not weaken even when exposed to the harsh rays of the sun.
The lights are also easy to install. The tops of each globe have a tab that you can insert through the utility slot of your camper awning. You just need to thread each of the six globes.
You can buy replacement globes that come in many other colors if you are no longer a fan of the bronze-colored globes. Among the choices of colors are red, blue, purple, white, orange, yellow, and even clear.
Although the RV camper awning lights that I received were in perfect working order, I can still say that it is a hit-or-miss affair based on some online reviews. Many report that half of the globes do not light up, are dimming, and have other issues.
Fortunately, Camco's customer service is quite quick, and you can get replacement globe lights quickly if you happen to get a lemon.
What We Like
Serve as great accent pieces
Produces adequate light
The highly durable material used in making the globes
Easy to install
Can be changed into other colors
What We Don't Like
The tabs might not fit in other awning slots.
Although there is a fair chance of you getting lights from a bad batch, there is no denying that this string of lights can add a lot of appeal to your RV awning.
10. Dream Lighting 12V Waterproof Awning Lights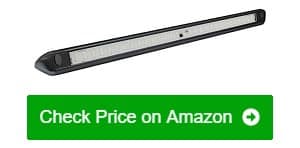 These products are not just RV awning rope lights. Even if you do not have an awning, you can install this light at the side of your RV when you need a bit of light, such as when you are barbecuing your dinner, or just shooting the breeze with your loved ones, like friends and family.
This light has an IP66 rating. It merely means that it is completely dustproof and resistant to water. How resistant? Your RV can get hit by torrential rains, but the light will still work fine afterward.
Unlike other awning lights, this product is designed to point downward at a 40-degree angle. This lighting design eliminates light waste. It concentrates the light to just within a small area underneath, making it brighter.
The RV awning led light installation is easy, too. If you are replacing the outdoor lights of your old RV, the holes will most likely align. If it is a new install, you will only need to drill two holes, and maybe another one for the wires.
The only problem that I have with these lights is that they are a bit too bright white. If you are directly under the light, it will feel like it is daytime. It would have been great if it came in a warmer temperature.
What We Like
Easy to install and wire
Has an efficient design that prevents light waste
Proven to be weatherproof
Provides an ample amount of light
Can be mounted directly on the side of the RV
What We Don't Like
The light is a bit too bright – It does not come in warmer tones.
The issue with the light's color temperature is just minor. It does not get rid of the light's other benefits, so it is still a worthwhile investment.
11. Kohree LED RV Porch Lights
If you have an older model RV, this product is the perfect replacement for the old exterior porch lights. The first thing I like about it is that it is completely weatherproof. It does not rely on rubber gaskets for sealing purposes. The light is wholly enclosed in crystal resin. No moisture will get through unless you submerge this thing in water.
Unlike the older lights, this kit uses LEDs that last for a very long time. It tends to last longer compared to old incandescent bulbs. You can even expect them to last up to 50,000 working hours.
It also comes with two different colored lens covers. There is a clear one for a white bright light, and there is an amber one, which you can use if you want a more laid-back ambiance.
It also has a wide operating voltage. This light can operate between 11v and 18v. It means that the light can withstand such a huge fluctuation in electricity, unlike other lights that immediately burn out when exposed to a power surge.
The only thing that I wish would have been better is the light's brightness level. It can only produce around 320 lumens, which is enough for when you just want to relax. However, it is not bright enough for other purposes.
What We Like
Easy to install
Completely weatherproof
Has an operational lifespan of 50,000 hours
Can withstand huge electric fluctuations
Comes with two light covers
Even though this light is not perfect, it does come close to it. It has a couple of issues, but the benefits that this product provides far outnumber them.
12. MINGER DreamColor LED Strip Lights
If you want to give your RV a bit more attitude, then these RV LED awning lights are the best choice. You will be getting a little over 16 feet of RGB LED lights that, when turned on, can provide your RV with a glowing aura.
You can change the color of the lights to any color in the rainbow that you like. It is possible to control the lights via a smartphone app and by connecting via Bluetooth. The smartphone app will even let you make the string of LED light blink if you wish.
This LED strip is also easy to install. You can also see it being backed by a solid double-sided mounting tape. After a couple of minutes, the light will be somewhat permanently bonded to the surface.
If you have a smaller awning, you can trim off some lights to fit it exactly. You just need to take note where you can cut the LED strip, and then continue doing so using a very sharp pair of scissors.
The only issue I have with this product is that the mounting tape that came with it is not that strong. You can fix it by using resin glue, though.
What We Like
Can change the color of the lights using the official mobile app
Weatherproof and dustproof
Can be cut to size if needed
Easy to install as it already has a built-in mounting tape
Has a sensitive microphone that will make the lights flicker with any sound
What We Don't Like
The adhesive backing of the LED strip sometimes peel away in certain parts.
Admittedly, this string of lights is not a perfect product. However, it does serve its purpose and provides a lot of other incredible benefits.
Best RV Awning Lights Buying Guide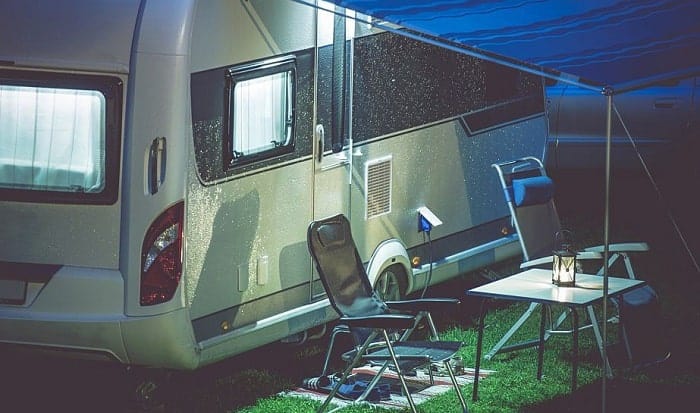 Now that you have decided that you want to improve your RV awning by installing awning lights, the next step is choosing the right one for your needs. There are hundreds, maybe even thousands, of options out there, and choosing just one will prove to be complicated.
To help you choose, here are some of the factors to take into account.
The type of light – Choose the type of light that you think will suit your purpose. For instance, if you want to give your awning a festive vibe to it, get rope lights that come in different colors.
If you are thinking of getting something that is multi-purpose, an RV porch light will do fine. If you want something that saves on energy, get solar power lights, the ones that have built-in batteries that you can recharge using small solar panels.
Before you go out shopping for RV awning lights, carefully think about what you will be using them for. You should then choose the one that you think will fit the bill.
The color of the lights – More than just plain aesthetics, the color of the light you choose will determine how bright it is. It can also determine the amount of heat it will most likely produce. The color of the lights does not mean the actual color they emit, but rather the color temperature.
One thing you have to know about color temperature is that it is categorized into three: warm, cool, and natural light or day light. Warm lights have warm color hues, like a touch of orange or yellow. Cool lights have tinges of blue and extreme white. Natural or day lights closely mimic the color tone and intensity of actual daylight.
Quality of construction – This factor is related to the durability of the lights. Some awning lights are more durable than the others, and you will want to own the former rather than the latter. For instance, you will need to use awning lights that are waterproof because you will not want to take them down just before it rains.
It is because aside from increasing the risk of damaging the lights, installing them again afterward will be also be a pain. The lights should also be dustproof. These items need to be weatherproof since they will always be outside.
You need to find a set of lights that have an IP rating of IP65. It means that the product is entirely dustproof and has minimal water-resistance. Of course, higher is always better.
In addition, you should choose lights that have been UV-treated. It means they can withstand getting exposed to the sun's heat without getting damaged by the UV light.
Additional features – Another great factor to take into account is the number of unique features integrated into the lights. First of all, get very energy-efficient lights. With that feature, you have an assurance that the lights will not put too much of a load on the RV's house batteries.
You might even want to consider getting solar awning lights, or those that use solar energy for power. Get the ones that have large batteries so they can last for hours without needing to plug into the RV's electric system.
Furthermore, get a string of lights that come with a controller. It will let you change the colors and add a blinking pattern to the lights when you want to throw a small party.
Ease of installation – Another factor to consider is if you can easily install the lights by yourself. Awning lights should be installed and ready for use in just a short amount of time. No one wants to spend more than an hour on installation.
First of all, the lights should be easy to plug into the RV's 12v power system. It should not require you to drill or splice wires or anything of the sort. The lights should also come with the appropriate hardware for mounting them on your awning.
The lights also need to have easy to understand instructions, preferably with pictures so that you can follow along easily.
The size of the bulbs and length of the string – Get a string of lights that is just as long as your awning is wide, or a bit longer, only to be on the safe side. You might even want to get lights that can span the entire perimeter of the awning if you wish.
However, remember that you will be taking off the lights every time you will be retracting the awning, so get those that you can easily install. Regarding the size of the bulbs, it will depend on what kind of look you are going for.
If you want a casual atmosphere, go for the larger plastic bulbs with whimsical designs. If you want a more relaxed and somewhat formal setting, the smaller bulbs that come in a single color are great choices.
The price of the lights – Set a budget when shopping for RV awning lights. Of course, you should follow your set budget. However, you should not set your budget so low that you will only be able to afford the cheapest lights. It is because the cheapest ones with questionable quality do not last very long and are often not that bright.
On the other hand, it is also unwise to spend hundreds of dollars on lights that you will only be using occasionally. You should find a good middle ground that provides excellent value for a reasonable price.
How Many Types of Awning Light for RV Are There?
If it is the first time for you to shop for awning lights, then it might surprise you seeing just how many different types of lights are available nowadays. However, not all of the strings of lights are compatible with use in campers. Some may not even work correctly. There are just four different types of lighting systems that you can use in RV awnings.
LED Porch Lights – These products are the most commonly used lights for RV awnings. Expect them to be the brightest. The lights usually illuminate the campsite a lot better compared to other types of lights. It is the reason for their popularity.
Porch lights are also quite beautiful. The good thing about them is that they do not produce that much heat. You can even use them as interior lights. It is the most practical option if you are looking for awning lights that are the most cost-effective.
However, they will require a bit of drilling and wiring work, so you might need to get a professional to install the lights for you.
Rope Lights – If you are looking for lights that you can manipulate into elegant designs for parties and such, you need to get rope lights. You can simply drape these lights underneath the awning. You may also use special hardware to affix the light underneath the awning permanently.
As such, rope lights are much easier to install compared to porch lights. They also look classy. You do not even need to worry about electrical wiring. You just need to plug it into any available power supply outlet.
Furthermore, many brands offer remote controls that allow you to turn the lights on and off. Some brand names even produce lights that you can set to blink.
Fairy Lights – Solar-powered fairy lights just recently came into popularity, but they have risen in the ranks quite quickly. This type is great when you wish to relax at night by sharing a couple of drinks with your friends.
Solar RV awning lights are not used for providing illumination but are purely for aesthetic purposes only. However, you can also use the fairy lights to help you find your way back to your RV. It could be when you are hiking down mountain trails during the late afternoon or early evening.
The small LED lights are bright enough that you can use them as beacons. Moreover, most fairy lights nowadays are solar-powered. It means they have a rechargeable battery pack charged during the day by a small built-in solar panel.
With that, it can save energy. When the sun sets, a photosensitive switch will automatically turn on the lights and turn them back off when the sun rises the next day.
Hanging Lanterns – These lanterns are also not practical and more aesthetic, if anything. However, it provides quite a beautiful soft light for intimate get-togethers. Moreover, the lights often come in whimsical and beautiful designs, making them the perfect choice when you just want to hang around inside your patio and chill.
However, be careful with these lights as a strong gust can easily blow them. You need to take them down and store them away when you notice the wind outside starting to pick up.
How Do RV Awning Lights Work?
As the name suggests, RV awning lights are those you can drape under or hang underneath the awning of your RV. You can usually find these lights in warm white or light-yellow. However, they are also available in various other colors like red, purple, and blue, among many others.
One of the most popular types of lights used for RV awning lights is the LED strip. The LED strip usually comes in rolls of around 16 feet long. Even though these lights are not the largest, they still produce quite a lot of warm light.
The neat thing about LED strips is that you can cut them to length using regular tin snips or wire cutters. This kind of light can also come in hanging twisted rope form. You can also find awning lights that come with remote controls that you can use to turn the lights on and off.
Some have RGB lights, meaning you can change the lights into different colors if you want. Some lights even come with Wi-Fi connectivity, so you can control them using your smartphone via an official app.
You can also find lights you can program to blink at different intervals and patterns. It is helpful when you want to give your RV patio a bit of a festive feeling. Most awning lights are only ideal for use as decorations, with only a few used for proper lighting.
However, if you want to give your RV patios and your campsite in general, a pleasant ambiance wherever you are, then you should get a couple of these lights.
How to Choose the Right Size?
There is no right or wrong size of RV awning lights. The only thing you have to consider is the size that you need and want. For instance, you can get a LED strip and cut it to fit precisely along the base of the awning to give it an aura-type lighting effect. You can also get several strings of solar fairy lights to drape over the nearby bushes or trees.
With that, you can make your campground more whimsical. However, you should plan out your lighting beforehand to avoid going overboard. For instance, although you can fill your awning with different lights, it will make your RV look weird.
Of course, it would be a good idea if that is the look that you are going for. Also, too many lights will put a strain on your RV's home batteries, so you will be essentially cutting your camping trips a bit too short.
How Do I Add LED Lights to my RV Awning?
The nice thing about installing LED lighting to your RV awning is that it is not that complicated. LED tapes are already pre-wired. You just need to cut them to length and attach them to a power source. You do not need to be an electrician to install them.
However, it would help if you have a couple of pointers on how to do it. With that said, here are the steps you need to follow:
Step 1: Plan ahead – Although you can choose to improvise as you go, it is much better if you have a solid plan to follow when installing the lights. Take measurements of your RV's awning, especially the places where you plan to install the lights later. It will ensure that you will be getting enough lights for your purpose.
Also, position your lights, or make provisions for them to get plugged into a power outlet. Either place them near one so that the plug will reach the socket, or add an extension cord.
Step 2: Cut the LED strips to size – Cut it to the right size. This part is pretty straightforward. You just need a pair of scissors or a utility knife to do it. However, make sure to cut along designated points so that the LED strip can still make a proper connection.
The correct points are the black lines in between the bulbs. If your measurement falls on top of a bulb, just cut after it. It will only be a couple of millimeters excess.
Step 3: Attach the LED tape to the awning – The great thing about using LED strips is that they already come with a strong adhesive tape backing to make installation much more manageable. Before you peel off the plastic covering, make sure to clean the surface that you will be sticking the lights onto.
Wipe the surface clean using a damp rag to get rid of any dirt and dust. To make doubly sure that there are no oil or other contaminants that will loosen the adhesive, wipe the surface again using rubbing alcohol. Attach the wires that will be plugged into your 12V by attaching a starter lead connector on the end of the cut LED tape.
The good news is that these items are already pre-measured so you do not have to worry about the connection being crooked. Once the surface is clean, strip away the plastic covering of the LED tape and carefully stick it onto the awning surface.
Step 4: Run the wiring – If you have firmly decided that these LED lights will be a permanent fixture on your RV, you can directly hardwire them to the RV's 12v system. However, it will require drilling a hole in the side of the RV, threading the wires through it, connecting them to the system, and installing a switch.
After that, you need to fill the hole with caulk to make it waterproof. If you do not want to make such drastic modifications to your RV, you can connect a male plug to the end of the wiring. Plug it into any nearby power outlet when you want to turn on the lights.
Step 5: Turn the lights on – Assuming that you have followed the instructions correctly, nothing will prevent the LED tape from lighting up. The only thing left for you to do now is to power it and enjoy the fruits of your labor.
How do you Hang Lights on an RV Awning?
If you are using LED ropes, instead, you need to hang them onto your RV awnings according to the instructions specified by the manufacturer. Most of the time, it means you will be attaching small hooks along the length of the awning and hanging the string of lights from them.
How do you Keep LED Strips from Falling Off?
Sometimes, the adhesive backing on LED tapes is not enough to keep the lights attached to a surface for good. To make sure that your lights will not fall off, you can reinforce them by using a hot glue gun to apply a couple of globs every 300mm or so. You can also use silicone adhesive for a firmer grip.
How do I Change the Outside Lights on my RV?
If you suddenly changed your mind about the awning lights in your RV, you can replace them easily or with a certain degree of difficulty, depending on the type of lights you installed. If you installed rope lights or fairy lights, replacing them means removing them from their hooks then hanging a different string in their place.
Things will be a bit difficult if you installed porch lights or LED tape strips. In the case of porch lights, you have to unscrew the base and pry them off the side if you used silicone sealant on the edges.
Hopefully, the holes in the new porch light align with the existing drill holes left by the old porch light. LED tape strips are almost impossible to remove without damaging or destroying the lights. The adhesive backing of the LED tape can sometimes be too strong that trying to pull the LED lights will damage them.
Care and Maintenance
The nice thing about RV awning lights is that they are low-maintenance, especially if you chose to use LED lights. On average, most LED lights these days can last up to 50,000 hours of total burning time. Now, if you want your awning lights to last for as long as they should, follow these tips:
Invest in good quality lights – If you bought good quality awning lights in the first place, it will be unlikely that they will need repairs and will be low-maintenance. You should also make sure that you are getting the appropriate brightness and color temperature.
With that, you will no longer need any additional bulbs because the ones that you got are not bright enough for your purposes.
Read the user's manual and installation instructions – You will be surprised at how many outdoor lights went to waste just because the people who bought them could not be bothered to read the instruction manual on installation and use. Do not be like them. Read the user's manual and spare yourself from stress and frustration.
Clean them regularly – All lights need regular cleaning, and that includes your LED awning lights. Accumulated dirt and dust on the surface of the bulbs can cause the lights to dim. If left unattended, they can cause permanent damage like deep scratches.
The issue might even cause the bulbs to short out. Even if your RV is parked in your driveway waiting for the next camping season, you should still take time to clean the awning lights every month or so.
Store them properly – If you will be using string LED lights or other lights that you can remove or stow away, make sure that you place them somewhere that does not expose them to extreme heat and humidity. These climate extremes will severely damage the electronic components inside the lights.
Other RV Awning Lights We Reviewed
RecPro RV 20′ LED Awning Party Lights
Give your RV awning a relaxing aura using this 20-inch strip of LED lighting. With this choice, you can make your porch more conducive for hanging out and having a good time.
Key Features:
Completely waterproof and dustproof
Easy to install – It is also out of the way that you do not have to take it off when packing up the awning
Directly connects to the RV's 12v system
Dream Lighting LED 12V DC Awning Light
This product is a low-profile lighting fixture that can provide ample illumination for your porch area without any wasted light.
Key Features
Completely weatherproof
Has a 50,000-hour service life
Can produce up to 720 lumens
Tasodin Water-Resistance IP65 LED Strip Light
With the sheer amount of LED lights included in the strip, you will not only have enough lights for your RV awning but also more than enough left over for other lighting projects.
Key Features:
A total of 5-m length of LED strips, enough for more than one project
Designed in a way that you can cut and link them together
Flexible, making it possible for you to bend it around corners
RecPro RV 16′ LED Awning Party Light
If you want to give your RV patio a different kind of lighting solution, something soft, but still bright enough that you and your friends and family can still see, get these white LED party lights from RecPro.
Key Features:
Measures 16 feet in total, which is more than enough for most awning models
Easy to install, no drilling required unless necessary to do so for the wires.
Provides more than enough light
Lippert Components 15′ Awning Fabric Light Kit
This product is a light strip that you can cut to size, easily remove, and replace. If you want a cool and modern lighting solution for the outside of your RV, this light strip is for you.
Key Features:
Easy to install as it slips easily onto the awning rails
Provides ample light for your RV porch
Already comes with all the hardware needed, including a switch and a wall plate
Enbrighten LED Cafe String Lights
Give your campsite a warm and comfortable ambiance with this string of lights from Enbrighten. With these lights, you can turn every campsite into a fancy bistro or cafe.
Key Features:
Comes with 9, impact-resistant, shatterproof, lifetime RV LED bulbs
Completely weatherproof as it can withstand even monsoon rains
Do not heat no matter how long you turn them on
Camco LED 16′ Rope Camper Lighting
Although this set of lights looks fancy and complicated, it is easy to install. The whole thing fits into the awning channel, and you can also plug it directly into the 12V system easily.
Key Features:
Completely weatherproof and can withstand storms without breaking or shattering
Fits on almost all RV awnings
Gives your RV a very festive atmosphere
Coleman LED String Lights
Do you want something whimsical while still being functional? Then these LED string lights from Coleman can provide just that. It is possible with this string of lights containing ten miniature Coleman lanterns.
Key Features:
Contains ten tiny Coleman kerosene lantern replicas
Can stretch out to 80 inches
Runs on three AAA batteries so you can hang them anywhere
Brightown Outdoor String Lights
These lights do not just illuminate your RV patio but also useful in setting the mood. Unlike other string of lights, this product is distinguishable with its dimmable bulbs.
Key Features:
Comes with 25 (+1 spare) 5-watt dimmable bulbs
Has a total length of 25 feet, and you can extend it by connecting another string at the end
IP44 rating, highly water-resistant and dustproof
SKYFIRE Lareinae Solar String Lights
If you want to spread happiness wherever you go, you will want to get at least one fairy light for your RV. The good thing about these lights is that they are solar-powered, so you do not have to worry about wiring. Just find a place to hang them.
Key Features:
Comes with rechargeable batteries charged by a small solar panel
Automatically turns on when it gets dark outside
Almost 20 feet long
Valterra A30-0900 Solar Rope Lights
This solar rope light comes to life when nighttime comes, bathing your RV patio in a soft white glow.
Key Features:
18 feet long, enough for most RV awnings while allowing you to shorten it if necessary
Comes with its mounting bracket that slides into the awning rail
Solar-powered; it automatically turns on when it gets dark.
Brightech Ambience Pro – Globe LED Outdoor String Lights
This 26-feet string of Edison bulbs gives off just enough light to encourage people to gather and just relax. It can instantly turn your RV patio into a Bohemian oasis.
Key Features:
Uses 1 watt Edison bulbs that give off a soft, warm light
Completely weatherproof as it can survive gale force winds
May look like incandescent bulbs, but they use energy-saving LED tech
Camco Gray RV Party Light Holder
There is nothing worse than having all these party lights and have nowhere to hang them from. It will no longer be a problem with these party light holders.
Key Features:
Slides conveniently through the utility slots of RV awnings
Has two-channel sizes so it will fit in almost all awnings
Each hanger is strong enough to support weights up to 15 pounds.
Conclusion
It would certainly be a shame if you can only enjoy your RV patio during the day, but it will not be the case when you have the best RV awning lights. I know that choosing one type of awning light is quite tricky, so I created this buying guide.
You can choose from any one of the products that were reviewed earlier, or use the buying guide to help you make your own decision. Whichever route you pick in the end, you will surely have the best kind of outdoor lights that you can buy.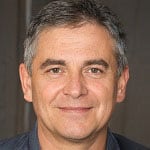 Hi, I am Tom Hank, an RV-er since 2014. Back then, I started without much help. As you can imagine, the struggles are endless. But now, you do not have to begin your adventures knowing next to nothing about RV lives.