Are you about to hit the road this summer and give the gypsy life a shot? Have you invested in an RV already to get you around the country? If yes, make sure that you have all the underlying technology to get to your destination, such as a GPS.
As much as it is necessary to study the route you are going to take beforehand, make sure you have the GPS to help you follow along. Here, we have analyzed two of the most popular GPS systems amongst RV drivers – Garmin RV 760 vs 770 to help you find your way more efficiently.
Gone are the times when maps and cartographies were enough to take you through the wildest of routes. Now, the technology, even for RV drivers, has taken a 360-degree turn, and locations have been taken over by Global Positioning System (GPS). With GPS, you can locate any place in the world that you would like to visit, and find the best route to get there!
GPS is a network of 24 satellites that orbit around the planet to provide users with a synchronized and precise result every time they look up a location. It guarantees precision because it is a government-sanctioned positioning system (commissioned by the US Department of Defense).
Now that you are aware of what GPS stands for, it is time to throw some light upon the two top-rated GPS devices in the lives of RV drivers – Garmin RV 760 and Garmin RV 770. First, we will introduce you to the latest Garmin 770 and its features and then compare it with its predecessor, Garmin RV 760.
Garmin RV 770 GPS
Garmin RV 770LMT-S GPS is the latest innovation introduced by Garmin in its line of GPS devices. It holds most features you are looking for when planning to install a GPS in your RV. The device will allow you to travel safely and let you set your next destination well in advance. In this way, you will have a thorough idea about what to expect and be prepared for it.
Custom RV Routing
For availing this feature, all you have to do is to enter the RV size and weight into the device, and then RV 770 LMT-S will process this information. This will ensure that the route determined by the GPS fits the height, width, weight, and length of the RV. Adhering to a course according to dimensions is crucial because you cannot drive your motorhome through some narrow lanes just because your regular phone GPS says so.
Finding RV-Friendly Services on the Route
While any GPS will help you discover the best route for your destination, Garmin's RV GPS is loaded with information that an RV driver needs. Everything from over 20,000 RV parks in the US and Canada, to other amenities such as laundry, electronic hookup spots, and drive-by eateries are listed on the device. With Garmin, you can find nearly every facility that you might require on the route with just a few taps.
Even if your RV gives up in the middle of nowhere, Garmin will help you reach the nearest RV service center with its directory of over 14,000 locations. They can help you tow, get the tires fixed, and get other repairs done.
Alerting the RV Drivers on the Way
The Garmin RV 770 LMT-S GPS comes with a sound warning system to alert the drivers whenever there is a hill, curve, or a sharp turn on the way so that you are prepared to move your RV carefully. This feature especially helps the drivers who are hitting a particular route for the first time.
Unlimited Supply of Up-To-Date Maps
We cannot think of one thing that attracts an avid camper more than an unlimited supply of free maps for life! And that is precisely what you can get with Garmin 770. All you have to do is connect the device with Wi-Fi and click on the Updates button. All of the latest changes in the United States' road routes will be downloaded in your device within no time. Now, you can be aware of the new constructions you have to deal with, reducing the number of surprises on the way.
An Access to TripAdvisor Database
If you are looking for restaurants, motels, and other attractions on the way and want to know their ratings and spending beforehand, you can enter the TripAdvisor database through the GPS! With this, you can view ratings and reviews and decide whether you want to go there.
There is an additional Trip Planner tool that will go the extra mile to suggest the best stops. If that doesn't work for you, then you can use the FourSquare database to discover the grocery stores, restaurants, and more in your vicinity.
Connects to Smartphone through Bluetooth
New and improved Garmin 770 allows you to connect your smartphone with the GPS via Bluetooth. Now you can use it to attend phone calls, respond to messages, and keep a check on notifications on the go. Even though it can be an ordeal to answer calls on the hands-free mode in a noisy RV, you will still know when there is a call that you need to attend.
Listens to Your Voice
The 'Voice Command' feature in the GPS Garmin 770 allows you to say the task you have in mind to the device without taking your hands off the steering. Say, you like it that you want the GPS to get you some oranges; it will give you directions to the nearest grocery stores and farmers' markets.
As for the design and structure, Garmin RV 770 sports a bright screen, and does not necessarily need a hood. You can mount it on any dashboard using the suction arm it comes with, and it stays pretty steady even in the roughest of terrains.
Garmin RV 770 LMT-S vs RV 760LMT
Now that you are aware of the features that have been added in Garmin RV 770, here is how it is a viable update, or not, for your RV.
Price. Price certainly makes a huge difference for RV drivers since they have a million things to take care of to make their motorhome self-sufficient. Hence, you would find the RV 770 costing $299 more attractive than RV 760, which costs $399.
Screen and Resolution. RV 770 offers a better screen resolution with 1024*600 pixels with a width of 6*3.5 inch, multi-touch TFT screen. Whereas, the RV 760 comes with a resolution of 800*480 pixels with 6.1*3.4 inch backlight TFT screen.
Safety Warnings. Safety warnings and road alerts are some features that were not present in the RV 760 model but now have been introduced in RV 770. They ensure that you are well aware of the tricky spots, weight limit areas, sharp descents or ascents, bridges, and more beforehand. It prepares you for the surprises on the way so that you do not panic in the situation.
The RV 760 only alerts you for school zones, but RV 770 takes care of animal crossing and road crossing zones as well.
Battery. Although the 8.67 oz 770 is lighter than 12.4 oz 760, the latter's battery lasts half an hour more. Both models use a rechargeable lithium-ion battery to draw power from.
Directories and review websites. There is nothing new in the directory of 770 that can surpass that of 760. However, 760 doesn't offer you access to review websites such as TripAdvisor and Foursquare. You can use them to book your seats in the restaurants you find best while on the way.
Wi-Fi. RV 760 lacks an in-built Wi-Fi and relies upon a computer for installing updates, whereas RV 770 allows you to do so with the help of its in-built Wi-Fi access.
Apart from the above features, the hands-free mode is enabled in both the models.
Conclusion
As far as our final word on the better GPS is concerned, we would say that 770 is significantly more technologically elaborate than 760. If you already have a 760, then there is no hurry to replace it immediately as it will only add to your expenses. You can invest in 770 when
You require a better alert system as you are hitting an adventurous route.
You want to have access to various reviews and booking websites on the go.
Require a device with built-in Wi-Fi for better navigation.
You want to invest in a technologically advanced yet economically viable GPS for your RV.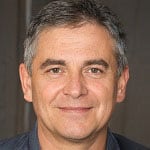 Hi, I am Tom Hank, an RV-er since 2014. Back then, I started without much help. As you can imagine, the struggles are endless. But now, you do not have to begin your adventures knowing next to nothing about RV lives.