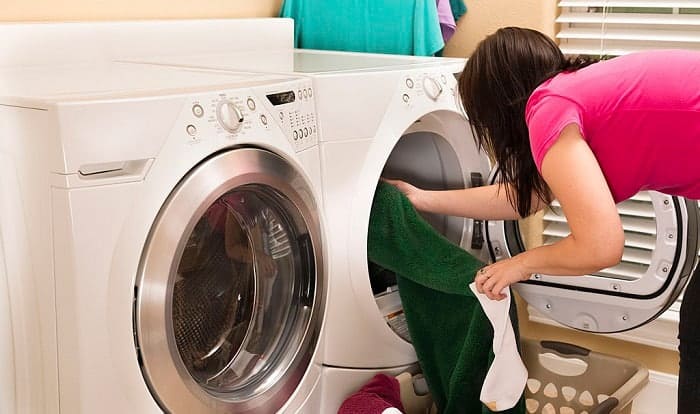 Choosing the best RV washer dryer combo isn't the most glamorous activity. But it's a necessity to keep your clothes clean while you're on the road. Our buying guide will provide a straightforward resource to make the process much easier.
Here's how to choose the best one suited for them. This article will discuss different types, buying considerations, and how to use/install these products. It's a one-stop resource to all things RV washer dryer combo appliances.
I'll begin with 15 product reviews of my favorite options. These reviews will provide some context about what a high-quality option features and offers.
Best RV Washer Dryer Combo Reviews
1. Della 048-GM-48215 Portable Washing Machine Dryer Combo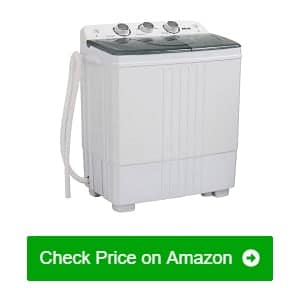 Della's 048-GM-48215 Portable Washing Machine Dryer Combo excels in various areas for appealing to the RVing community. An excellent example would be its portable 20-pound design that makes transporting a breeze.
Honestly, I have no trouble moving it from the storage area to my travel trailer when needed. It's a far cry from what'd I experience with a regular washer or dryer. I can see why this product happens to be a favorite among college kids moving into their dorms for the first time.
The product's 11-pound load capacity isn't anything to overlook, either. It's a sizable amount that does wonders in my situation as a person who's traveling alone. I had no issues cleaning most of my wardrobe with this washer and dryer combo appliance.
RVers will love its compact design as this aspect ensures it doesn't take up much room. This benefit is essential for any RV-related product. After all, space onboard motorhomes isn't overly available for these types of appliances. As for me, I want a device that can do its job without being a space-eating burden.
Its overall effectiveness is rather impressive, as well. This all in one washer dryer combo offers excellent high-quality cleaning power that'll have no issues keeping my clothes in good condition. Users can wash and dry their clothes simultaneously to ensure a high-quality user experience.
Some customers did express that the product offered a plastic odor, which filled the air after its usage. It was noted a few times within this RV washer dryer combo reviews. Obviously, this issue isn't ideal as it could affect a user's overall experience with the appliance.
But it's nothing too concerning as this odor problem is easily solved. I'm more than willing to deal with an issue like this when the product offers top-tier performance. Given this appliance's features, it certainly fits into this description.
2. Giantex EP22930 Washer and Dryer Combo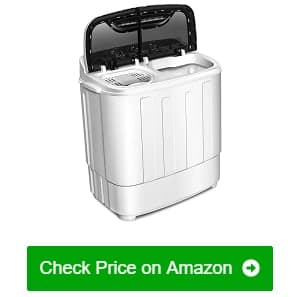 One of the most versatile options available would be Giantex's EP22930 Washer and Dryer Combo. It earns this title with an incredibly portable construction, making it a breeze to move from location to location.
As a result, it becomes a valuable appliance in various situations. I imagine it'd be an excellent fit in any small area where having a washer or dryer would be helpful. Cabin owners or college kids could benefit just as much from this product as an RVer.
I love this appliance's twin tub side-by-side design, too, which offers washing and drying capabilities. The washing tub can handle laundry loads of 8 pounds, and its spin-drying tub holds up to 4.5 pounds.
This compact mini twin tub washing machine even has time control settings specific for both spin-drying and washing operations. These settings make operating the product a lot more user-friendly than I expected. Some companies like to complicate these appliances needlessly, but this one made my life much easier when using it.
If these aspects weren't enough, it was designed to be eco-friendly and energy-saving. Those with a tight budget can rest easy knowing that its usage isn't hurting their bank account or the planet. It's a perfect combination for someone who considers themselves frugal in these areas.
My only notable complaint would be about its instruction manual. It wasn't overly informative, which could be an issue for an RVing newbie. I wasn't the only one to notice as this RV washer and dryer reviews had a few buyers mention this same problem.
But it's only a tiny hiccup that shouldn't be much of a problem. Its overall convenience and versatility more than make dealing with this issue worth the time. I found it to be a delightful appliance during my experience using it.
3. KUPPET KP1040600T Twin Tub Washer and Spin Dryer Combo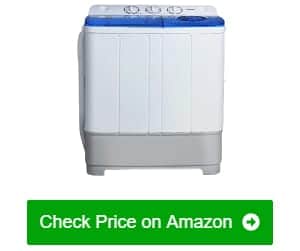 The KUPPET KP1040600T Twin Tub Washer and Spin Dryer Combo is a simple, easy-to-use option that makes cleaning clothes an effortless task for me. I didn't experience anything close to hassle or stress when using this model inside my rig.
KUPPET instead designed a product with a straightforward operation panel, which made finding the proper wash or dry settings a breeze. Its entire using process was as uncomplicated as putting in my clothes, filling it with water, setting the timer, and allowing it to do its job.
I loved this product's built-in drain pump, as well. It had no problem draining the dirty water quickly to help move this entire process along. This drain pump was extremely thorough as it did the job entirely without creating any issues.
We will also benefit from its ability to dry and wash at the same time. Some combination washer dryers for RVs don't offer this capability, making this entire process a lot less efficient. But this one can handle washing a 13-pound load and drying an 8-pound load simultaneously.
I was pleased by this appliance's operation noise level, too. My ears are a bit more sensitive than others when it comes to loud, unabashed noise inside cramped spaces. But this portable washing machine cleaned my clothes while being quiet enough not to give me a headache.
The product's lack of warranty was a bit disappointing. I'm always going to prefer buying RV appliances with these warranty policies as it provides a little protection. Honestly, I tend to have a habit of breaking things with my awful clumsiness.
But this problem is more of a preference issue than something serious. There's no reason this appliance won't serve an RVer who wants a simple solution to clean their laundry. In my opinion, there aren't many better options.
4. Della XPS410 Electric Mini Top Load Washer Dryer Combo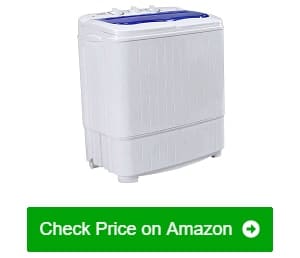 For anyone who is looking for a washing machine to deal with small or medium loads, Della's XPS410 Electric Mini Top Load Washer Dryer Combo would be a solid choice. Its 7.7-pound capacity meets my expectations while keeping things light and compact.
At first, I thought this compact portable washing machine isn't meant for the long haul. But then I was thoroughly impressed with its heavy-duty plastic material. There's no doubt it should hold up well, even in more rigorous conditions like RV usage.
As for its using process, this product comes with a top-tier control panel and comfortable knobs. Both aspects were praised multiple times by other customers for being high-quality additions. I can't report anything different as they did make my time using this device much easier.
I was shocked by this product's overall performance, as well. It took only 20 minutes to clean a load consisting of 3 t-shirts, sweatpants, underwear, socks, and pants.
Buyers might have to do a little air drying after sessions for certain things like jeans. But those clothes items won't be overly damp, so it doesn't take long to get them completely dry. It's nothing a customer shouldn't expect from most smaller washer dryer combo appliances.
Some buyers did mention packaging issues with this option. The good news is that these complaints were very infrequent.
As a result, I wouldn't put too much stock into them when buying this product. Most customers seemed delighted with this mini portable washer dryer combo appliance, just like I do. It's hard to see why they wouldn't be with all these excellent design aspects and features.
5. Giantex EP20313 Compact Mini Twin Tub Washing Machine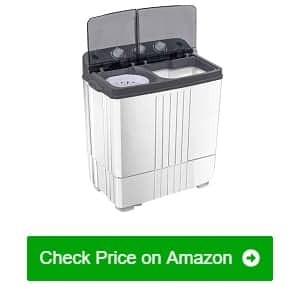 The Giantex EP20313 Compact Mini Twin Tub Washing Machine earns its spot by being an ultra-efficient appliance. For instance, it boasts a powerful dryer that will dry your clothes with a spin speed most other models can't match.
More importantly, it has proven to take out 97% of the water. It's not one of these washing machine combos that require hanging drying my clothes after their usage. The washer component isn't a slouch, either, as this product's powerful motor will clean my laundry with ease.
I was thrilled with this product's overall portability, as well. It comes with handles on the sides that make moving the appliances less taxing than other options. I didn't even need a second person to help when transporting it from storage to my motorhome.
As for its storage capabilities, this Giantex portable mini washer dryer combo has a compact design. Users shouldn't have any issues finding space for it, even within smaller rigs. I was pleasantly surprised by how easily I found room for it inside my overstuffed storage area.
Noise level and its loading capacities are other areas where this model excels. It's known for a quiet operation level while offering a 20-pound overall capacity (12 pounds for washing and 8 pounds for spinning). It should handle the laundry needs of most people living the RV life.
The product's electric cord could be a little longer, though. I'd recommend purchasing or using an extension cord when utilizing this washing machine to alleviate the problem. Otherwise, you'll be slightly limited about what areas you can plug this product into when using it.
Aside from this issue, there isn't much else to negatively mention about it. It's an easily solvable problem that shouldn't affect the final decision significantly. In the end, Giantex made an appliance that any RVer, especially off-the-grid campers, will love.
6. Barton X9980 Portable Washer & Spin Dry Combo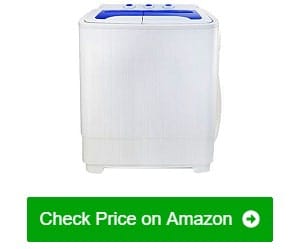 RVers looking for a long-term solution to cleaning their laundry need to consider Barton's X9980 Portable Washer & Spin Dry Combo. Barton built this appliance to endure RV living with a heavy-duty construction made to last many years.
Of course, this durability wouldn't matter much with subpar performance quality. But this appliance more than excels with its cleaning results, as well. It has proven to be a powerful and effective cleaning device that shouldn't have any problem handling light or medium loads.
I was thrilled with how well it handled delicate clothing, as well. This device had no negative impact on my vast number of printed T-shirts, socks, or towels. Other machines have taken a massive toll on these items when cleaning them in my prior experiences.
Buyers shouldn't overlook its clear lid design feature, either. It allows users to see the wash cycle and dry cycle as they happen, which helps us monitor the process. It's another aspect that provides a bit more control over the using process than I see with other appliances.
Some other notable features include a compact design, twin-tub construction, a straightforward control panel, and an easy using process. Barton did an exceptional job designing a washer dryer combo that checks off most boxes of what RVers want in these appliances.
There's a slight inconvenience that buyers need to think about when considering this option, that it might require an adapter for the inlet hose to match the sink's faucet.
However, the performance and various convenient features do make this issue worth it. Portable washer dryer combo appliances don't get much more helpful than this one. It shouldn't have any problems handling my laundry for many years, I supposed.
7. LG WM3997HWA Ventless Washer Dryer Combination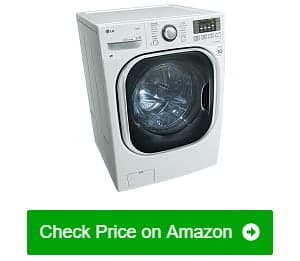 LG's WM3997HWA Ventless Washer Dryer Combination stands out from its competitors for several different reasons. But my favorite aspect about this excellent appliance is its usage of anti-vibration technology.
As a result, the noise level of this ventless washer dryer is almost non-existent. My laundry sessions no longer have to be a headache for everyone onboard the motorhome. It'll instead do its job effectively while keeping everyone sane.
I was also thrilled with this device's overall construction. It contains various heavy-duty components that should have no issue offering years of service. For instance, its stainless steel drum has anti-rust capabilities to promote longevity.
The number of settings and controls was another highlight. It provides 14 wash cycles, four dry cycles, five temperatures, and eight options to choose from when using this device. It makes finding the perfect washing conditions effortless and straightforward for a user.
Some users might think this amount of settings and controls would be confusing. But honestly, I didn't have any trouble finding the perfect options for my laundry loads. The device's control panel made it smooth sailing even for a novice like myself.
Once the washing's complete, this device will tumble my clothes every few minutes. It keeps them fresh and prevents wrinkling issues while it waits for me to get the laundry out. This benefit is perfect for me as I'm a forgetful individual.
But a buyer or two did mention the device smells a little funky when first arriving. This odor didn't have an impact on the clothes, though, which is good news. It's just a slight bother that did cause concern among some users.
However, these reports also noted the smell went away after a couple of weeks. Its other essential features make this initial issue more than worth dealing with as a customer. It ends up being kind of like a new car smell, which can be fixed with scented products.
8. Panda XPB36 Portable Washing Machine with Spin Dryer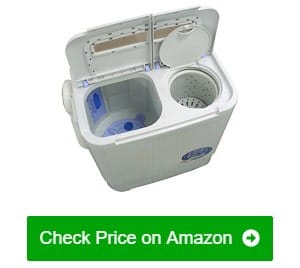 RVers shouldn't make assumptions about the size of Panda's XPB36 Portable Washing Machine with Spin Dryer based on its brand name. It has very little in common with a panda bear concerning its size or features.
After all, this portable unit only weighs 28 pounds and doesn't require much effort to move. One person will be able to transport around without any trouble. It's why buyers tend to use this washer dryer in various locations rather than only keeping onboard their rigs.
This small washer dryer combo for RV owners also has a twin-tub construction. As with previous options, it's a convenient design because it's possible to wash and dry simultaneously. It makes life much easier when dealing with multiple laundry loads at once.
I found switching between the device's functions simple, as well. Its control panel was a breeze to use as I didn't have a single problem changing between the drain, wash, and spin functions. We couldn't ask for an easier washer dryer combo to operate than this one.
In particular, the spinning function impressed me greatly. It was a lot more powerful than expected and got my clothes drier much quicker. Honestly, it blew my old used RV washer dryer combo out of the water with its performance as I'd expect from any top option.
But this powerful machine isn't the best for washing delicate items. I'd recommend doing a separate load for socks, towels, garments, and similar items. You should also only run the cycle for about two minutes or so to avoid issues.
Overall, this Panda portable twin tub washing machine does its job without making our life difficult. RV users needing a straightforward, practical wash/dry combo appliance should make a note of this product. It'll undoubtedly be a better choice than hand washing and air drying all our clothes.
9. Splendide WD2100XC Vented Combo Washer/Dryer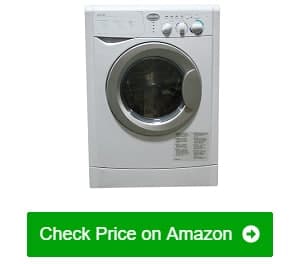 Our next option, Splendide's WD2100XC Vented Combo Washer/Dryer, comes with several features that separate it from its competitors. An excellent example would be its self-cleaning filter, which is a godsend for anyone who forgets to check the lint trap.
It's an essential quality because lint build-up can lead to dangerous fires. But this Splendide washer dryer combo removes that worry from our mind. It'll ensure the collected lint of each cycle is flushed through the drain pipe.
I also love this product's 1200 RPM spin speed. Thanks to it, the leftover moisture on a t-shirt or other clothes will dissipate quickly to promote much faster drying. It even does an excellent job on heavy cottons, which most combo units struggle to dry.
RV users should adore this product's construction, as well. It was designed especially for RV living and won't suffer unnecessary wear because of vibrations or shocks. Splendide dealt with these issues by utilizing heavy-duty shock absorbers and springs.
The stainless, rust-resistant drum certainly doesn't hurt, either. I was impressed by this bi-directional rotation during both washing and drying sessions. It stopped my clothes from wrinkling and improved their appearance significantly.
However, this vented combo washing machine does have one downside. It weighs over 145 pounds to ensure moving it into a rig will be stressful and taxing. I was struggling trying to move this washing machine even with a dolly. So, users will need the help of a family member or friend to install this model into the travel trailer.
Its performance afterwards blew my sweat away. This combo unit will make sure the clothes remain in good condition without breaking a sweat. More importantly, it'll provide these results without being overly affected by the rigors of RV traveling.
10. LG WM3488HW Washer/Dryer Combo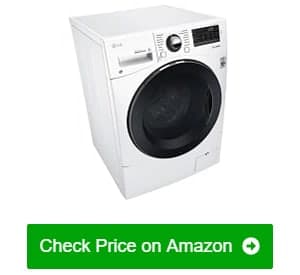 One of the most advanced options available would be LG's WM3488HW Washer/Dryer Combo. It comes with a long list of features that most other choices have no chance at matching or topping.
An excellent example would be its SenseClean system, which automatically sets wash time and water level for each load. It bases these configurations based on the load's weight to offer a much more desirable and practical cleaning experience.
I was also delighted that this product offers a sanitary cycle feature. It'll heat the water to 158 degrees and remove any stains or bacteria on the intended clothing. Therefore, I could utilize it for hospital scrubs and cleaning up pet bathroom accidents.
The product's 10-year limited warranty was another aspect to catch my attention. It'll ensure protection against any malfunction or potential issue with the device. Due to this, I always have a usable washer/dryer onboard my motorhome.
It also has several other familiar features mentioned in previous reviews. Some of them include a 2.3 cu. ft capacity, quiet operation level, easy-to-use controls, and durable construction.
Each of their inclusions will add a level of convenience that'll make buyers love this incredible appliance. Honestly, there isn't anything this product doesn't provide or contain that I would add to its overall design.
Buyers will need to set aside a large portion of money for this option, though. It easily has the most expensive price tag on our entire list. I had my share of consideration whether its exceptional features are worth breaking open my savings.
I would undoubtedly fall on the side of willing to pay the asking price. Finding a more well-equipped washer dryer combo for RV usage would be difficult in this market. It's genuinely a special and exceptional washing machine that'll make washing clothes a delight.
11. Giantex EP21684 Portable Mini Twin Tub Washing Machine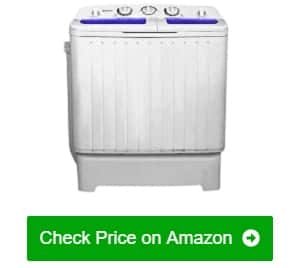 Buyers looking for an affordable solution to their onboard laundering should consider Giantex's EP21684 Portable Mini Twin Tub Washing Machine. It's one of the least costly choices on our list while still having some impressive qualities.
Bargain buyers should be jumping to purchase this 17.6 total capacity washing machine. Its space-saving design doesn't hurt its appeal, either. Finding a place for it onboard my motorhome and moving it around only required one person.
The product's 300W washing power and 110w spinner power are more than enough to effectively wash my clothes, as well. I was impressed by how well it handled smaller loads and delicate items when compared to similar available options.
RVers will also find themselves loving the included drainage tube. It will quickly drain out dirty water after the cleaning process is thoroughly done. It's worth noting that it's a gravity drain and requires elevation off the floor when emptying it into a drainage outlet.
But again, its main attraction remains the affordable price tag. It might be the best RV washer dryer combo when it comes to evaluating cost-effectiveness. Honestly, I got a bang for my buck with this compact portable washing machine from Giantex.
However, this washing machine is another one, which suffers from a short power cord. It made me struggle a little at first when trying to find a place for plugging it in. Buying and using a 3-hole extension cord solved this issue.
Aside from this slight concern, Giantex did a great job constructing their product to be a convenient purchase for RV owners. Its portability and large capacity alone should be enough to pique the interest of any motorhome owner.
12. Auertech AU0002 Twin Tub Mini Washer and Dryer Combo
The Auertech AU0002 Twin Tub Mini Washer and Dryer Combo does a great job saving water and reducing power consumption. Both these qualities are endlessly for off-the-grid campers who don't have constant access to shore power.
I was also thrilled to see this model is another one that allows drying and washing simultaneously. Its side-by-side construction provides these convenient capabilities that'll help reduce the time spent doing these activities significantly.
The product's design isn't overbearing, either, as it can fit into RV closets or bathrooms with ease. As you can imagine, this attribute makes it useful in other cramped areas. I could easily see this being a valuable appliance for someone living in a studio apartment or cabin.
This option also won't wear down quickly as it has a high-quality PP body construction. This attribute has proven to resist rust and promote long-term usage. I even dropped it once when moving around my rig, and the product managed to withstand my clumsiness with ease.
Auertech was kind enough to offer two capacity choices, as well. Each buyer will have to select between 14-pound and 20-pound options. Due to this, the washing machine ends up having a much broader audience than you might initially expect. The choice provides a little more versatility and adaptability than other portable models.
It does have a habit of being a little too loud when it's on spin cycle. This noise level isn't headache-inducing, but it's noticeable and could annoy certain customers. It was an issue brought up more than once in the buyer reviews.
But honestly, this noise issue isn't something to worry much about for buyers. We can quickly deal with it by covering the sound with other devices around our rig. I chose to drown it out with some loud music and found myself completely happy with the product's performance.
13. KUPPET 10406002900 Clothes Washing Machine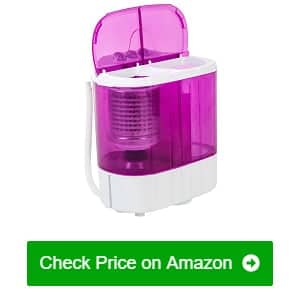 KUPPET's 10406002900 Clothes Washing Machine offers a bit of style while still remaining an excellent wash/dryer combo appliance. After all, it has a red-ish color scheme that stands out from the pack within this marketplace.
This stylish design comes with effective and convenient washing capabilities. In fact, the machine's agitator has a lot more power than I expected. I wasn't the only one surprised by this trait, as it was mentioned a few times in the customer reviews.
Moreover, it comes with a gentle wash cycle that we don't often have on simple options. It'll help make sure the powerful agitator isn't too hard on our more delicate items. It ends up being a truly practical and helpful feature.
But the spinner has to take the prize as this product's most impressive aspect. Its 1300 RPM spin speed is otherworldly and can dry clothes much quicker than anyone would expect. I even could put the spinner at the 3-minute setting and come away with almost complete dry t-shirts.
I spent no effort in assembling this appliance. It'll arrive ready for usage right out of its shipping container.
One or two customers did mention shipping issues with this option. It seems this device has a habit of arriving later than expected, which isn't a massive deal. But it's something to think about before purchasing this washing machine.
However, this compact portable washer dryer appliance does make up for the shipping problems. It has all the makings of being a beneficial and productive device that will ensure our RV trips are less stressful or frustrating.
14. SAFEPLUS EP24471 Portable Washer Dryer Combo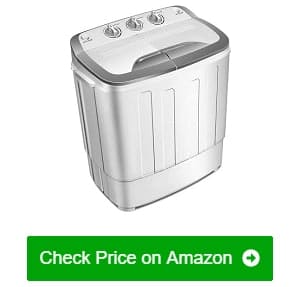 I love SAFEPLUS's EP24471 Portable Washer Dryer Combo because it offers a significant amount of control over its using process. For instance, it comes with separate time settings for both the washer and spinner tubs.
Users will get to choose from five times for both operations. As a result, finding the perfect time frame for a specific laundry load won't be overly burdensome. It ends up being an aspect that makes using this model relatively simple and straightforward.
The product's 360-degree rotation was another trait to catch my attention. It's a pivotal aspect because it helps reduce the number of clothes that wrap up together. Due to this, the cleaning process becomes a lot more effective and practical.
Assembling this product is a non-issue as it doesn't need to be done. This washer dryer combo comes ready to clean our clothes from the moment it's unpacked. Therefore, a user will need to plug it into an outlet, and cleaning their laundry will no longer be an issue on their rig.
I must mention that it includes a cover plate for the spin tube. This aspect will help prevent the issue of clothes getting thrown away during the drying process. It tends to be an issue with inferior options that don't come with this excellent feature.
It does provide noise level issues, which a few customers report in their reviews. But again, drowning out the washing machine isn't an unsolvable task, especially onboard an RV.
All in all, it should be a more than effective washer dryer combo for any RVers. I don't see another reason why it wouldn't thrive onboard a motorhome.
15. Splendide WDC7100XC Washer Dryer Combo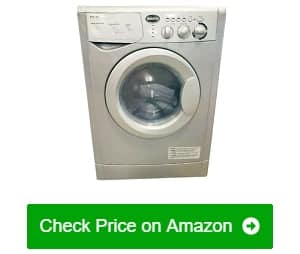 Our final product, Splendide WDC7100XC Washer Dryer Combo, provides outstanding loading capacities for both washing and drying. I don't often come across RV washer dryers that can handle washing 15 pounds and drying 11 pounds at the same time.
This ventless washer and dryer's superior capacities come from its powerful AC motor, which offers top-tier performance. It makes my laundry sessions more convenient as I don't have to do as many loads. Plus, its 1200 rpm spin speed will dry clothes much faster than other vented RV washer dryers.
This product's automatic water level was another highlight for me. I'm not a massive fan of being an active participant in the laundry process. I don't want to be filling up the washing machine with water as is required with some other manual options.
As a result, I found myself adoring this product's using process. It became a simple matter of selecting a wash cycle, choosing a dry time, and pressing the start button. Splendide's design team and my preferences are certainly on the same page.
Don't overlook its usage of super-silent technology or its wide door opening, either. Both these attributes made my experience a lot more user-friendly. I didn't even mention its self-cleaning filter or bi-directional rotating drum, which are must-have features for my needs.
I do wish this washing machine weighed a little less. This device weighs 145 pounds, making it a two-person job to install inside a motorhome. Hopefully, a nearby friend or neighbor will be willing to give you a hand when this machine arrives.
But it'll be more than worth the effort as this product doesn't do anything but excel performance-wise. The brand put plenty of time and thought into what RV owners want in these devices when designing this exceptional washing machine.
Best RV Washer Dryer Combo Buyer's Guide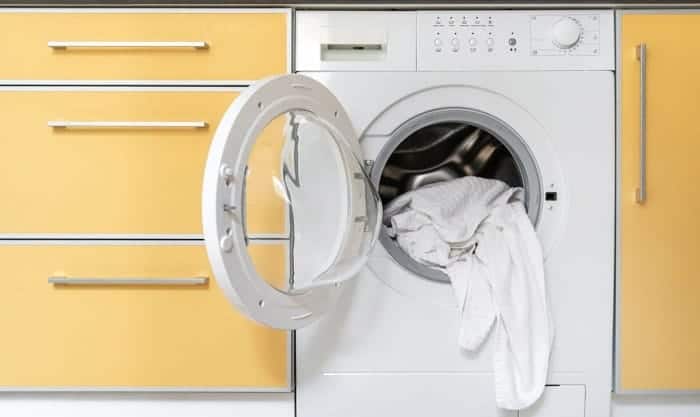 Purchasing an RV washer and dryer combo isn't as simple as choosing the first available one on Amazon. There are numerous levels to this decision, which will need exploring before making an acceptable final choice. I'll dive into these topics below to provide a clear starting point for this buying process.
Size
The first thing to consider would be the size of your camper washer and dryer. After all, the best option won't do you any good if it can't fit inside your motorhome. You'll need to determine the amount of available space and each unit's measurements before choosing their needs.
As a result, an RVer should find and measure an area where they intend on placing their washer dryer combo. You then use these measurements to compare with the available options. It's also a simple way to limit your number of choices down to a more manageable number.
Smaller rig owners will need to consider the washer/dryer's weight, as well. The general rule of thumb is the lighter these machines are, the better it's for your motorhome. But heavier RV washers and dryers tend to be more potent than their lighter counterparts.
Load Capacity
Loading capacities are another massive piece of this buying process' puzzle. In most cases, RV washer dryers are compact and contain small loads. It's the main reason why RVers should always run small loads of laundry when using them.
I'm not saying that there aren't a lot of large-capacity washer dryer combos available. There are plenty for people with massive laundry needs, such as large households. But I recommend thinking about whether you need one before spending the extra money.
For instance, a person traveling alone doesn't need a combo with a massive load capacity. It ends up just being a waste of money. As a result, stick with the smaller, lightweight options unless it's an absolute necessity.
Cost
The price of a combination washer dryer for RV usage can vary drastically. You'll need to build a budget around your particular required features to deal with this variation. It's the only way to ensure you end up choosing a cost-effective combo washer dryer for RVs.
Let's say; you're traveling alone or with one other person. Why would you spend an outrageous amount of money on a unit with a massive load capacity? It doesn't make much sense, meaning your budget should be lower than someone who needs a larger machine.
Once you've constructed the budget, it becomes a lot easier to lessen the number of choices. It makes this entire process a lot less stressful and more manageable.
Features and Controls
Choosing the best washer and dryer for RV usage will require thinking about what you value from these machines. What features and controls are deemed necessary by the people onboard your motorhome?
An RVer who needs powerful cleaning capabilities should think about buying a unit with a deep cleaning feature. Meanwhile, if you want numerous dry cycles and wash programs, look for combos with those qualities.
It might seem like common sense, but plenty of people get sucked into paying for unneeded extra features. Honestly, most RVers don't need much more than the basic features for their washing and drying needs.
But regardless of your chosen washer dryer combo, make sure it has an easy-to-use panel. Check out the customer reviews to get a handle on this aspect. People tend to get extremely unhappy when the controls are needlessly tricky.
Noise Level
You don't want a machine with an overly aggressive operation level. This issue will only make RVers wish to avoid using their washer dryer combo at all costs. It's best to look for a unit with a known reputation for subtle, quiet operation.
Most RV washer dryer combinations will emit a noise range between 55 and 70 decibels. This level of sound is a massive annoyance but could prove stressful over time. Your best bet to avoid any noise level-related issues is by purchasing a model with anti-vibration technology.
Energy Efficiency
In general, RVers choose these washer and dryer combo units to save money. It makes picking an option that doesn't waste essentials like detergent, water, and energy crucial. You should pay close attention to each model's Energy Star rating to get an idea of its energy efficiency.
If you are interested in RV Appliances. We have gathered the right RV ac gasket and RV refrigerator fan. Check it out if you need.
FAQs
Our FAQ section will attempt to cover any questions left unanswered by the previous discussions. You'll soon have everything needed to choose a high-quality washer and dryer combo unit.
Who is this for?
If you're looking for a compact washing machine to clean/dry your clothes, a top-tier RV washer dryer combo unit is a perfect fit. These devices were designed to be much smaller and lightweight than your residential models.
More importantly, companies built these units to withstand the rigorous RVing lifestyle. These devices will have heavy-duty constructions capable of resisting vibrations and shocks. Plus, they are engineered to be energy-efficient and water-saving.
All of these attributes make RV washer dryer combinations perfect for all rig owners. But these products are convenient for boondockers and similar travelers. In other words, the RVers who are looking to camp away from campgrounds and civilization.
What are the different types of RV washer dryer combos?
Several RV washer dryer combinations exist within today's market. I will discuss the most common variations below to provide a general outline of what each one offers. From there, choosing the right type should be a piece of cake.
Stackable Washer Dryer Combos
RVers with large laundry load needs often invest in an RV stackable washer and dryer combo. A massive benefit of them is their ability to wash and dry multiple loads at once. In fact, the best RV stackable washer dryer options, such as any Splendide stackable washer and dryer combos, can handle loads at least up to 15 pounds.
I should also note that these units work similarly to residential washers and dryers. But they're smaller and more compact to fit better into an RVing setting. But these types do take up a bit more space than the others, making them a tough sell for smaller rig owners.
Portable Washer and Dryer Combos
Boondockers should be jumping at the chance to buy portable RV washing machines. Some models don't even require electricity to clean/dry your clothes. Honestly, the electric ones aren't a bad sell, either, as they still only use little water and electricity.
Most of these options will function by connecting to your faucet. In these cases, users can expect their clothes to be ready in about 15 minutes. Another identifiable trait about the majority of portable units is they're non-vented.
Instead, these devices will use a condensing system to rid your clothes of moisture. You'll also come across models with a built-in sensor to improve the drying process's efficiency.
Vented Washer and Dryer Combos
A vented RV washer dryer combo separates itself by using air inside the laundry room to dry your clothes. It's an effective, quick method of completing the entire process. However, you'll need to drill a hole for RV washer dryer combo vented appliances when installing them.
Non-vented Washer and Dryer Combos
RV washer dryer combo ventless appliances heat the air inside the drum to dry clothes. It's a helpful method, but RVers tend to shy away from these options unless necessary. The issue comes from ventless washer dryer combos using a lot of water and taking longer to dry clothes.
How do RV washer dryer combos work?
RV washer dryer combos don't work any differently than regular washing and drying machines. Users will put their clothes into them, add water/detergent, then choose their preferred washing cycle.
In some cases, the machines will have specific settings or features to control detergent and water levels. But it's essential to realize that a load only requires a tablespoon or so of detergent with any unit.
You should also make sure to refrain from overloading the machine. If you put too many clothes into the machine, it'll stress it, and the process becomes ineffective. A common sign of this happening is detergent left behind on any clothes after washing.
After the cycle is complete, transfer the clothes to the spinner tub for drying. You should then proceed to drain the leftover dirty water, which is an easy process for most washer dryer units. Many of them won't need plumbing, and you can drain their dirty water into the bath or sink.
If your drying has concluded, remove the clothes and remove the collected lint in the vent. It's usually located on the front of your machine, near the bottom. Never forget this step, as lint build-up can cause inefficient drying and dangerous situations like fires.
Advantages and disadvantages of using RV washer dryer combos
A combination washer and dryer for RVs can offer numerous benefits for motorhome owners. But these units aren't perfect as they do have a downside or two. I'll go over both sides to make sure each reader can determine whether buying one is wise for them.
Advantages
Quickens the laundering process: Having an RV washer/dryer unit onboard would speed up how quickly your clothes become clean by a significant margin. You can then use this extra time on more appealing activities.
Affordable: These combo appliances don't cost as much as a residential RV washing machine or dryer. It helps them appeal significantly to RV users who are traveling on a budget. These models might be the best bang for your buck when it comes to the washer and dryer for RVs marketplace.
Energy-efficient: RV washer and dryer combination units are considered energy-efficient appliances. As a result, they don't cost much money to run. It's the main reason that they're a favorite among cash-conscious RVers.
Takes up little space: Washer dryer combos are made with compact construction to conserve space in cramped areas like an RV. You can then utilize the additional space for storing other items or appliances that are necessities on your travels.
Durable designs: Brands make these combo appliances to withstand traveling from place to place. Due to this, high-quality options shouldn't have any problem lasting decades without breaking down.
Disadvantages
Smaller load capacities: Combo units can't contend with other washing machines regarding how much clothes they can hold. It often makes them rather impractical for larger families traveling around in RVs.
Who makes the best RV washer dryer combos?
Trusted RV washer dryer combo brands will excel in two areas: providing excellent product quality and customer service. Finding companies capable of offering both can be a challenge within this marketplace.
But I've provided some excellent examples in our product review section. Each of those brands has proven time and time again to offer a high-quality buying experience for customers. If you stick with their products, this process should be a complete success.
One alternative worthwhile option would be any Samsung RV washer and dryer sets. I've also heard great things about products that are RV washer/dryer stackable by Pinnacle.
How to install an RV washer dryer?
Installing a washer dryer combo appliance will be different from product to product. The entire process will end up depending on your chosen option's type. In any case, I'd suggest selecting a set that comes with everything needed for the procedure.
After compiling these components, the installation consists of hooking up water lines, vents, and electricity. Many rigs will also come with cabinets or spaces already set up to install a washer and dryer for RVs.
If you have one of these motorhomes, stick to the provided instruction manual. But please make sure to refrain from drawing too much power that your rig can't handle. Meanwhile, portable washer users will need to set up the device into a similar space or cabinet.
You can also take it into your kitchen and connect the water hose to your faucet. From there, you pop the drainage hose into your kitchen's sink. Portable dryers aren't overly difficult to set up, either, as all you have to do is mount into a wall or cabinet.
How to use an RV washer dryer combo?
Using RV models isn't any different than residential washing machines. But some do have specific instructions that you can find inside their respective manuals. Please make sure to read these resources in full before using these devices.
Otherwise, you might miss a key feature or direction to use the device efficiently. I don't imagine anyone who's used a washer or dryer before will have much trouble getting these things running.
How long does a washer dryer combo take to dry?
Your unit's drying process will depend solely on its loading capacity and embedded dry/wash programs. In most cases, users can expect dry clothes in at least 30 minutes. But some subpar options can take as long as an hour and a half.
How long do washer dryer combos last?
Most brands will claim their devices can last ten or more years with proper usage and maintenance. If they have a solid reputation, there's no reason to believe something other than their word when it comes to longevity.
You'll also come across brands claiming their washer dryer combo can last 20 years. These options aren't overly common and often cost more due to their reputation. In any case, an RV washer dryer combo appliance should be seen as a long-term investment.
Any care and maintenance tips?
Every washer dryer combo unit will come with a detailed instruction manual. These resources should tell you everything needed to keep them in good shape. If you follow these directions, keeping the device in good condition shouldn't be difficult.
Conclusion
After reading our article, finding the best RV washer dryer combo should be a walk in the park. You just need to utilize what you've learned, and the right choice should become clear. There isn't much more to it.
But if a question or two does arise, please use our comment section. I'll do my best to answer your post as quickly as possible. Thanks for reading!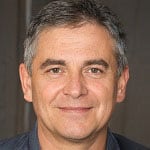 Hi, I am Tom Hank, an RV-er since 2014. Back then, I started without much help. As you can imagine, the struggles are endless. But now, you do not have to begin your adventures knowing next to nothing about RV lives.