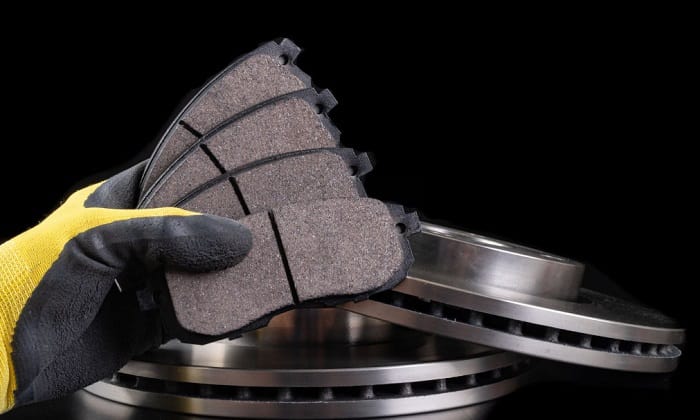 Finding the best brake pads for towing might seem like a challenge for first-time buyers. It might be easy to end the search by buying any brake kit to finish the undertaking. However, if we do not install quality brake pads, we are putting our passengers and our own safety at risk.
Therefore, we should be responsible for taking the time to research the most reliable brake pads on the market. In fact, selecting the right brake pads can be done when paying attention to these important factors:
Material: A tow brake kit will typically possess constructions made with durable materials. Manufacturers often use metal, ceramic, or organic options for the front and rear brake pads they offer. But it is essential to keep in mind that each material will have distinct advantages and shortcomings.
Braking power: Towing vehicle users can achieve superior braking performance by taking note of the quality of the installed brakes. It is necessary to match a brake's superior stopping power with the vehicle's weight and current speed.
Noise: Heavy-duty brake pads can also be silent vehicle-stopping systems. Towing brake systems that screech may also be a sign of an underlying problem that needs addressing.
We should note that selecting brake pads with exceptional stopping power does not end with the factors above. Purchasers can begin their search by looking at the following list of the top-tier towing brake pads on the market.
11 Best Towing Brake Pad Reviews
1. Power Stop Z36-1680 Front Brake Pads
This Power Stop brake kit takes advantage of anti-squeal shims. With that feature, stopping my vehicle with these pads delivers a silent braking experience.
In truth, these brake pads for towing have a design that compresses a viscoelastic layer and two steel pieces to prevent screeching and squealing noises from the pads. Knowing how the devices work is important in installing them, too.
I also appreciate the stopping performance of these Power Stop brake pads. It works smoothly regardless of the angle of the terrain, which is not the case for several pads I have used before. In fact, I tested these brakes on uphill and downhill slopes, and it prevented the towing and towed vehicle from slipping.
Make no mistakes as these are brake pads for heavy duty trucks like the Ford F-250 Super Duty. Installation is also reasonably quick and easy. Moreover, it is compatible with resurfaced factory rotors, adding extra points for compatibility in my book.
I also noticed that my vehicle's handling and fuel economy improved once I installed these brake pads. Additionally, I used these pads for some road trips, and I can confirm that these products are low-dust models.
On the downside, its performance for its friction and heat management could be better than its built-in offering. I found some ceramic pads to work more efficiently in those departments than this Power Stop option. Still, this issue does not bother me significantly as long as I maintain a reasonable speed for my vehicle.
What We Like
Silent braking experience, thanks to the steel and viscoelastic layers
The top-notch stopping power on uphill and downhill slopes
Heavy-duty brake pads for trucks like the Ford F-250 Super Duty
Improves handling and fuel economy for towing vehicles
Low-dust performance helps reduce regular care efforts
What We Don't Like
Friction and heat conductivity could be better
Ultimately, these brake pads for the front wheels of trucks are excellent contenders. This product can be a first-rate choice for silent yet powerful stopping performance for compatible towing vehicles.
2. ACDelco 17D1707CH Ceramic Disc Brake Pad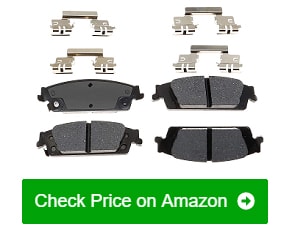 While these models look like standard brake pads, I found that such a brake pad kit enhances my overall towing experience. For instance, it was able to endure massive loads while still providing smooth yet powerful stopping power.
It is also quite surprising for me to see that the manufacturer used ceramic, semi-metallic, and organic parts for each brake pad in the set. This unique setup allows each brake pad to function well in different road situations.
Stepping on the brake pedal also delivers a quiet experience with these semi-metallic and ceramic brake pads installed. The vibration-less performance and first-rate chamfers work with their durable shims and slots. Not only do these components provide a silent performance, but they also promote low-dust braking.
I would also like to extend my gratitude to the manufacturer for including the necessary tools and hardware for the installation. With these extra parts in the kit, I did not need to go to the hardware store, otherwise requiring me to spend extra money on gas.
Perhaps my only wish for this kit is for it to have improved compatibility. The setup did result in top-performing brake pads for towing Chevy Silverado. However, most of my test installations were successful in towing vehicles from specific automobile makers like GMC.
What We Like
Can withstand significant weights while providing smooth yet powerful stops
Uses ceramic, semi-metallic, and organic parts for efficient braking performance
Quiet experience, thanks to the vibration-less design
Essential tools and hardware included in the kit
What We Don't Like
May only fit specific vehicles from particular automobile makers
For towing vehicle owners compatible with this brake pad kit for towing, these semi-metallic and ceramic brake pads are a first-rate performer in different aspects.
3. Power Stop K2069-36 Z36 Tow Brakes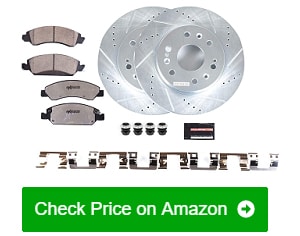 Unlike other towing brake kits I used, this Power Stop model does not heat up significantly when used extensively. I saw that the drilled and slotted rotors built into this model's construction offer optimal cooling to the entire framework, resulting in reduced temperatures and extended serviceability.
In these ceramic pads, each rotor also has zinc plating. That extra finish allows the brake pads to resist problems like corrosion and rust.
The units in the kit are also high-performance brake pads, thanks to the carbon-fiber ceramic construction. With the materials used to create this product, the pads provide first-rate stopping prowess without developing a significant amount of dust.
In my experience, these towing brakes are excellent choices for pulling different heavy loads. I can even go as far as to say that these models are one of my go-to brake pads for motorhome towing. Aside from an RV, these pads were also able to provide sufficient stopping power to towing other large-wheeled vehicles.
Additionally, the manufacturer also included a lubricant for regular maintenance purposes. The kit also has stainless steel hardware for optimal durability and longevity. However, it does not include calipers, which can be a necessity for a proper installation. Thankfully, I have a set of calipers in storage. But folks that do not have these components may need to purchase them separately.
What We Like
Drilled and slotted rotors help prevent significant heat buildup
Rotors have zinc plating for them to resist corrosion and rust
Carbon fiber ceramic construction offers top-notch stopping prowess
Low-dust performance during extended use
Offers a superior vehicle-halting experience for large-wheeled vehicles
The kit includes a lubricant and steel hardware kit for a convenient installation
What We Don't Like
The lack of brake calipers might become cumbersome for some installers
I can recommend these brake pads for towing because of the myriad of top-of-the-line features they offer.
4. Bosch BC784 QuietCast Premium Tow Brake Set
I noticed that the 'premium' tag on this tow brake set is not a mere marketing gimmick. Once installed, this braking system performed admirably, giving me superior silence and braking performance during heavy-duty towing. Stopping my towing and towed vehicles frequently also generated a small amount of brake dust, making it easy to clean.
This brake set also complies with the 2025 Copper-Free Brake Initiative, which aims to reduce copper use in brake pads for added safety. Instead of copper, the manufacturer used an aerospace-grade ceramic and semi-metallic friction formula. Anyone seeking quality brake pads should consider this set for optimal on-road safety and silence.
I am also captivated by the brake's protective transfer layer. This feature helps improve the serviceable life of the brake pads, and it does it reasonably well. I noticed that the pads and their rotors did not accumulate significant damage from frequent use, thanks to this extra layer.
Compatibility is also above-average for this tow brake kit. It fits well with different Chevrolet Silverado models. However, I found it quite difficult to set it up on other vehicles. I should mention that some of those install processes were successful despite giving the automobile some mileage loss.
What We Like
Optimum silence and braking performance meant for heavy-duty towing
Low-dust performance for easy cleaning sessions
Complies with the 2025 Copper-Free Brake Initiative for on-road safety
Protective transfer layer to extend the life of the pads and their rotors
Reasonably good compatibility with different vehicles like the Silverado
What We Don't Like
Might be tough to install on other vehicles without mileage loss
Overall, this brake kit for towing is a recommendable option, primarily because of its build quality. Interested buyers looking for a long-lasting brake pad set may not want to miss out on this product.
5. Power Stop K3167-36 Z36 Tow Brakes
It can be tough to search for a brake kit for towing compatible with the Ford F150. Thankfully, these models exist, for these are not your average brake pads for towing F150. Instead of giving me the standard vehicle-stopping experience, these brakes pads performed marvelously in different towing scenarios.
Aside from fitting in a Ford F150, this kit is also compatible with other towing vehicles. I was able to experience a hassle-free installation with automobiles like the 2010 Ford Expedition and the 2018 Lincoln Navigator.
Furthermore, this kit is arguably better than many OEM brake pads. It is because many OEM pads do not offer precision drill holes, making them susceptible to significant heat buildup. On the other hand, this set has those accurate drill holes, relieving the pads from high-temperature accumulation.
The stainless steel shims also help eject heat from the system. Adding to its heat-reducing performance is the inclusion of a high-temperature lubricant in the kit.
I also like that the pads have rounded slots. With these traits, the brakes do not grind against the rotor's surface. This design choice allows these units to provide smooth braking experiences.
Although I admire this kit's heat-managing capabilities, I wished that it was more durable than its current build quality. After using these pads for some time, I noticed that they accumulated signs of wear and tear. Also, the rate at which these scratches and dents appear seems to be faster than other sturdier models on the market.
What We Like
Offers excellent stopping prowess for different towing scenarios
Compatible with different towing vehicles like the Ford F150
Accurate drill holes and stainless steel shims prevent significant heat buildup
High-temperature lubricant included in the set
Smooth braking performance, thanks to the rounded slots
What We Don't Like
Might not be as durable as other brake pads on the market
I recommend these towing brake pads for interested shoppers looking for options to stop their vehicles without worrying about problems like major heat accumulation.
6. Motorcraft BRSD1414 Brake Pads
These Motorcraft brake pads surprised me with their performance for towing vehicles in high-wear conditions. Made with a ceramic front disc, these brake pads consist of more than a sufficient stopping force for heavy-duty towing.
I would even go as far as to say that the durability of these ceramic pads is almost unmatched. It provided my towing vehicle with more than enough stopping force while hauling heavy loads. These brake pads handled themselves well to stop objects like boats. Its stopping prowess was even consistent throughout different road trips.
With its high-ranking performance, these pads give me peace of mind while on the road. Safety became a non-issue during my vehicle towing jobs. Moreover, the multilayer chamfers and shin assures me that these brake pads should last a long time.
Installation was also a reasonably straightforward affair. I noticed that it does not require modifications as long as I am installing these pads in a compatible vehicle. It is also quite surprising to experience a high-performing and high-quality set of brake pads at a reasonable price point.
However, this excellent durability and performance can only be experienced for a limited number of vehicles. In particular, this brake pad set only fits vehicles like the 2010 to 2017 Ford Expedition models.
What We Like
Outstanding stopping force to prevent loads like boats from slipping
Powerful stopping performance to provide optimal on-road safety
Multilayer chamfers and shine supply the brakes with top-notch longevity
Fairly straightforward setup procedure
Reasonably inexpensive price
What We Don't Like
Might only fit a few vehicles
These brake pads are high-quality models that can cater to the stopping needs of vehicle owners with compatible automobiles. Buyers with vehicles with designs that can fit these pads will find the stopping experience to be more than satisfactory.
7. Power Stop K6268-36 Z36 Brake Kit
While some towing brake sets are only ideal for the front or rear side of vehicles, this kit's versatile designs can fit either placement. I was able to install it to the front or rear axle. Furthermore, it was even possible for me to place four brakes in this kit to my automobile's front and rear axles.
Aside from its superior versatility, I also love how the company provided all the necessary hardware in this product's packaging. Therefore, it did not require me to make extra purchases.
I am thankful that separate purchases are unnecessary for this brake kit for towing vehicles. It is because the set already possesses a steep price tag. This set is also perhaps one of the most expensive brake kits that I found on the market, making it quite tough to recommend for interested buyers on tight budgets.
However, perhaps the manufacturer made sure that the bump in this product's price matches its quality and performance. For instance, the carbon fiber ceramic build ensures that the brake's material does not break down when trying to stop heavy loads.
Moving forward, the durability of each brake in the kit is also top-notch. The premium dual-layer stainless steel shims help dissipate heat and to produce as little noise as possible. This brake set is also one of the quietest models on the market in my experience.
What We Like
Installation is possible for the front and/or rear axles
Necessary hardware included in the kit
High-quality and performance, thanks to the premium components
Top-notch durability that can also dissipate heat and provide little noise
What We Don't Like
A high price might not be for buyers with tight budgets
Ultimately, I can still recommend this product despite it being one of the most expensive brake sets available. Shoppers that do not mind spending the extra cash for this kit will find its impressive set of features to be quite likable.
8. ACDelco 17D1367ACH Front Brake Pad Set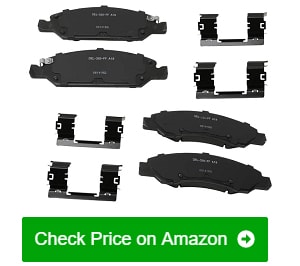 The thought of brake dust piling up on my towing vehicle's pads irks me. Thankfully, this brake pad set did not disappoint in providing my vehicle's braking experience with utmost cleanliness. It is safe to say that using these front brakes is a less-dust experience.
That less dust performance is also indicative of long-lasting build quality. I have been using this brake pad set frequently since I got it and I noticed that it was not accumulating wear as fast as other options on the market. Therefore, I do not have to stress about getting these brakes replaced soon.
The next feature that I like is the materials used in manufacturing this set. Each pad comes as a combination of the three fairly common materials used in developing brake pads. In other words, it has components made of sturdy ceramic, organic, and semi-metallic elements.
Plus, the powder-coated backing plate has the brand's class gold friction material. With it, the pads are secure but still have sufficient lubrication to move without grinding against adjacent surfaces.
Perhaps my only wish for this product is that it also came with rear brakes. Still, its reasonably fair price point makes it difficult to complain about the lack of a pair of rear brake pads in the kit.
What We Like
Less-dust experience throughout different driving conditions
Long-lasting build quality supplies users with a cost-effective choice
Top-notch durability, thanks to the different materials used
Backing plate made with gold friction material for extra ruggedness
Reasonably fair overhead
What We Don't Like
Might be a better offering if the kit came with rear brake pads
Overall, the lack of caveats from this brake pad set makes it a magnificent choice for those seeking first-rate front brake pads.
9. Beefed Up Brakes BUB1274.TR Front Brake Pad
Perhaps the best aspect I found with this front brake kit for towing is its fade resistance. After using it for different road trips, the signs of wear and tear are reasonably few, if any. Signs of harm are also almost non-existent after towing heavy loads on rough and sloped terrains.
I also like that the package comes as a complete kit. It was a pleasant unboxing experience, seeing that the hardware, grease, and pads came as a set. In comparison, some similar kits did not come as complete sets, resulting in an extra trip to the automotive or hardware store.
Next, the stopping performance competes well with the top contenders in its product class. With its first-rate ceramic construction, the brake pads act almost immediately and with gusto with each application of the brake pedal.
Plus, this brake pad kit outperforms many of its competitors in the heat dissipation department. The surface of each pad in the set remained reasonably cool after serious towing operations.
Still, I would prefer if these ceramic front brakes were quiet. Pressing the brake pedal will often lead to a noisy stop, regardless of the amount of weight my vehicle is hauling.
What We Like
Fade-resistant build repels almost all manner of potential harm to the brakes
Essential hardware, grease, and pads arrive as a complete kit
Ceramic construction helps the brakes to act almost immediately
Competitive heat dissipation traits
What We Don't Like
Applying the pads on these brakes may lead to noisy applications
Shoppers looking for a brake pads for heavy towing should look into installing these models in their vehicles. With their high-quality build, these towing brakes can last reasonably long.
10. Bendix Fleet Metlok MKD785FM Towing Brake Pads
Tough hauling jobs have met their match with these towing brake pads. Using these brakes was a dream come true for hauling heavy loads. Its construction is made to last as doing heavy-duty towing with these pads did not pose any threat to their structural integrities.
The burnishing strips made it possible for me to exert less effort than usual to press on the brake pedal. Plus, the shims allowed the pads to remain noise-free even when I stepped on the brake pedal roughly.
I also have high regard for the heat-dissipating features of these brake pads. Despite the rigorous tests I made with these models, they remained relatively cool. Therefore, I am confident that these brake pads for serious towing scenarios will last for years.
Next, I would also like to mention its price or lack thereof. In other words, these brake pads are among the least expensive on the market. I find it astonishing to see a high-quality set of brakes for towing on the fairly low-range portion of the market.
The company even provides its customers with an answering service called the Answer Garage. Calling the hotline put me on the phone with one of the brand's customer service representatives. The agent that was with me helped answer my queries related to this product.
Perhaps my only concern with this product is the fit. It feels quite loose and may require some modifications to make each brake pad in the kit fit appropriately.
What We Like
High-quality build makes serious towing conditions easier than before
Burnishing strips reduces the effort to apply force to the brake pedal
Excellent heat-dissipating characteristics
One of the least expensive models on the market
Answer Garage helps answer queries
What We Don't Like
May require modifications for it to fit properly
Interested customers looking for a great set of brake pads that will not crumble under significant pressure should look into buying this product.
11. Wagner SX785 SevereDuty Semi-Metallic Brake Pads
Off-road towing became more accessible than before with these brake pads installed in my vehicle. The carbon friction formulation worked well as my vehicle is hauling heavy loads on slopes. Plus, these pads did not build a significant amount of heat during those off-road hauls.
I also like that the brake pads' design focuses on mechanical retention. Although each pad has a fairly standard design, the construction ensures that the brake will provide users like me with optimal longevity and strength.
Plus, I admire the brand's effort to deliver high-quality hardware for this kit. Each component (aside from the brake pads) has a stainless steel build. With that material, I am confident that the parts will not accumulate corrosion and rust.
I should also mention that these brake pads for towing do not use copper. Therefore, it does not have the issues related to that material, such as producing a significant amount of dust over time.
Finally, the installation process is reasonably fast to complete. It was mostly a hassle-free experience. Furthermore, the maintenance is easy to do, seeing that these pads do not accumulate a significant amount of dust.
On the downside, the fit might need some extra work. I was only able to install this brake pad set on a few vehicles like the Chevy Silverado.
What We Like
Does well when hauling heavy loads in off-road and sloped terrains
Mechanical retaining design assures optimal longevity and strength
High-quality stainless steel hardware
Copper-free build prevents certain issues, such as dust buildup
Reasonably fast and hassle-free install and maintenance processes
What We Don't Like
Might only fit a limited number of vehicles
These brake pads are amazing for on- and off-road terrains. It provides users with top-notch performance and durability, making this variant one of the best products in its class.
Brake Pads for Towing Buying Guide
Selecting the right towing brake pads often demands careful consideration of different important factors. Spending money quickly on a brake kit without thinking about the upcoming purchase can result in expensive yet low-valued purchases.
Here are some factors that interested buyers need to know when shopping for heavy duty towing brakes.
Material
The brake pad material for towing can supply users with positive or adverse experiences. Generally, brake pad manufacturers use three primary material types for their products, which are:
Metal: Also comes in semi-metallic variants, metal brake pads often only possess about 2/3rd of the metal material. The remaining 1/3rd are usually different inorganic compounds.
Ceramic: A ceramic brake pedal typically has a better noise reduction performance than its metal cousin. However, these ceramic brake pads might not the ideal heavy duty brakes for towing.
Organic: Other brake pads use materials like carbon, glass, or Kevlar to help stop towing vehicles when needed. However, some organic brake pads may wear out fast, which might not be ideal for long-term use.
Braking Power
Brake pads for heavy-duty towing should be able to stop the vehicle properly upon pressing the brake pedal. Take note that the braking performance typically depends on the vehicle's weight and current speed.
A fairly strong brake can still help in quickly stopping a towing vehicle if the automobile is at cruising speeds. However, the same brake may have difficulty providing ample stopping power if the vehicle is going at faster speeds than usual.
Moreover, the friction material often plays a vital role in preventing the vehicle from skidding once the driver applies force to the brake pedal. Shoppers should choose a model with exceptional braking power to reduce the risks of on-road accidents.
Noise
Some people might become skittish upon hearing tires screeching from brakes. Take note that not all brake pads are noisy. However, the ones that make rackets may indicate some underlying problem.
Upgrade brakes for towing, particularly those with quiet operations, to ensure that stopping the vehicle does not constitute the ears of nearby individuals hurting.
But, once again, check the material of the chosen pedal. Some options, such as ceramic, might have quiet performances but these choices might not be good for towing heavy loads.
Brake Dust Production
The rough force applied to the pedal can cause dust to appear on the wheel setup, especially the brake rotors. Also called fret dust, it releases even during the typical braking motion, causing it to carbonize to the brake's lining. If left alone, the particulates can cause issues to the system's braking performance.
Reduce brake dust production by installing heavy duty brake rotors for towing. Vehicle owners can also reduce the risks of dust buildup by cleaning their towing vehicles' tires and wheels regularly.
Price
Realistically speaking, the overhead of buying heavy duty brake pads for towing should be a non-issue. It is because customers should always prioritize their safety, which means installing new brake pads with optimal braking performance.
Still, interested buyers should also pay attention to their spending constraints. Spending a significant amount of money on expensive brake pads for RV towing may leave them with fairly little cash to spare to spend on other safety-focused products.
FAQs
What Brand Brake Pad Is Best?
Many brands offer premium brake pads for their customers. One example is Wagner, which is a company that has existed since 1891. Installing Wagner brake pads generally means experiencing top-notch stopping power.
Another example is Bosch as the company provides different DIY and automotive solutions for its international customers. Bosch brake pads are also quite highly-regarded in different towing communities for their first-rate brake torque and overall stopping performance.
EBC brakes is another company in the brake pads for the towing sector. With factories located in the UK and USA, EBC pads for towing became one of the leading companies that supply excellent brake pads for different customers. EBC brake pads are also reasonably inexpensive, making them good choices for budget-conscious folks.
When To Replace Brake Pads?
Generally, brake pads work up to a maximum of 10,000 to 12,000 miles. Replace brake pads after reaching that mileage. Moreover, replace the brake rotors anytime between 50,000 and 70,000 miles.
Failure to replace these components for heavy-duty brakes and rotors for towing puts drivers and passengers at risk of getting into on-road accidents.
Could I Swap The Front And Back Pads?
It is possible to swap the front and back braking pads to keep the vehicle functioning as efficiently as possible. This project can also become a DIY job to help save budget-conscious folks from spending a large amount of money on professional labor costs.
But before proceeding to swap the braking system, vehicle owners should have sufficient knowledge and skill to continue with this job. Beginners may still want to employ expert help to prevent costly mishaps.
Which Brake Pads Are Better Metallic Or Ceramic?
Metallic or semi-metallic brake pads are not the 'end-all' choice for many vehicle owners, especially those that own automobiles for towing. Also, ceramic brake pads are not the best option for every situation.
Therefore, selecting between ceramic vs semi metallic brake pads for towing means understanding the distinct pros and cons between these choices.
Ceramic Pads
Advantages
Often has quieter operations than metallic brake pads
The generated brake dust typically does not harm the wheel's aesthetics
Reliably stable under different temperatures
Shortcomings
Ceramic brakes are often more expensive than their metal counterparts
Might not be good choices for heavy-duty towing
Fairly quick to receive wear and tear because of heat transfer
Semi-Metallic Pads
Advantages
Excellent gripping prowess during the cold season
Often easier on the brake rotor than using ceramic brake pads for towing
Ideal for heavy-duty towing operations
Shortcomings
Tends to be quite loud
Usually creates more dust than ceramic brake pads
May have a short life span
Considering the pieces of information mentioned above should help many interested buyers in selecting ceramic or semi metallic brake pads for towing for their specific needs.
Are Carbon Fiber Ceramic Brake Pads Good For Towing?
Ceramic and carbon fiber often go well together as brake pads. Carbon fiber brake pads are typically great choices because of their enhanced heat and vibration control. Moreover, these materials help reduce dustiness, preserving the wheels' cleanliness.
Conclusion
Buyers should take the time and keep a close eye on the factors that make up the best brake pads for towing. Some of these elements include the brakes' materials, braking power, and noise performance.
However, shoppers that want my advice should buy and install the Power Stop K6268-36 Z36 Brake Kit. Despite its expensive price tag, it delivers highly competitive features, such as its heat-dissipating properties, that beat many of its competitors to submission.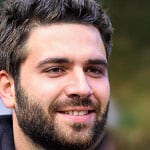 Hi, I am Joseph. Carpe diem! Seize the day! That's always been my life motto. If you haven't seen some of the most beautiful places in the country, you are missing out on incredible adventures.