Building an RV as per your requirements is pure bliss. When you are going on a long trip or have decided to live in your recreational vehicle full time, having a washing machine becomes necessary. You wouldn't want to be surrounded by dirty, smelly clothes, after all. You might have thought, "RV washer dryer combo Vs. stackable; which one would be better?". To lessen first-time buyers' confusion, I decide to share my first-hand experience in this article to help them out.
Stackable Unit
A stackable unit is actually two different units (a dryer and a washing machine), which are stacked on or near each other. These machines can handle an impressive load of clothes at a time. The benefit of this kind of machine is that it takes up limited floor space, and if your RV is a smaller one, it will fit in rightly.
Another benefit is that this laundry setup lets you finish your wash in almost half the time of a washer dryer combo unit. This is because when you are washing your second load, you can dry the first one at the same time. So, large families or a huge group of travelers generally choose a stackable unit to save time on laundry.
However, installing a combo unit during renovation is much easier than installing a stackable machine. Since the traditional dryer needs outside ventilation, if your RV has not been set up for the in-house laundry, you will first have to install the hardware. Another drawback is that it will take up a lot of vertical space and can look bulky.
Washer Dryer Combo Unit
If you are a busy person and do not want to switch your wet clothes to a different machine, a washer dryer combo unit should be your choice. You will simply have to set up the machine and then go on with your chores or leave for the day.
Most of the washer dryer combo units utilize condensation-based drying systems that don't require outside ventilation. So, if your RV does not have a dryer and washer setup, this type of machine would fit in easily.
You can also install cabinets, folding tables, or shelves on the machine and utilize the free space. Doing so will ensure you are not wasting any space, and since RV has limited storage, you will need space-saving furniture.
The only drawback of this type of machine is that it will take up to three hours to finish the laundry, which means it will be consuming a lot of electricity. And if your load is going to be more and require multiple rounds, this machine will consume more time and electricity. Lastly, the capacity of a combo unit is generally less than a stackable machine.
RV Washer Dryer Combo Vs Stackable: Which is Better
A stackable machine is better where the laundry load is going to be more. If you are traveling with your family or a bunch of friends, this kind would be more suitable. It has more capacity, and it saves time because you wash one load and dry the other one at the same time.
On the other hand, a washer dryer combo does not feature a large loading capacity and usually takes 3 hours for washing a single load. So, in terms of time and energy, the stackable washing machine emerges as a clear winner in RV washer dryer combo Vs stackable.
But if you are traveling with a few people and would be out for the ride for the entire day, you can set up the washer dryer combo, put in dirty clothes, and come back to cleaned and dried clothes. Moreover, you will not have to make any modifications to your RV if you choose a combo unit because it doesn't require outside ventilation.
Features to Consider While Buying a Washing Machine
Controls
The market is full of various kinds of models that offer different features. In some units, you can even choose the type of cloth material you want to wash like socks or towels. Similarly, there are other features like deep clean functionality, quick washing cycles, and more. Please do not be shy to ask about such controls and compare them before making your final purchase.
Load Capacity
Load capacity determines how much weight of clothes a machine can work with. Generally, most RV washing machines don't allow for more than fifteen pounds of clothes. In fact, a lot of machines support even less than 15 pounds. If you are traveling alone or with your spouse, you can go for a lesser load capacity. Also, I would recommend you never to overload your machine. Always try to keep the load a bit less than what it can bear to maintain its durability.
Energy efficiency
When you are on the road or camping at a location without electricity hookups, having a machine that doesn't consume much electricity. Such units would be smaller, but this means they will use less detergent and water.
Size
You may be tempted to buy a bigger one, but it might not fit inside your RV with limited space. Measure the space available inside your trailer and then check it with the dimensions of the machine. Then, choose the right sized washing machine.
Best RV Machines to Choose From
1. Giantex Portable Mini Compact Twin Tub Washing Machine
This 32-pound washer dryer combo is an easy to operate unit with twin tubs. The washer can handle 11 pounds of the load while the dryer can bear 7 pounds of clothes. The machine has a built-in timer, which will let you do other things while your clothes get washed.
The machine uses a lesser amount of detergent and water but still delivers clean laundry. It features 110W (watt) spinning power and 300W power motor. It boasts a filter net as well, where you can store your dirty clothes while working.
2. LG Smart All-In-One Washer/Dryer
You can accommodate up to 17 pounds of clothes in this front-load dryer and washer by LG. This expensive model is Wi-Fi enabled, and you can use the LG ThinQ app for controlling it from your phone for starting the machine, stopping it, or selecting a different cycle. Also, the machine is compatible with Google Assistant and Amazon Alexa, which lets you do the laundry with voice commands.
You can choose from 6 different programs for various types of clothes. The machine uses steam technology to remove wrinkles, odors, and dirt from them. It also boasts a ventless condensing system, which means you do not need an external venting in your RV. However, the main downside is that it is more of a permanent accessory and will take up a large space.
3. Super Deal Portable Compact Mini Twin Tub
This is a compact twin tub washing machine, and its powerful motor is rated at 1,300 RPM. So, it takes less time to spin dry and wash your clothes. The machine has an 8-pounds load capacity for the washer and can dry 5 pounds of clothes at once.
The unit comes with a built-in gravity drain to drain out dirty water and an inlet water hose. Each tub has a different control timer. The only drawback is that you will have to air dry your clothes after taking them out from its dryer because the machine doesn't dry the clothes completely.
You might also want to invest in a lint catcher because the washer tends to collect lint. However, the machine is affordable, light-weight, energy-efficient, portable, and does the job well.
Conclusion
I would like to end this RV washer dryer combo Vs. stackable comparison by concluding that a stackable unit is more affordable in terms of price and saves time and energy. Meanwhile, a washer dryer combo unit takes up less space and does the job of drying and washing in a single tub. This means that you won't have to shift the clothes from the washer to the dryer manually. Your choice will also depend on –
The space available in your recreational vehicle.
The amount of clothes you would be washing.
Whether your RV has set up for external ventilation or not.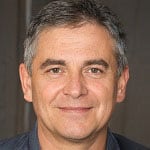 Hi, I am Tom Hank, an RV-er since 2014. Back then, I started without much help. As you can imagine, the struggles are endless. But now, you do not have to begin your adventures knowing next to nothing about RV lives.