RVs are incredible vehicles for campers who want to explore the world on wheels. However, did you know that maintaining an RV is no easy game? Even if the power exceeds the set limits, the repairs can cost you a fortune. In order to protect your RV from power surges, you need to install devices categorized as power surge protectors. In this RV EMS vs Surge Protector guide, we are going to explore everything you need to know about EMS and surge protectors to help you make an informed decision.
RV Surge Protector
RVs use converters to charge their batteries; hence they come with a built-in converter. But they do not guarantee that these converters will be able to handle the drops and surges in power. So, if there is a sudden drop in power while you are charging your RV in the RV park, your entire electrical system might get destroyed. In such situations, you require RV Surge Protectors to ensure that no damage can reach your circuitry.
It is a simple machine with a user-friendly design that allows even beginners to install and operate it. You can look for an extension cable when buying one as it will make the installation more flexible.
RV Electronic Management System (EMS)
While surge protector only deals with the spikes and drops in current, and EMS offers extensive functionality. It allows you to keep the power in check when there are fluctuations in current, voltage, open ground protection, reverse polarity protection, AC frequency protection, accidental 220V protection, open neutral protection, and more.
No power-related issue in your RV can escape the eagle eye of RV EMS. The only possible downfall to these systems is the significantly higher costs they come for.
Hardwired or Portable
Now when you know the basics about what purpose power surge protectors and EMSs serve, the next thing to learn about is their types – hardwired and portable.
The individuals who are going to stick with one RV for a long time opt for hardwired versions. They are installed in the RV's inner wiring so that you are not required to disconnect and reconnect it every time you charge the vehicle's batteries.
For those who do not prefer extensive trips or are planning to change their RV soon can opt for portable EMS. It is easy to carry a device that can be plugged in when charging the batteries to prevent fires due to a sudden surge in the source voltage. It doesn't require any installation and can be carried around in the RV easily.
Moreover, the portable EMS protects the power chord, which can be pretty expensive to replace.
There are downsides to both of them as well.
If you have a portable EMS or Power Surge Protector, they will save you the trouble of installation. However, you will have to be more careful when plugging it in as people tend to forget the EMS behind. Besides, if the power outlet is too low and the ground is damp, you will have to pass on plugging it in.
In the case of an EMS or hardwired surge protector, it becomes a part of your RV after installation. So there is no chance of leaving it behind or someone stealing it. It can be used in harsh weather conditions also since it is protected inside the RV. Unfortunately, it costs more when you have the installation fee to look after as well.
If the hardwired EMS gets damaged, you will have to get it replaced, and this can be pretty expensive since you will have to undo the installation. Also, you will have to remove it from the RV every time you are switching to a new one.
The Similarities Between Surge Protectors and EMS
Both the RV surge protectors and RV EMSs are designed to protect the RV's electrical system. They ensure that the appliances and electronics in your RV do not get fired up due to sudden current fluctuations. As an RV camper, you can depend on these devices for escaping unexpected fire hazards.
Both of them are available in portable as well as hardwired versions.
While portable versions can be plugged into the pedestal power and left outside, you need to install the hardwired/permanent version in the RV. The good news is that both EMS and Power Surge Protectors are available in the two versions.
You can find 30 and 50-ampere versions of both.
Some RVs support EMS or Power Surge Protectors with 30 amperes of current and others with 50 amperes. Often RV owners are worried about not finding the devices that are suitable with the electrical system of their RV. Fortunately, Power Surge Protector and EMS, both come in 30 amp and 50 amp versions.
Hence, make sure that you know the amp version of your RV's electrical service before you opt for surge protectors. If you have a 3-pin plug, it means you are using 30 amp power, and if it has four pins, then you are using 50 amp power. So, if you have a 30 amp model, you should stick with a 30 amp surge protector or EMS.
Differences between Power Surge Protectors and RV EMS
Performance
First of all, both devices differ in terms of functionality. As discussed earlier, a power surge protector is only meant to protect your RV's electrical circuit from sudden fluctuations in voltage while charging. On the other hand, EMS can cater to a wide array of issues like current surges, spikes, and drops in voltage, open ground, reverse polarity, incorrectly powered outlets, high neutral, and a lot more.
Cost
Cost is another major difference between the two because, while both are affordable, EMS is way costlier than surge protectors. This difference is understandable because EMS offers a host of functions that a power surge protector doesn't.
Which ones to invest in?
Now that you know what makes an EMS and RV Surge Protector different from each other, even when there are so many similarities, you can make a better decision.
First of all, the budget will help you decide because there is a significant difference between the price of an EMS and the Surge protector. The latter is cheaper and more user-friendly.
If you have a more flexible budget at your disposal and expect more functionality, an EMS is the right choice for your RV. Especially, if you are a full-time RV driver, you should consider EMS. If your RV doesn't come equipped with an EMS, you can always upgrade to one when you can afford to.
Top Electronic Management Systems for RVs
1. Progressive Industries HW50C Hardwired EMS
It is the ultimate surge protector for your RV with protection against the open ground, reverse polarity, over/under voltage, open neutral, and AC frequency protection. It comes with a Digital Display remote that will allow you to scroll through everything there is about the power source. If you find them unsuitable for your RV, you can switch to another one.
This one is a 50-amp version. You can also opt for a 30-amp version in the same model.
2. Portable 50-Amp Surge Guard
This product gives a tough competition to Progressive Industries as it is equally efficient in terms of functionality and is portable. The pedestal of the device checks all the information about the power source before it will start collecting power.
The downsides to this product are that it is only available in a 50-amp variant, does not have all-weather protection of any kind, and does not have an unconditional lifetime warranty.
Conclusion
In the end, no matter which surge protector device you choose, all of them will save you huge sums by avoiding costly damages to your appliances and electronics. Just make sure that you opt for a device:
Offer the same amperage as supported by your RVs circuitry.
Fall well within your budget because you can always upgrade them later.
Portable or hardwired as per the requirements of your RV.
Can handle charging in most weather conditions.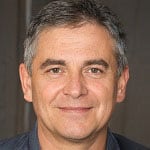 Hi, I am Tom Hank, an RV-er since 2014. Back then, I started without much help. As you can imagine, the struggles are endless. But now, you do not have to begin your adventures knowing next to nothing about RV lives.