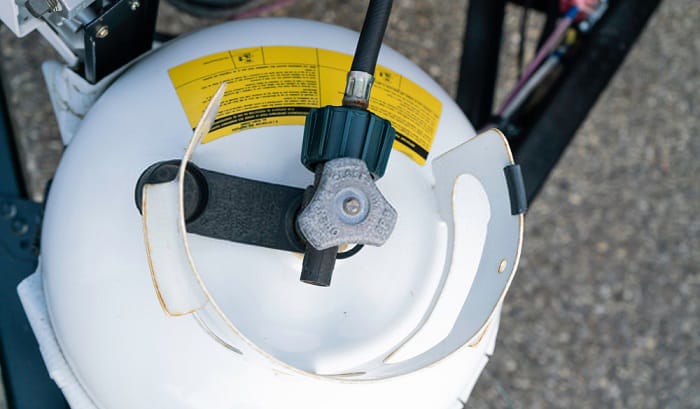 An external propane tank can help RV campers cook food, heat bathwater, and enhance the overall camping trip. Unfortunately, many RVers might find the process of RV propane hookup challenging.
You can learn how to hook up an external propane tank to an RV in three steps. These steps are:
Turn off the propane valve
Hook up external propane tank adapter to the RV
Connect the tank
Once installed, you can use the RV external propane connection to enhance your RV camping experience. Continue reading to understand the details of accomplishing an external propane hookup for camper vehicles properly.
What You'll Need
Hooking up 100 lb propane tank to RV can be more challenging than intended if you do not have the correct equipment for the job. Take note of the following items for this project.
Extend-a-Stay Propane Kit
An Extend-a-Stay is an adapter that connects to an external propane tank for RV. It upgrades the standard propane system in RVs by giving campers additional advantages. For instance, it can help increase your stay in one parking site.
This kit generally has a four-port brass tee. This feature can help serve two purposes: (1) stay in an RV park for extended periods and (2) make a gas grill connected to a propane tank.
Opt for an Extend-a-Stay kit with a fairly easy-to-use RV propane adapter. That way, you do not have to search the market extensively for a compatible RV external propane tank adapter.
Usually, most people will already have these propane kits, and they generally come with a fitting inflow connector. This part creates a link between a propane bottle & an appliance.
Wrenches
Many external propane kit setups do not require any special tools to complete the job. But you may need appropriately sized wrenches.
The wrenches that you should have in your toolbox are ¾, 7/8, 5/15, and 9/16-inch models. Also, take note that you may not need all of these wrenches during the installation and removal of the external propane tank.
It is still a good idea to keep these four types of wrenches in your toolbox in case you need them. You may even use these tools for other projects for your RV.
Hoses and Fittings
Ensuring that every component connects properly requires the right hoses and fittings of the correct sizes, such as the following:
25-foot gas hose (generally comes with 3/8-inch female flare fittings)
3/8-inch Flare with a threaded fitting
3/8-inch Flare with a 90-degree threaded bend
½-inch threaded shutoff valve
½- to 3/8-inch threaded reducer
¼-inch male threaded to an ACME fitting
½ to ¼-inch threaded reducer
Take note that not all these parts are fairly easy to find. For instance, you might find 25-foot gas hoses with the right flare fittings reasonably quick. But the ACME side fitting might be tougher to locate.
Step-by-Step Instructions
If you purchased an Extend-a-Stay external propane tank kit that has a compatible adapter to your motorhome, then the installation process will not be difficult.
Step 1: Turn Off the Propane Valve
The first step is to make sure that the propane valve on your RV is off before starting the install process. Propane is a flammable liquefied gas, making it hazardous if it gets into contact with hot objects nearby.
Turn off the propane valve by tightening it with the right wrench. You do not need a tape or pipe dope for this step. You can also use a 'backer' wrench by placing one wrench on each side of the fitting to tighten it.
Moreover, consider the orientation of the valve. Certain RVs will have the fitting attached with left-handed threads, which means that you need to do a counterclockwise rotation to close and tighten it.
Step 2: Hook Up the External Propane Tank Adapter to the RV
Take note that the adapter for the external propane tank will become permanently connected to the RV's propane tank and its regulator.
Turn off the gas and detach the regulator from the propane tank.
Then, take one end of the adapter and simply attach it to the propane tank. You only need to turn the adapter counter-clockwise to tighten it.
Next, attach the propane regulator to another end of the adapter. Once again, screw the component counter-clockwise to seal the connection. You will know if you did this step correctly if the regulator's vent is facing down.
Step 3: Connect the External Tank
Fasten a ¼-inch inverted flare end to the tank. This part should be in the package as it should come with a reasonably lengthy hose. In addition, connect directly the P.O.L part of the adapter to the propane tank.
At this point, you should be able to use the tank to satisfy specific needs during your RV camping trip. For example, you can now connect the external propane source to a gas grill or other appliances and enjoy small barbecues.
You can make sure that the extension hose connects directly to the external propane tanks. To ensure that there are no propane leaks, splash some soapy water on the connections. The fittings should have a tight seal if bubbles do not appear.
Ensuring that gas flows properly without leaks allows you to use a large external propane tank without worry. If you find a leak, stop the gas flow immediately. Find the source of the problem before you continue using the large propane tank.
Conclusion
Did you like this guide on how to hook up an external propane tank to an RV? Do not forget to share this article with other RV owners to help them out with this concern. Also, make sure to leave a comment to share your thoughts about this topic.
Take note that connecting an external propane tank to an RV should not be a significantly challenging process. Purchase the right external tank kit to make the process easier.
With an external propane source, you should be able to safely enjoy the propane gas to cook food or warm water in your camper.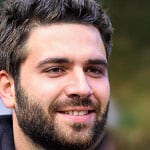 Hi, I am Joseph. Carpe diem! Seize the day! That's always been my life motto. If you haven't seen some of the most beautiful places in the country, you are missing out on incredible adventures.