Cleaning RV fresh water tank is important to remove unsafe contaminants that might be inside the container. Ingesting things like algae and harmful bacteria can increase the risks of health concerns, such as vomiting, fever, and gastroenteritis.
This task might look simple. But missing out on a few details can make you commit costly mistakes. So keep reading to know the specifics on how to sanitize RV fresh water tank.
Clean your RV fresh water tank by gathering the necessary items for the job. Take note that you only need a reliable fresh water tank cleaning solution and some fairly common household items.
Once you have the essential tools, make sure that the tank is empty. Use the RV fresh water tank cleaner and leave it in the container for several hours.
What You'll Need
Like relatively any DIY project, you need to gather the recommended items to start and finish each step properly. Thankfully, the items needed to sanitize RV fresh water tank are relatively easy to acquire.
RV fresh water tank cleaning solution:
The ingredients used in creating this cleaner will help dissolve and remove unclean substances and harmful bacteria from your RV's fresh water tank.
Make sure to follow the instructions on the label to avoid making mistakes during use. Moreover, many fresh water tank cleaners tend to be in large containers, allowing rig owners to use the contents on multiple occasions.
If you are a full-time RVer, you might need to use this cleaning agent at least once every 6 months. If you use the camping vehicle infrequently, use this solution immediately after taking the rig out of storage.
Common household items:
Other items needed for this task are generally found around the house or in your RV. Some of the items that you may need include a bucket, a mixing cup, a funnel, and bleach.
In some cases, you might not need these extra items as you can pour the cleaning solution into the fresh water tank directly. But taking advantage of these tools can make the project easier to finish.
Step-by-Step Instructions
Sanitizing an RV fresh water tank is a fairly straightforward task. Although you can finish the process without problems, completing the operation may take over 12 hours.
Plus, make sure to consult your RV's owner's manual for specific instructions associated with your rig's make and model.
Step 1: Drain the RV Fresh Water Tank
Drain the water tank first, along with the water lines and water heater.
Start by waiting for the water tank to cool to room temperature before proceeding. Once it achieved the ideal temperature, open the tank and drain all the water from it. Turn on the fresh water pump if needed to remove the remaining water and residue out of the tank.
Step 2: Use the RV Sanitizing Solution
If you have a commercially-made RV sanitizing solution, you only need to follow the instructions to clean your vehicle's fresh water tank. Otherwise, you may sanitize RV water tank with bleach.
Take note that using a bleach RV water tank cleaning solution is not without certain health risks. For instance, using undiluted bleach might bring harm to holding tank's seals. Do not mix bleach with ammonia-based cleaners, as this can create a toxic gas called nitrogen trichloride.
Use a bleach solution safely by mixing this compound with water. Combine ¼ cup of bleach for every 16 gallons or 60.56 liters in your RV's fresh water tank. Do not attempt to 'wing it' in measuring the mixture as you might risk harming yourself or the RV.
Once you have your preferred solution, pour it into the tank. You will notice that the solution does not go all the way to the top of the container. It is because you need to fill the remainder of the tank with water.
Step 3: Drive the RV
Now that the tank is full, take the vehicle for a spin. Driving your rig will help slosh the cleaning mixture in the tank.
After your ride, park the vehicle and let the solution sit for at least 12 hours. You still have the option to flush out the cleaning agent immediately after your drive. However, doing so will not result in a deep clean.
Therefore, letting the solution sit for half a day or more will allow the treatment to kill harmful substances that might be lurking around in the fresh water tank and the connected lines.
Step 4: Flush the Fresh Water System
After you give the fresh water treatment enough time to sit, it is time to flush it out. Open all the water valves connected to the fresh water tank. Then, let the solution and any excess water drain from it.
You will know to stop if the smell of the solution disappears. Otherwise, continue flushing the system.
Conclusion
Did you enjoy reading this guide? Do you want to share your tips on how to sanitize RV fresh water tank? If so, leave a comment below! Also, do not forget to share this with other rig owners to help them sanitize their RV fresh water tanks.
In summary, you only need a few household items and a reliable cleaning solution to sanitize an RV fresh water tank. Make sure to follow the steps mentioned above closely to avoid making mistakes.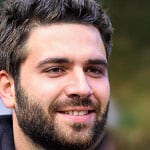 Hi, I am Joseph. Carpe diem! Seize the day! That's always been my life motto. If you haven't seen some of the most beautiful places in the country, you are missing out on incredible adventures.