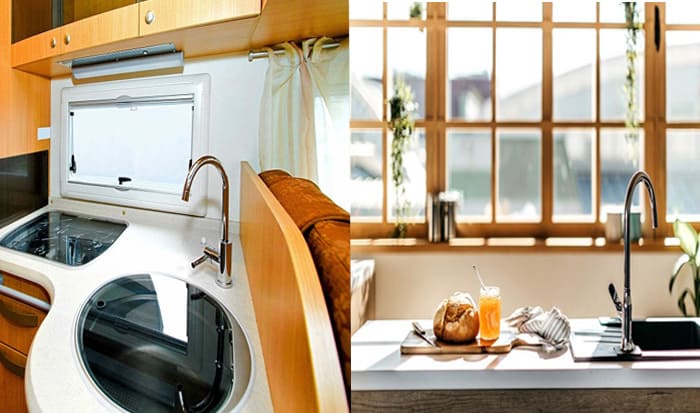 As an RV owner, you probably just want to jump right into your mobile home and start an amazing camping trip with your family. However, this enthusiasm often leads to carelessness in purchasing interiors for your recreational vehicle's kitchen and bathroom, such as RV faucets, RV sinks, etc.
Unfortunately, leaks or errors coming from the faucet in your RV can only be discovered after using it for a certain period. The inconvenience may be so extreme that you could only wish you could replace old RV sink faucets and install new ones, which will cost you a significant amount of money.
If you are looking for a solution to avoid that issue, this article is the right place for you. Not only will we suggest you save up your budget by using your own home faucet, but we also provide useful knowledge about RV faucets vs Home faucets in different aspects:
RV kitchen faucets' parts
The difference between RV faucet and Home faucet
How to replace an RV faucet with a Home faucet?
What are the best faucet brands to select for your RV?
Furthermore, in order to bring you a general overview on popular water tap brands available on the market, there are also other discussions and reviews about many faucet and sink products that you may find helpful while purchasing the right fixtures for your mobile home. Therefore, stay tuned!
RV Kitchen Faucets' Parts
Before buying sink faucets, it is vital to understand their structure. A basic understanding of a faucet's design and construction is required to determine whether or not home faucets may be used as RV bathroom or kitchen taps. A faucet will contain the same basic elements regardless of the model.
Body
The sturdy base of your tap is formed by a cylindrical component. A pipe within the body transports water from your supply to the faucet.
In the past, there was only one water supply line connected to classic faucets. In contrast, these days, water is delivered to modern taps through at least two separate water lines, which can offer both hot and cold water.
Some models that include a third pipe attached to a sprayer are also available widely in the market. It is close to a sprayer-equipped RV kitchen faucet.
Adjusting ring
The adjustment ring is an important part of any faucet system because it creates a watertight secure connection between the tap and the spout. Although most manufacturers utilize high-grade silicone, others may use synthetic flexible materials.
Faucet lever
Classic faucets involve a twisting action to actuate the lever. Modern taps, on the other hand, have levers that you can pull up or down and slide left and right to operate.
Spout
The spout on traditional faucets is a small piece that bends downwards. The spout of a contemporary faucet stretches forward or upward at a 15- to 30-degree inclination. Before the water exits the aerator, the spout links to the faucet pipe and transports it.
Spout assembly
This faucet part is made up of numerous components that work together to adjust the flow of water towards the spout. It attaches to the faucet lever and allows you to manage the pressure and water temperature from the pipe.
Aerator
This feature may not be found in a classic faucet. In today's tap, it functions two roles. To begin with, the aerator separates big particles to ensure that they do not appear in your glass, dishes, or meals.
Secondly, it smooths out the water flow, enabling you to experience a constant stream rather than a cascade like a waterfall.
Escutcheon
The faucet's foundation is made up of this element. It's a metal plate that covers the holes in which water pipes flow to link to the tap.
The Difference Between RV Faucet and Home Faucet
RV faucets and conventional residential house faucets appear to be identical at first sight. They perform many of the same functions, such as supplying water to the sink.
However, when we take a closer look, we can see certain mechanical contrasts. The water pipes in RV faucets are usually linked to flexible hoses allowing for a bit more flexibility.
When you check beneath the cabinet at your RV faucet, you'll usually find steel water pipes with threaded connections, as well as some heavy-duty stationary hoses and firm-fitting adapters.
Another significant difference between RV faucets and Home faucets is the materials used to produce them. The purpose of an RV is to conserve weight, thus lighter materials are usually used. This also implies that RV taps may not last for long if they are switched on and off often, especially if they are used full-time or for an extended period of time.
However, I believe that these distinctions can not exclude the use of a home faucet in an RV. In order to practice RV faucets' replacement, you may only need to purchase some specific adapters or install the proper connection using PEX cutting pieces.
How to Replace RV Faucets With Home Faucets?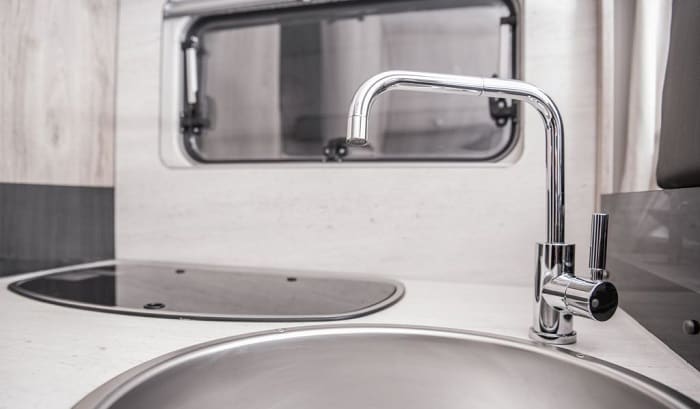 Replacing your RV sink faucets with Home faucets: A step-by-step tutorial
Another popular reason for using residential faucets is to replace any leaky plastic faucets that are included within the motorhome with a proper set of metal faucets. If you can't find the proper faucet for your demands, you might use a standard household tap with an adapter.
While RV taps and residential faucets appear to be the same, you might wind up with pricey issues if you don't change them appropriately. To connect a house faucet to an RV, follow the procedures below:
Step 1: Turn off the water supply for the RV
Before loosening any connections, make sure your RV's water supply is turned off. There have been several reports of DIY novices attempting to repair their plumbing without shutting off the water supply. Let's just assume their RV didn't smell the same after that event.
Step 2: Remove the old faucet bolts
You may discover the tubes that supply warm and cold water to your tap by looking below the sink. Gently release the connections using two wrenches. It's a good idea to keep a washbasin or perhaps a bucket nearby to capture any water that leaks from the tube.
Step 3: Pull the old faucet out from the sink
To release the plastic bolt behind the faucet, all you need is a big wrench. This secures the tap in place by clamping down on the basin. You may simply remove the old tap after removing the plastic connector. If your previous faucet was double-secured in place with silicone, prying it out of the sink may need a little more power.
Step 4: Set up the new RV sink faucet
Use a scraper to clean any residue on the sink if the former faucet was held in place with a plumber's putty. Then put a piece of Teflon tape around the connection legs of the faucet. This will give some additional leak prevention.
Step 5: Attach the new faucet
Measure then insert the new tap within the holes in the sink, don't worry about the sizing – they're pretty much standard. Use a bit of silicone or plumbers putty to protect water from seeping below the sink before screwing the attachment nut. Then, secure the faucet using those bolts.
First, attach the straight connections to the entry tubing. To ensure that the connection is waterproof, you might need some Teflon tape. Connect the connections to the hot and cold hoses with two wrenches. Make sure you don't over-tighten.
The hot and cold hoses should then be connected to the proper connector and tightened just enough to prevent leakage later.
Step 6: Turn the water on and examine for leaks
After you've secured all connections, you should:
Switch on the water source and the faucet to ensure the flow of water is strong enough.
Look for any leaks behind the tap.
Turn off the water and adjust your connections a little further if you detect any water leaking.
Apply extra Teflon tape to the treads, then secure the connections appropriately if there are still problems.
What Are the Best Faucet Brands?
Many RV owners claimed that they were often confused by the wide variety of products for shopping faucets. Therefore, here we will look at a few of the best faucet brands available to you. There are plenty of choices in the market, but these are a few options for you to choose from if you do not want to do any more research.
Toto faucets
The famous Japanese manufacturer Toto mainly produces modern-style fixtures for bathrooms, kitchens, etc, except for trailer faucets. Toto utilizes a ceramic cartridge that is proprietary to them. This material is a fantastic valve that should provide years of trouble-free service.
However, some Toto commercial sink faucets have a flow rate of 0.5 GPM, which is pretty low though it reaches the required standard in the US. The majority of homeowners would be dissatisfied with this flow rate. Nevertheless, check out these models if you are interested in Toto kitchen faucets.
BK faucets
When you need a durable utility faucet, the BK faucet is a great option. This faucet is constructed of brass plus chrome-plated for a fashionable touch. For flow control, two handles are made in windmill style and multi-turn operation. It is possible to attach a hose or tubing to the outlet. Here are some BK faucets models for you to take a look at.
LDR faucets
LDR faucets are usually of ordinary to moderate quality, with simple, unremarkable designs. These are standard faucets with an agreeable design but nothing exceptional.
They're OK for a guest bathroom, bar, but not for a main bathroom or a hectic kitchen. The quality is acceptable for what they are, and the pricing is reasonable. Therefore, I believe LDR faucets will suit your RV if you are looking for affordable faucets.
Beside these suggestions, there are also some potential brands like OakBrook faucets, DURA faucets or WEWE kitchen taps that you may want to have a look at while shopping fixtures for your motorhome.
Conclusion
Making a wrong decision while buying a faucet for your RV is certainly not a pleasure. Regarding this article, we hope that the above information and suggestions can help you purchase perfect faucets for installing in the plumbing system of your family camper van. As a result, all fun and joyful memories will be created while travelling by your RV car.
Did you enjoy the article on RV faucets vs home faucets? Do you want to add anything else? Please let me know and leave a comment below!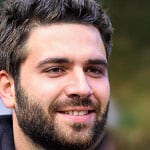 Hi, I am Joseph. Carpe diem! Seize the day! That's always been my life motto. If you haven't seen some of the most beautiful places in the country, you are missing out on incredible adventures.