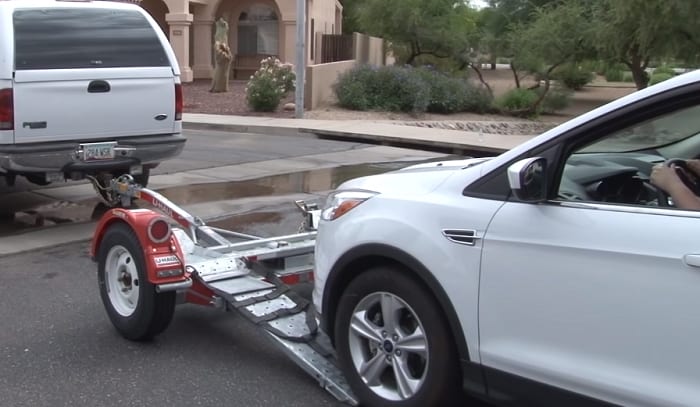 Those who love traveling on the open road while bringing a secondary car or another vehicle should have the best tow dolly for RV. This load-pulling system should provide the convenience necessary to deliver different vehicles from one location to another.
However, the market sells a myriad of available options. Some buyers might become confused if they need a stand up tow dolly, a 4 wheel tow dolly, or another variant. The buying process can be easier than before if interested shoppers consider certain factors.
Some of the elements to think about while shopping are:
Brand: Trustworthy manufacturers and retailers of quality tow dollies exist on the market. Companies like Demco and Roadmaster typically provide top-notch models that help provide peace of mind when pulling heavy loads on the road.
Type: Tow dollies for campers generally fall under two main types: fixed wheel and steerable. Each kind of tow dolly will have its unique pros and cons. For example, a tow dolly for fixed trailer wheels can be less expensive than one with a steerable system.
Braking system: Different tow dollies typically use varying brakes to help the pulling system stop when needed. Buyers can choose among electric, surge, and disc brakes for their preferred dollies for tow vehicles.
Please note that the three factors mentioned above are not the only elements worth considering. It is best to take the time to search the market for a compatible and dependable dolly for towing to ensure efficient vehicle-pulling performance and on-road safety.
Top 6 Tow Dolly Reviews
1. Demco KK370SB Dethmers Kar Kaddy Tow Dolly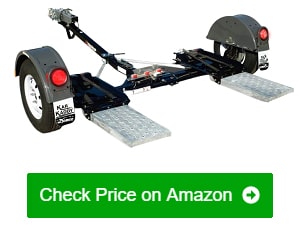 Also called the Demco Kar Kaddy 3, this product is a no-nonsense tow dolly with a build quality that should last for a long time. For instance, galvanized steel is used for the low-profile loading platform and ramps. The material allows the manufacturer to lower the cost of this model while keeping its first-rate longevity.
Furthermore, the design makes this product an excellent tow dolly for low-profile cars. It also uses the brands 'Sure-Grip design, allowing many compatible cars to fit snugly on the dolly. I found myself at peace during road trips, knowing that my other vehicle is secure as I am pulling it.
I also like the integrated auto-steer feature built into this product. I do not have any trouble with turning or weaving while on the road with it. I only needed to install the dolly properly, and this functionality works by itself.
It might even be safe to say that setting up the towing assembly has never been easier with this dolly. This product uses a positive latching design combined with the low-profiled loading ramp to speed up the vehicle-connecting process. The polyethylene fenders also ensure that the vehicle does not encounter damages while latching.
Still, I noticed that the initial assembly procedure took me more time and effort to complete. Therefore, buyers might need some help when installing this product.
What We Like
Galvanized steel material keeps the cost low while retaining longevity
Low-profile design is good for low vehicles
Integrated auto-steer feature makes turning and weaving easy
Connecting the vehicles is convenient, thanks to the positive latching design
Polyethylene fenders reduce the risks of vehicle damage during towin
What We Don't Like
The initial assembly might be complicated for some beginners
Overall, interested buyers looking for a tow dolly that can cater to different vehicles, including low-profile cars, should look into this functional product.
2. Roadmaster 2050-1 Tow Dolly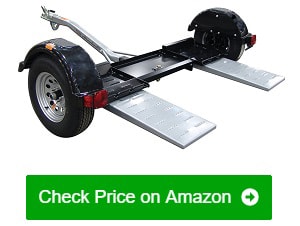 Before installing this tow dolly, it was fairly challenging to maneuver the steering wheel while making sharp turns while towing another vehicle. Those days are gone with this Roadmaster tow dolly; it has the inherent self-steering ability that turns the towed vehicle efficiently.
Additionally, I observed that the compatibility of this particular model is one of the best in its class. I was able to fit it with various cars, thanks in part to the variable axles and ramps. At this point, I can already say that this product is a good buy for rig owners that want to change their second vehicles frequently.
Moving forward, this model also comes with some yet praiseworthy safety features. One excellent example is the dual-pin bed latch. With the extra pin, the tow bed will not tilt if the first one breaks down, thus protecting the car from dismantling from the towing setup.
It also came as a surprise to see this tow dolly with extra storage space. I found it a joy to use and to store fairly small items, including extra towing accessories. This compartment also opens with a key, securing the objects inside from falling during towing operations.
On the downside, I encountered some problems with the brake controller. I attempted to adjust this model's built-in brake, but it did not give me my desired results. Instead, I had to disassemble the dolly's hub before I could reach the brake adjuster properly.
What We Like
Self-steering ability does wonders in making sharp turns
Fits a variety of vehicles
Dual pin bed latch secures the dolly from tilting
Keyed compartment for additional storage for towing accessories
What We Don't Like
Fine-tuning the built-in brake might give trouble to some users
Interested customers shopping around the market to secure their second vehicles while dolly towing may want to consider buying this product. This kit can also be a top choice for RVers who frequently change their additional vehicles.
3. Dethmers KK460SS Space Saver Kar Kaddy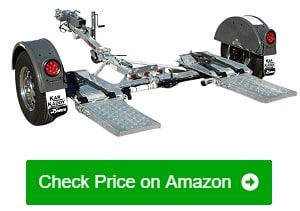 Although it has Dethmers in its name, this product comes from Demco. Therefore, replacing some components with Kar Kaddy tow dolly parts is possible if needed. This flexibility also reduces the effort and time required to search for compatible aftermarket parts if some built-in items demand replacements.
Also, the towing capacity on this dolly is quite good. It can lift and pull vehicles with gross weights of up to 4,800 pounds. With this lifting capacity, I was able to pull different vehicles, including a Toyota Prius.
This kit also comes with a steerable axle, making sharp turns with relative ease. Its steering capabilities are even tighter than some models I tried. The turn radius is a dream-come-true that many of its competitors may even have trouble keeping up with this unit's turning performance.
Regular maintenance operations are fairly easy to handle with this dolly. Routine cleaning and lubricating after every tow operation are enough to keep this vehicle-pulling in proper shape.
Regarding this vehicle's design, its most extended length reaches 133 inches, while the folded size is 67 inches.
It is expected that this premium product is available at a higher price than most standard designs.
What We Like
A good tow dolly for Prius and other vehicles less than 4,800 pounds
Steerable axle performs well when making sharp turns
Easy to maintain, only requires cleaning and lubricating
Extended at 133 inches and folded at 67 inches
What We Don't Like
Available at a high price
Folks who have little time to spare to clean and maintain their tow dolly systems can use this product for their vehicle-pulling jobs. It might cost more money than buying many other models on the market. But it has many benefits that justify the bump in its price.
4. Demco TI210SB Tow-It Dolly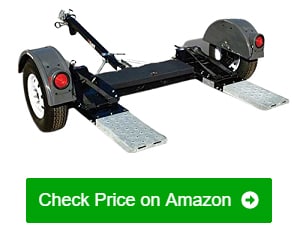 Perhaps the word that can best describe this tow dolly is 'dependable.' I can attest to this product's many likable features, such as its low tongue weight. Therefore, maneuvering the dolly is fairly easy.
I am also pleased with this kit's rust-resistant properties. It uses a fully-enclosed design with a black powder coat finish to protect the galvanized steel parts. With this choice of materials, I can rely on this dolly to tow vehicles without worrying about it breaking down because of weather damage.
As for the towed vehicle's maximum width, the measurement is quite reasonable. This dolly can fit vehicle treads from 42 to 68 inches. With this width requirement, this dolly is compatible with many vehicles, provided that the automobile is of small size. In particular, the average sedan width is about 70 inches.
I also appreciate that the no-dent polyethylene fenders offer superb vehicle protection. Otherwise, I would have to worry about spending more money than usual for expensive damages from towing my other vehicle.
This kit also comes with galvanized ramps. It has a textured design that does a pretty good job of preventing the towed vehicle from slipping away during pulling operations.
What We Like
Low tongue weight makes maneuvering the dolly almost hassle-free
Top-notch rust resistance, thanks to the black powder-coated galvanized build
Fairly reliable compatibility with its 42- to 68-inch width allocation
No-dent polyethylene fenders that safeguard towed vehicles from damages
Textured galvanized ramps that prevent the carried vehicle from slipping away
What We Don't Like
May not fit large vehicles
Ultimately, I can recommend this product for many RV users who bring their second vehicles on different roads and outdoor trips. It has features like a rust-resistant build and no-dent fenders that provide excellent value for the investment.
5. USA Trailer Store TD Towmax Dolly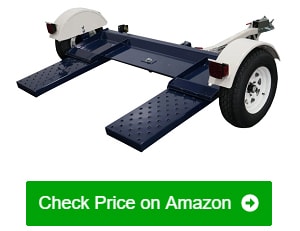 Perhaps the most valuable trait I noticed from this dolly for motorhomes is its weight. Unlike other tow dollies that weigh over 400 pounds, this model has a reasonably lightweight 220 pounds for its heft. In turn, moving it around the site to couple my towing and towed vehicles did not require as much effort as needed.
However, do not let that lightweight frame leave you a wrong impression of the dolly. It still has the reasonable vehicle-lifting capacity to carry and pull many automobiles. It can achieve such a feat because of its 4,900-pound tow weight capacity.
Moreover, the build quality is nothing short of outstanding. It has a sturdy metal construction that can resist different outdoor weather. I would even go as far as to say that this tow dolly became my daily driver in pulling compatible automobiles.
The kit also comes with a pre-wired harness that works well in providing optimal safety for the towing setup while on the road. One shortcoming I found with this harness is that it does not fit every vehicle from my tests. If I use this dolly, I had to use a third-party safety cable for some towing scenarios.
Finally, all of its likable features come in a reasonably priced product. This car towing system is one of the least expensive on the market. Those looking for a fairly inexpensive tow dolly may want to check out this model for their next towing operation.
What We Like
Lightweight 220-pound construction
Strong maximum weight capacity of 4,900 pounds
High-quality weather-resistant build
Pre-wired harness to improve on-road safety
Reasonable price point
What We Don't Like
Included safety harness may not fit some vehicles
The manufacturer that made this product outdid itself by supplying its consumers with a first-rate tow dolly. Its strong lifting capacity, lightweight frame, and fairly low price make it a highly recommended item.
6. Demco 9713049 Kar Kaddy Tow Dolly Set Up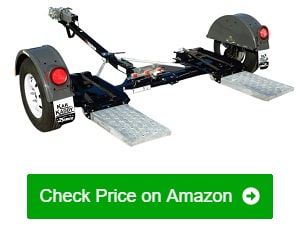 This towing dolly has many interesting features that provide many advantages to its users, especially me. For instance, the manufacturer used chrome wheels equipped with radial tires. These features offer more than the sufficient amount of reliability that the dolly can carry the weight of the towed vehicle.
Next, I also appreciate that it comes with a foldable design. In particular, the device has 67-inch ramps that bend neatly to give me that extra space while it is in storage. If extended, the ramps lengthen to a reasonably long 133 inches, which is a suitable measurement to hold many vehicles.
Additionally, this towing system comes with a steerable axle that brings me at peace while towing my other vehicle. Using my towing automobile's steering also turns the wheels on the dolly, providing me with smooth, hassle-free turns.
Perhaps my only gripe that I can say about this dolly is that it does not come as an assembled kit. For example, I had to put the tail lights on the dolly to work with my towing vehicle. In comparison, some dolly kits I unboxed and tested before came with the tail lights assembled, reducing the time it took to install the system.
What We Like
Chrome wheels with radial tires offer reliable towing performance
The foldable design gives extra space while in storage
Ramps extend to a length of 133 inches to accommodate many vehicles
Steerable axle offers smooth turns
What We Don't Like
Some assembly might be required to install this kit properly
Overall, this dolly is a product many rig owners can trust to tow their second vehicles safely. It even offers extra features, such as the foldable design, that enhance its users' convenience.
Tow Dollies Buying Guide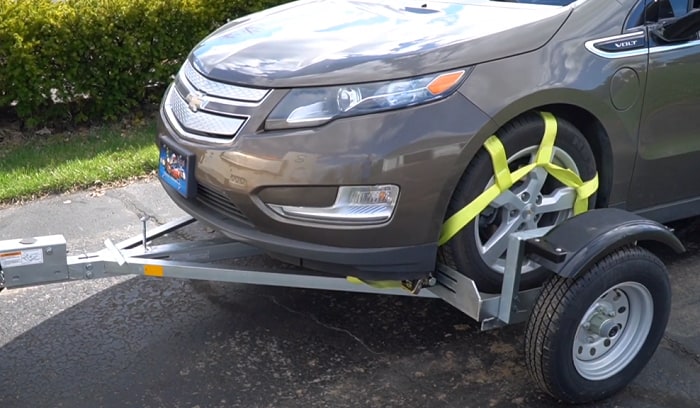 Finding the right tow dollies may seem more challenging than intended if shoppers do not have much idea of the product they need or want. It is vital to note important factors to purchase and use tow dollies for RV that offer the most benefits.
Some of the necessary factors to ponder upon are:
Brand
Tow dolly brands are plenty on the market. However, some companies have established their names in the industry, and many of their customers trust these tow dolly manufacturers with their hard-earned cash.
One brand to consider is Demco, an American tow dolly company founded by Robert Dethmers. This business started as the Dethmers Manufacturing Company in 1950. Over time, it changed the name to Demco, along with an increase in the quality of its products as it used innovative practices and techniques to serve users better.
Another brand in the tow dolly space is Roadmaster. Founded in 1970 by Jerry A. Edwards, Roadmaster defines itself as 'self-sufficient.' This motorhome tow dolly company prides itself in having its operations in-house. In other words, it does not outsource, allowing customers to take advantage of a hands-on approach for sales and aftersales products and services.
Type
Generally, the top-tier tow dollies often fall under two main types:
Fixed wheel: Does not have a swivel pan
Steerable: Also called center pivot, models that fall under this type usually have a swivel pan
Fixed wheel automobile tow dollies also tend to be quite inexpensive compared to their steerable counterparts. RV tow dollies often leave the towed vehicle's steering wheels unlocked while mounted. In doing so, the car tow dolly and its wheels will turn when the towing vehicle's wheels.
On the other end of the spectrum, a steerable car dolly for RV generally has a strop connected to a pivoting platform or swivel pad. This type of car towing dolly works by allowing the front wheels to turn with the direction of the towing vehicle. Doing so helps reduce possible wear-and-tear on the pulled automobile's steering system.
Braking System
Like the general types of tow dollies, these vehicle pulling systems usually also have different braking systems. Some of these choices are:
Among the different brakes, an electric braking system is typically the easiest to install and care for, compared to others. Thanks to its enhanced trailer-sway control, an electric brake is also ideal for high-wind scenarios.
An RV tow dolly with surge brakes can be a good option for users that do not want a complicated installation process. Generally, a surge brake system in an RV car tow dolly does not often demand the use of special tools for its setup and use. Also, hydraulic surge brakes have a mechanism that provides sufficient pressure to tires, reducing possible wear with each use.
A disc braking system on a car tow dolly is usually the ideal option for carrying and pulling reasonably heavy loads. Using a reliable tow dolly with disc brakes typically has above-average heat fade resistance, providing better durability and longevity than other models.
Additional Tips
Aside from considering the factors mentioned above, here are some other helpful points to choosing the best RV tow dolly that caters to specific requirements:
Check tow dolly reviews. Use specific keywords while searching for a particular RV car dolly online. For example, use tow dolly manufacturers in searches like, 'Stehl tow dolly review,' Master tow dolly reviews,' or 'Acme tow dolly review.'
Refer to the owner's manual. Oftentimes, it is possible to check the instruction manual of a quality tow dolly before buying it. Use this moment to verify potential concerns like compatibility issues.
Do not buy a tow dolly for motorhome that cannot handle the weight of the vehicle in tow. Check the weight capacity and the gross vehicle weight rating (GVWR) before finalizing the purchase to avoid problems like ruining the dolly.
Opt for a tow dolly rental if the budget is tight. It might be better to rent one than buy a new car tow dolly in certain spending scenarios. Buyers can also search for suitably inexpensive second-hand models by using keywords like, 'used tow dolly for sale near me.'
FAQs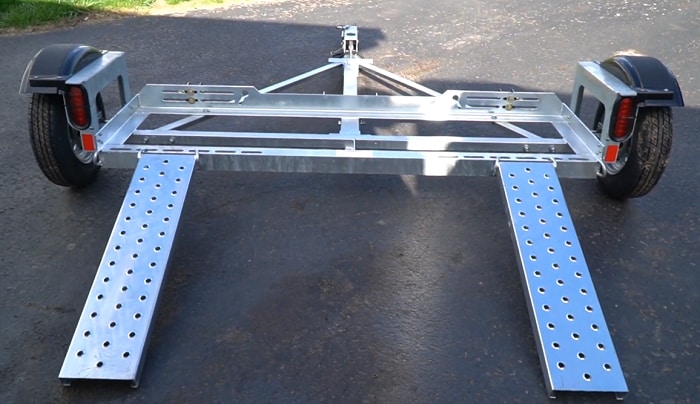 What Is The Lightest Tow Dolly?
Before, the Car Tow Dolly Company held the lightest lightweight tow dolly on the market. This business offered a product with a 400-pound weight compared to other models that weigh over 450 pounds.
However, the company outdid itself by producing another model that only weighs 330 pounds. Called the Idler Dolly, this product does not have disc brakes. Still, it offers reliable performance for the benefit of beginners and seasoned towing veterans.
But the lightest tow dolly at the time of writing is perhaps the Tow Max dolly from USA Trailer Store. The entire kit only weighs 220 pounds, which beats many of its competitors in the weight classification.
Do I Need Brakes On My Tow Dolly?
RV owners should only purchase a rated RV car dolly possessing compliant brakes. Always remember that using a tow dolly with brakes is a requirement for all 50 states. It is also a requisite in Canada and the District of Columbia.
Buyers can also purchase an aftermarket accessory called the breakaway system. With it, tow vehicle owners can stop the dolly if it unintentionally breaks away from the vehicle pulling setup.
Can I Use A Tow Dolly For Long Distance?
Generally, it is not a good idea to use a tow dolly to travel long distances. Still, some models possess heavy-duty tires to help dollies offer top-notch serviceability to their users. Plus, it can put the components attached to the vehicle pulling system more wear and tear than necessary, particularly to a rear-wheel-drive vehicle.
How Fast Can You Go With Car Dolly?
Avoid exceeding 55 miles per hour when driving with a car dolly. Going over that limit may put the towing system at risk of decoupling the towed car, increasing the risks of on-road accidents.
Is A Tow Dolly Or Car Carrier Better?
Certain load-pulling scenarios may do better with tow dollies, while car carriers might have a superior function in other specific setups. For example, buyers that want more convenient installation processes may opt for car carriers. On the other hand, if the budget is tight, it might be prudent to choose a trustworthy tow dolly instead.
How Do You Set Up And Use Tow Dolly?
Before proceeding with relatively any assembly process for tow dollies, make sure to read the instruction manual first. Keep in mind that the different models on the market may demand some steps that may not be in other options. For example, a Demco tow dolly may have a different dolly towing installation than an EZ Haul car tow dolly.
Also, check for potential compatibility issues with the tow dolly. Take note that this product often requires a hitch ball and a trailer lighting holder. Buy and install an RV tow bar with these features first before setting up a tow dolly.
After taking note of those details, read the following step-by-step guide on how to hook up a dolly system:
Hook up the tow dolly while ensuring the lights on the unit correspond with those on the pulling vehicle.
Set the dolly to park and reverse the towing vehicle to a reasonable distance with the pulling system.
Secure the tow dolly with its wheel straps. At this point, make sure that the dolly has safety features, such as safety chains, to provide peace of mind while on the road.
With the dolly secured, drive the second vehicle or load onto the towing system.
Apply the parking brake or shift the second car to park when it is in the correct position. Use a winch if that vehicle is inoperable.
Wrap the nets, straps, or chains on the wheels of the second vehicle.
Do a final check before continuing with the road trip. Make sure the second car is centered with the towing vehicle to avoid complications and issues.
Which Is Better Flat Tow Or Tow Dolly?
Flat towing a vehicle can be a good decision in some load-pulling scenarios. Then again, some towing operations might do better with a tow dolly. Keep in mind that every automobile has different features and specifications. Some vehicles may work better by flat towing versus using a tow dolly or vice versa.
Oftentimes the option lies within the transmission of the towed vehicle:
Front-wheel-drive car towing: Dolly towing is typically an easier decision than using flat towing systems. It is possible to flat tow front-wheel-drive vehicles, although the difficulty lies when towing automatic FWD cars.
Rear-wheel-drive car towing: Most manual cars with rear-wheel-drive transmissions are generally safe for flat towing operations. On the other hand, dolly towing is not ideal for this setup.
All-wheel-drive car towing: Most carmakers warn against using dolly towing when pulling AWD vehicles without using accessories like a compatible tow bar. Flat towing is also a challenge for AWD cars. These restrictions also tend to be quite similar for towing 4-wheel-drive vehicles.
After considering different scenarios, flat-tow setups might be better for many vehicle-pulling assemblies. Many flat tow kits are generally smaller and lighter than using tow dollies.
However, tow dollies can be good choices if vehicle owners only use these devices once or twice. These products are also good for many towing operations because they usually do not require extensive modifications to towing and towed vehicles.
Conclusion
The best tow dolly should go the extra mile in providing convenience, security, and value for its users. Thankfully, many manufacturers in the vehicle-pulling niche took those essential points into account when developing their products. So, interested buyers can choose among reliable towing kits from the market.
But shoppers that want to go with my suggestion should consider buying and using the USA Trailer Store TD Tow Max Dolly. Not only is this product reasonably inexpensive, but it has a lightweight construction while keeping its weather-resistant build for utmost accessibility and durability.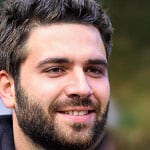 Hi, I am Joseph. Carpe diem! Seize the day! That's always been my life motto. If you haven't seen some of the most beautiful places in the country, you are missing out on incredible adventures.