A good fender skirt extends outward from the RV body to catch any mud and dirt kicked up by the tires. With that, you can keep the body clean and keep it protected from nicks and dents. Thus, investing in the best RV fender skirts means shielding the rest of the vehicle's body.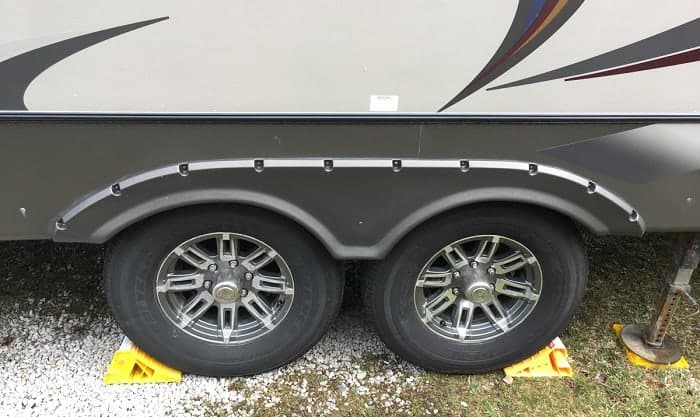 Since your RV already came with RV fenders, these items are standard equipment. However, the ones originally built-in are often made from either fiberglass or polycarbonate plastic, prone to deterioration and cracks. Hence, this article can help you to find the right RV fender skirt replacement for your coming trips.
Best RV Fender Skirt Reviews
1. RecPro Tandem Trailer and RV Fender Skirt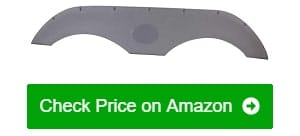 Because the camper fenders skirts absorb most of the shock coming from the road debris, it is necessary to get replacements up to the task. Among numerous options, the RecPro fender skirt is a great solution. Its robust and impact-resistant ABS plastic construction will not take much damage from rocks and pebbles kicked up by the wheels.
While the proven strength of this fender skirt contributes to my RV protection, its flexibility amazes me. In truth, the tool is flexible enough to move with the rest of the RV body. You do not need to worry about road shock ripping the fender skirt apart on rough terrain.
Although purely subjective, I think most people will agree that this aftermarket fender skirt looks a lot better than the factory original. The overall shape flows nicely with the RV body, making it ideal for an RV
More importantly, the quality of the materials used in the construction is top-notch. I am confident that it will last for many years to come, proving its durability.
Another great thing about the RecPro RV wheel well trim is that it comes in four different color options: black, gray, tan, and white. Although these colors are basic shades, any of them would suit a commercial RV almost perfectly. Paint the fender skirts if you want them to match the rest of your vehicle.
However, I noticed that its mounting holes are not pre-drilled. The kit does not also come with any mounting hardware. If the original nuts and bolts of the old fender skirts are still in good condition, then consider yourself lucky.
What We Like
Made from impact-resistant ABS
Strong while still retaining its flexibility
More stylish compared to the factory parts
Highly durable and long-lasting
Comes in four basic color options
What We Don't Like
Not pre-drilled mounting holes
Overall, style and functionality are the two biggest selling points of this Recpro fender skirt. If you need to replace your old RV fender skirts, then check out this one.
2. USAMADE Trailer and RV Fender Skirt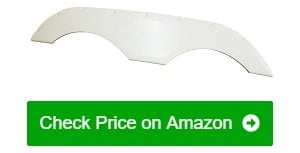 A fender skirt needs to be tough and durable, and that is what you will get with this USAMADE fender skirt. I can attest to its Thermoplastic material's toughness. Plus, when scraping my RV side on some bushes, I found the skirts with barely any scratches on them.
The camper fender flares are resistant to UV rays. Even after a couple of months of exposure to direct sunlight, my fender skirts have yet to show any damage or weakness. In truth, fender skirts must be UV-resistant as the harsh sun rays can make them dry and brittle, then broken too soon.
Another nice touch is the fact that it has pre-drilled installation holes. It is essential because it is hard to drill through the thermoplastic layer without causing the material to crack and split. Having them already pre-drilled makes installation a lot easier.
Although many brands of universal fit travel trailer fender skirts hardly fit on specific RVs, these items from USAMADE came close to working on mine. I still made some modifications to get the perfect fit, but luckily, it is not that difficult.
Besides, the exteriors were almost the same shape and size as the used RV fender skirts, but I did have to trim a lot of material from the interiors. That way, the excess material will not rub against the tires.
Speaking of modifications, I am happy that the fender skirts require minimal surface preparation for painting.
What We Like
High-grade Thermoplastic construction for long-lasting protection
Shields against UV rays to prevent dry and brittle
Comes with pre-drilled holes for an effortless installation
Universal fit, making it fit most RVs
Allows painting over them to match the rest of the RV
What We Don't Like
Requires a bit of trimming to avoid rubbing against the wheels
Although there is no such thing as a universal-fit fender skirt, the ones from USAMADE come close. If it does not fit perfectly, you can make slight modifications to look like it came with the RV.
3. Icon 01539 Tandem Axle Fender Skirt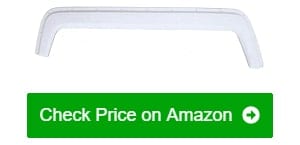 If you have a Fleetwood camper, I recommend you get ICON 01539 Tandem Axle Fender Skirts as a replacement. These items are almost the same as those originally coming with Fleetwood RVs, so you do not have to worry about the drill holes not lining up correctly.
Being made as a replica of Fleetwood's standard part, the accessory will fit the brand's vehicles like a glove. All the screw holes are in the same position. Moreover, wheel cutouts are a perfect size and in the right place. Thus, you should not worry about trimming or other troublesome adjustments.
Another impressive quality of this fender skirt is its durability brought on by the high-impact ABS plastic construction. This material is so strong that anything short of a tire blowout will not leave a scratch on the fender skirt. You can rest assured that it can last for many years and numerous road trips.
This fender skirt is also lightweight. It is because ABS plastic, despite its unmatched strength, is still lighter compared to aluminum alloy and fiberglass. Combine that with its flexibility, and you will have a fender skirt that will not crack or tear even when your vehicle hits a rough patch of road. I can assure you that the screws will not even come loose.
Replacing the old, damaged fender skirts with this one also makes the RV look at least ten years newer. However, I find the fact that it only comes in white a downside. I had to paint it because of the white contrasting with the RV body color.
What We Like
Ideal size, positions of screw holes, and wheel cutouts for Fleetwood RVs
Easy to install without requiring extreme modifications
Built using highly durable and impact-resistant ABS plastic
Lightweight and flexible with RV movements
Makes old RVs look like new
Despite its limited color option, I appreciate the sleek and durable design that supports my Fleetwood trailer for a long time. You can seek this replacement for your Prowler, Terry, Wilderness, or Taurus model to enjoy its perfect fit.
4. Alpha Systems Tandem Trailer Fender Skirt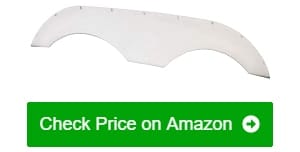 This product from Alpha Systems is one of the best budget tandem fender skirts I have tested. Even after months of being under the hot sun, it will not suffer any severe damage or discoloration. It is mainly because of its efficient UV-resistant coating.
As expected, this robust structure is molded using high-quality ABS. Hence, the product can resist significant impact without bending and cracking.
The product is an incredible choice for replacement fender skirts because of its four different shades. You can pick either white, black, tan, or gray pieces to match the elegant scheme of your RVs. Yet, if you do not like those original colors, you can paint them in whatever shade you prefer.
I also find this product effective in covering the wheel wells to reduce drag. Less drag means that the engine does not need to run quite as hard to get to a particular speed. As a result, it can also help save a lot of money on gas.
Also, note that this device is labeled as a universal fit fender skirt, so it could technically fit onto most brands or models of RV or trailer. You might need to drill new holes in the fender, but otherwise, it requires little trimming or adjusting.
Still, I want these skirts to be a little thicker than their current dimensions.
What We Like
Highly UV-resistant to avoid discoloration
Durable construction molded of ABS plastic that ensures impact
Comes in four colors: white, black, tan, and gray
Covers the wheel wells enough to reduce drag
Can fit on most RVs and fifth wheels
All in all, this product's reasonable price tag and overall quality leave you nothing more to complain about.
5. Keystone Cougar Fender Skirt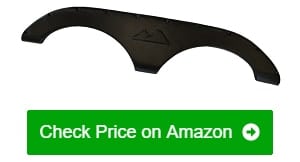 If you are a proud owner of a Keystone RV, intending to replace a banged up or damaged fender skirt, then this product is a fantastic choice. It fits perfectly on almost all Keystone RV models from 2014 to 2018 and maybe a couple of the newer ones, too.
Check the dimensions of your existing fender skirts to see if this one will fit your RV.
I can also say that these items are almost perfect copies of the OEM's, meaning it is unnecessary to drill any new holes into your vehicle's body. Once you start placing the fender skirt over the existing ones, expect all the screw holes to line up correctly.
The UV rays can dry out and make regular plastic brittle and cracked. Fortunately, this product is highly resistant to those deteriorating effects of ultraviolet rays.
I also like how these camper fender skirts feel a bit hefty and solid in my hand. Unlike other cheaper fender skirts, this option does not feel like it is cheap at all. You can immediately judge its quality just by holding it in your hands.
I am also happy with the textured surface of this fender skirt. Unlike the others, this one does not have a completely smooth surface. The mottled texture gives this Keystone fender skirt a bit more character.
However, I am not impressed with the hardware that came with the kit. So, I bought another set of higher quality screws and locking.
What We Like
Can fit into almost all Keystone RV
Easy to install since the screw holes matching up with the existing ones
Equipped with a high level of resistance against UV rays
Feels hefty and durable, making it capable of handling a blow or two
Features a nice-looking textured finish
What We Don't Like
The included hardware is not as high-quality
Overall, it is the perfect replacement fender skirt if you own a Keystone RV or trailer. It looks better than the OEM, plus it is more budget-friendly.
6. Icon 01531 Tandem Axle Fender Skirt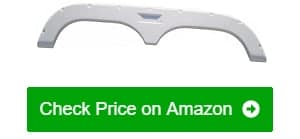 If you own an older model Fleetwood RV, then you probably have a hard time looking for replacements for your rig. Yet, if you need a fender skirt, then fret no more as a great solution is the Icon 01531m model.
This product comes in the right size, measuring 77.125 inches long and 13.875 inches wide. And it is better-looking, design-wise, compared to the original skirts that came with the vehicle.
I am happy with its three different colors, namely white, taupe, and grey. It would be easier to find the right color that will closely match your RV's paint job.
Another advantage is that it can take a hit and come out without a scratch to show for it. Anything short of a rear tire blowing out, it is almost a guarantee that this skirt will not gain any severe damage.
Due to its UV protection function, the product can last for many years without becoming dry or discolored.
I think a bonus is a provision for installing an exterior/porch light. It gives you the option to add protection for your night trips without hassle.
However, I am not happy with the not pre-drilled screw holes in these fifth wheel fender skirts. If you do not know how to drill through ABS plastic, without instruction, you may probably end up cracking it.
What We Like
Perfect replacement parts for Fleetwood RVs
Measures 77.125 inches long and 13.875 inches wide
Sleek design coming in three colors – white, taupe and grey
Resistant against impacts and ultraviolet rays
Comes with a recessed portion for an exterior light
What We Don't Like
Requires carefully drilling holes on its ABS plastic material
Despite that, these aftermarket replacements are still your best bet if you are looking into replacing your old broken fender skirts of an older model Fleetwood RV.
7. JMTAAT Tandem Trailer Fender Skirt
If your Forest River travel trailer has damaged rear fender skirts, the JMTAAT replacement fenders are ideal solutions. These forest river RV fender skirts will fit on your RV. In some cases, you will just need to make a couple of simple modifications to make it look like it came standard.
Fortunately, this fender skirt makes the task many times easier because it already has pre-drilled screws. Since drilling through ABS plastic is a bit tricky because it cracks easily, I feel glad that this product features such a convenient function, especially benefiting first-time users.
Another incredible advantage of these ABS plastic fender skirts is that they can reflect UV rays. In other words, the fenders will not dry up and become brittle due to extensive sun exposure. With proper care and maintenance, you may never need to buy new fender skirts ever again.
Another neat quality of ABS plastic is that it has a high melting point. Why is this important? The brakes in the wheels generate a lot of heat, especially when braking while driving at high speeds. The radiant heat from the brakes will not be enough to melt these forest river fender skirts even a bit.
You also need not worry about rock and debris from the road cracking or even putting a dent on these highly durable camper fender skirts. Anything short of a tire blowout will damage these fender skirts.
What I do not like, though, is that it claims to have a universal fit even if it is not. If you own a different RV model other than Forest River, you might have to make some modifications to achieve a perfect fit.
What We Like
Easy to install, thanks to the pre-drilled screw holes
High resistance against UV rays
Highly durable and impact-resistant
Fits on almost all Forest River RV models
What We Don't Like
Not exactly a universal fit
Even with that flaw, it is still a good replacement fender skirt if you own a Forest River RV or travel trailer. Make sure to ask for instruction first before doing any trimming or adjustments.
8. Crossroads Sunset Trail Fender Skirt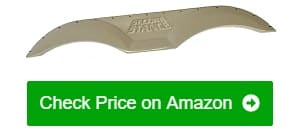 I find the Crossroads RV Sunset Trail impressive since it is sturdier and more durable compared to the thin and flimsy fender skirts built-in to the RV. This aftermarket brand feels truly reliable for long-term use, even on rough rides and in harsh conditions.
Although correct universal-fit fender skirts do not exist, this product comes close to being one. It is primarily for Crossroads coaches made from 2014-2016, yet it will fit on almost all dual axle RV with some modifications, of course.
Instead of getting OEM fender skirts that can be quite pricey, you can get these replacement parts for just a fraction of the cost. Aside from competitive pricing, this fender skirt's quality and performance are comparable, and sometimes even exceed, with the factory ones.
Mainly built from lightweight ABS plastic, it does not immediately indicate that its construction is flimsy and easy to crack. On the contrary, it is highly resistant to impacts from flying road debris. Even if you drive through a rough road, it can and will protect the RV body from damage.
Another benefit I love is that it reduces the amount of drag that the RV must overcome to reach a certain speed and maintain it. Without the fender skirt, the open-wheel well creates so much drag that will cause the engine to use up way too much fuel than usual.
One grave issue I have with this replacement fender skirt, though, is that it only comes in one color, which is champagne. Although you can repaint the fender skirt, it would have been better if this came in other color options just like the others.
What We Like
More durable than most OEM fender skirts
As close to universal fit as you can get
Very cost-effective with an affordable price
Lightweight while still retaining its strength and durability
Capable of reducing drag considerably
What We Don't Like
Only comes in champagne color
Although originally designed for Crossroads Sunset Trail RVs and trailers, you will discover that this fender skirt also works well (with some slight modifications) on other brands and models.
9. ENIXWILL Tandem RV Fender Skirt
Although I am not a fan of so-called universal fit fender skirts, I am eager to make the ENIXWILL fender skirt one of the few exceptions. Although it may not fit precisely on all RVs, you still have the option to do a couple of minor modifications to make it work.
Entirely made of ABS plastic, such a construction makes these 5th wheel fender skirts lighter than others used for making skirts. With its lightness, I never have a difficult time doing the installation. Moreover, every gram saved will contribute to more fuel savings in the long run.
This fender skirt can also repel the harmful UV-rays of the sun. Note that excessive UV ray exposure can cause discoloration and brittleness on plastic. It will never happen on this fender skirt as it can repel almost 100% of the UV.
I also appreciate that the fenders are already pre-drilled because it can be such a pain to drill through ABS plastic. One wrong move and you will end up with a crack that is hard to repair.
In my opinion, these aftermarket fender skirts also look a lot better compared to the factory standard ones. I find these items more refined compared to the bland pieces of plastic that came with the RV.
One drawback, though, is that it lacks the needed mounting screws. This means you should use old ones or buy a new set separately.
What We Like
Boasts of a universal fit, making it suitable for most RV models
Made of lightweight yet durable ABS plastic
UV-resistant to prevent discoloration and brittleness
Promotes ease of installation with predrilled holes
Looks a lot better than the stock fender skirt
What We Don't Like
Does not come with installation hardware
Despite that, I can say that it is a stylish and high-quality fender skirt convenient to install. It is clearly a good investment for your RV.
10. ICON 01625 Tandem Axle Fender Skirt
In my opinion, these aftermarket ICON fender skirts look far better than the factory skirts that came with Jayco travel trailers. Rather than just bland pieces of plastic, it can add character and style to the trailer.
However, these Jayco fender skirt kits are not just about style because its brand uses ABS plastic for their overall construction. This material can take significant pressure and attacks while still preserving its smooth surface and stable structure. With that, I can safely say that even rocks and other road debris won't leave a mark on this fender skirt.
As mentioned earlier, this aftermarket fender skirt looks great. I think one reason behind its great look is that it has a nicely textured surface. It makes the fender skirt look like it is made of real metal.
Moreover, you can choose from three different colors – polar white, taupe and metallic gray. In other words, you can easily pick a color that will match the rest of your RV. Plus, these sleek shades are hard to find in other fender skirt brands.
I discovered an issue with them – and that is the fact that they are not pre-drilled. So the installation might take longer than usual, but the result is satisfying.
What We Like
Looks much better than the original fender skirts
Made of high-impact ABS plastic
Has a nice textured finish – looks and feels like real metal
Offers three unique color options: polar white, taupe, and metallic gray
What We Don't Like
Not pre-drilled screw holes
Jayco RVs are among the best-looking trailers that ever came out. The problem is that getting replacement parts for the fenders is quite challenging. Fortunately, you can now easily access this product, which is a perfect fit and capable of improving your vehicle's overall look.
 Best RV Fender Skirts Buying Guide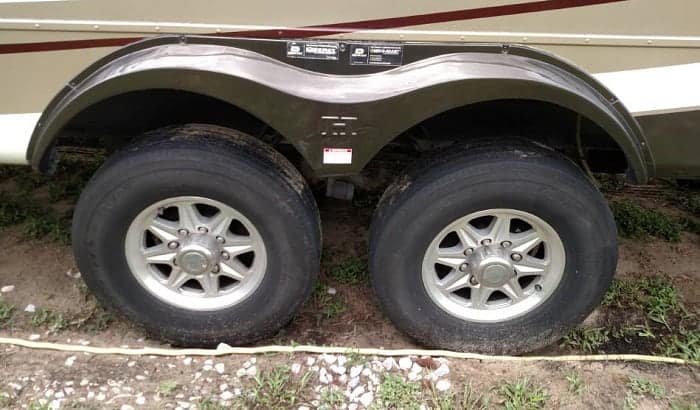 When shopping for a high-quality RV fender skirt, you will realize that numerous brands and models are available. The fact that you have multiple options can get overwhelming.
However, if you are looking for the absolute best one, there are vital factors and qualities to consider.
Here are some of the qualities that a fender skirt should have once you begin your hunt for a replacement. Keep them in mind, and you will be able to buy the absolute best that your budget will allow.
Right size – Here is what you need to know during your search – there is no standard size for RV fender skirts. Different companies usually have different sizes for their fender skirts. This means that the fender skirts on your rig may not fit the one on another RV from a different maker.
One way to ensure that you are getting a correct fit is to look for parts specifically made for the make and model of your RV. If you cannot find anything specifically made for your RV, then carefully measure the old fenders and find an aftermarket brand that is the same size as your existing ones.
You can usually find a fender close to the same size as the original one in your vehicle and take your chances on it. You may be able to make such an option work. Also, remember that many products claim that their designs have a universal fit. Do not jump into buying this so-called universal fit design, though.
Before finally investing your money, it is still better to spend time checking if it indeed fits your vehicle. Note that there are instances when even the universal fit parts do not fit well. Some may also look awkward, so you have to be thorough in your research and examination.
The number of axles your RV has – Obviously, you need to buy a fender skirt that can cover all the tires. This means that if your RV uses tandem-axle rear wheels, you will need fender skirts to fit a tandem axle. If not, get a single-axle fender skirt.
If you have a Class A (and some Class Cs) RV, you will most likely need to replace the front fender skirt. With that in mind, you need to make sure that you are getting a skirt meant for the front fender well.
Material – Sadly, you do not have that many options for fender skirt materials. It is most likely that you will only find fender skirts made of high-impact ABS plastic. Fortunately, it is not a bad material choice at all.
You can also find brands offering fender skirts made of aluminum and fiberglass, though they are pretty rare. If you can only find ABS plastic fender skirts, pick the one that looks and feels like it has the best quality overall. For instance, some are thicker and heavier than the others, indicating that they are of superior quality.
Color and style – This factor is purely subjective as you can do whatever you like to your RV to make it your own. However, it is good to know that you have choices in the matter.
Fender skirts come in various designs. Some of them have a curved top while the others are flat and level. Now, if your RV or travel trailer comes with many curves, then a curved fender skirt is a sure fit with the rest of the design. However, note that it does not mean you cannot use a fender skirt that has an angular look.
Fender skirts also come in different colors. The most common ones that are currently available, though, are black, white, and taupe. Such color options are also the standard colors used in recreational vehicles and travel trailers.
Now, you do not have to buy fender skirts that have the same color as your RV. Keep in mind that many RV owners like to use contrasting colors to give their rigs more personality.
Ease of installation – Another important thing you have to figure out before buying a fender skirt is how easy it is to install. You need to focus on the ease of installation, especially if you will be installing the fender skirt yourself.
One sign that the fender skirt is easy to install is the presence of pre-drilled holes. With these pre-drilled holes around, the bolts can easily go through. Remember that you need steady hands to drill holes on curved plastic surfaces without gouging or scratching the surface, so it would be best to have pre-drilled holes to avoid the inconvenience.
Buy fender skirts that already have installation holes pre-drilled in them so that you can immediately install them once received. Aside from that, the skirts should also come with a complete set of screws and nuts. It would not look right to use old, rusted screws to install brand-new fender skirts.
Another thing to consider is if the pre-drilled holes line up with the holes that are already on your RV's fender. If you bought fender skirts with holes that do not align with the existing ones, you must drill new ones. There is no other way around it, aside from buying a new set of fender skirts.
Durability – No one would willingly waste money on any product that is not durable enough to last for at least a year. To somehow ensure that the fender skirt you buy can withstand harsh weather and road conditions, you can physically inspect the product before buying it.
One important thing to check is if the fender skirt has considerable heft and thickness. It can somehow assure you that it is highly resistant to impacts. The fender skirt should also have a bit of flexibility to bend and move along with the vehicle.
What most people do not know is that vehicles like RVs are not entirely rigid. Their bodies flex and twist just enough to absorb the shocks from the road without breaking. With that in mind, you have to look for fender skirts that also work the same way.
UV-resistance – Seeing as the fender skirts are outside the RV, they need to have sufficient protection against UV rays. The UV rays are responsible for the heat and damaging properties of sunlight. Without proper UV protection, the fender skirts will quickly become brittle and eventually disintegrate in just a matter of months.
Although you can provide temporary UV protection by applying protective wax over the surface of the fender skirts, they only last a month or so before you need to apply a fresh coat. It is best if the set you plan on buying already has sufficient UV protection on its own.
Positive customer reviews – If you are shopping online for your new fender skirts, then you will have no option but to make your choice without having the chance to physically check the item beforehand. To ensure that you still make a good choice, base your purchasing decision on online customer reviews and feedback.
You can find sections for customer reviews and ratings in most online retail sites that sell RV fender skirts and other accessories. Now, you can say that some customers might not be entirely honest when giving their reviews, but an overwhelming number still give out useful information about their product experience.
Price – This factor is also subjective. If you have a bigger budget for your RV, you should get the high-quality ones on the upper part of the price list. However, if you have a limited budget and need to make the most out of your purchase, try to save up some money to get the upper-middle-range products.
You get what you pay for when it comes to anything RV-related, so if you buy the absolute cheapest fender skirt, there is a huge chance that you will be getting something that might not last very long. In some cases, the fender skirts may even get damaged during installation.
With these factors in mind, shopping for new fender skirts will not be as daunting as before. Keep these bits of knowledge on hand, and you will be able to find the best RV fender skirt for your RV.
Aside from the information shared above, you can also use the following questions when you are still in the process of shopping for new fender skirts.
What Are the Types of RV Fender Skirts?
Many brands and models of fender skirts exist in the market, and you can categorize them into the types of materials used for making them. Each material comes with its pros and cons, either in price, durability, or functionality. There is no clear winner among the three, so you can choose which one fits your needs the best.
ABS Plastic – Acrylonitrile Butadiene Styrene is one of the most used thermoplastic polymers, and it is also the most popular material used for making fender skirts. ABS plastic has a peculiar chemical structure wherein the bonds between molecules are so strong, causing them to have a very high melting point.
Such quality is also why it is one of the most commonly used materials in the manufacturing industry. Because it is relatively cheap to make ABS plastic, you will find many RV fender skirts made of this material. ABS fender skirts have one advantage because they are not as heavy as the metal ones, but they still work quite well.
Aluminum – Contrary to its name, aluminum RV fender skirts are not pure aluminum. Instead, they use an aluminum alloy, which makes it stronger and yet still light.
This metal alloy is more robust and durable than ABS plastic, but it is also more expensive. Aluminum alloy fender skirts are susceptible to corrosion and chemical damage.
Fiberglass – Fiberglass is already a great material for RV fender skirts because of its incredible flexibility. This material also boasts of its high heat-resistance (up to 900 degrees F). It is also highly impact-resistant.
However, fiberglass fender skirts are also the most expensive of all the material options. Fiberglass fender skirts can be a good investment to improve your RV, but you will need to ensure that you are getting one that fits your RV because of the price.
What Are the Benefits of RV Fender Skirts?
There are many reasons why fender skirts come standard in almost all RVs. However, the most important of them all is that they keep the rest of the vehicle safe from the debris kicked up by the wheels. However, they do more than just that. Here are some of the most amazing benefits they can provide:
Protects the wheel well – The wheel refers to the indentation in the vehicle's body that houses the wheels. This part is responsible for protecting the other components and mechanisms of the RV, so if the wheel well gets damaged enough, the other mechanisms will be in danger as well.
The fender skirt helps by absorbing most of the impact of the flying debris from the road before they hit the wheel well. It can, therefore, prevent serious damage from happening.
Improves fuel-efficiency – If there are no fender skirts, the exposed wheel wells will produce a lot of drag, which, in turn, makes the engine work harder just to overcome the additional air resistance. It means that you will be burning more fuel than usual.
Drag also prevents your RV from accelerating to get to a specific speed. In short, not having fender skirts can make your RV slower. Installing wheel wells can help your RV cut through the air much easier because it greatly minimizes the drag from the wheel well.
It also translates to smoother acceleration and slightly higher top speeds without stressing the engine as much. Whether your motorhome is an RV, a fifth wheel, or a camper, installing quality fender skirts will help you conserve fuel on your trips.
Keeps your RV looking as good as new – Because they take on most of the brunt of the damage coming from road debris, it is not surprising that the original fender skirts are the first parts of your RV to show their age. If they are already looking rough (faded colors, cracked, or have pieces missing), you need to have them replaced right away.
Just taking them off and leaving the wheel wells exposed is not just a sign of neglect on your part but also leaves the RV without the protection provided by the fender skirts. Aside from that, it can make your RV look cheap. Having new fender skirts will make your RV look years younger. It also makes you look like a very responsible RV owner.
Looks good – Although not that many RV owners think about style when accessorizing their vehicles, it can still show the world who you are as a person. If you were willing to put in the extra hours of work just to install new fender skirts to make your RV look decent, it indicates that you are a person of class.
It tells those around you that you are not the type of person who leaves vehicle damage unattended and calls it character. You are willing to fix things to make them look better.
How to Install?
Before you can install the new RV fender skirts on your motorhome, you need to make sure that you took the right measurements so that you do not need to make any modifications at all. It can be a real hassle if you discover that you must make certain adjustments and modifications before making it fit just right.
Before you start working, you have to bring all the tools and parts you will need, including screws, washers, nuts, sealants, screwdrivers, and, if necessary, a hand drill. It would also be best to have another pair of hands to help you out with the installation.
To ensure that the new skirt you just bought fits the wheel well of your RV.
Take the new one and place it over the old fenders.
Check if the holes in the new fender skirts line up with the old ones.
If they are off a bit, do not worry as you can still make it work.
However, if the holes are too far apart, you may need to drill new ones in the body.
Remove the screws from the old fender skirt carefully and pry off the old panel. Using a plastic scraper, gently remove any leftover sealant on the surface. You need to provide a clean surface so that the new sealant can stick properly.
If you need to drill new holes for the fender skirt:
Make sure that they perfectly align with the holes in the new fender skirt.
Apply enough sealant on the fender skirt and carefully press it against the RV body, making sure to align the holes.
Starting from the center, install the screws, ensuring they are all equally torqued.
If you made a mistake and bought a skirt that is a bit bigger than the existing ones, then trim it a bit to make it fit perfectly. However, only do this if you have the proper tools and you are skilled enough to trim the skirts to size if you cannot find any fender skirts that fit your RV perfectly.
Care and Maintenance
If you want to keep your new RV fender skirt looking fresh for as long as you can, then give them regular check-ups and a good cleaning. It is just like what you would do to the other parts of the RV.
If you want to give the fender skirts a thorough cleaning:
Take them off the RV.
Carefully unscrew and lift the fender skirt off the surface, ensuring you do not damage the paint.
Clean each fender thoroughly using soap and water.
Scrub the areas hard to get the dirt and road grime from all the nooks and crannies.
Afterward, rinse the fenders using a bit of clean water and then dry them thoroughly using a clean microfiber towel to prevent watermarks.
For the fender skirts, use a rather stiff scrub brush and some soap and water to remove all of the dirt as you can.
You can also clean the screws by letting them soak in the bucket of soapy water that you are using to clean the fender skirts. Be careful to avoid losing any of the screws in the process. Rinse and dry them thoroughly before re-installing them on the fenders.
When you get your RV washed and waxed, make sure that the fender skirts also get a good waxing to protect them even further. Aside from making them shine, the wax will also cover the plastic (or whatever material skirt you have) from the damaging UV rays of the sun.
Conclusion
RV fender skirts protect the RV from the dirt and mud kicked up by the wheels. You would not want small rocks and pebbles glancing off the sides of your RV whenever you go out for a trip. Your RV will look like it just went through a minefield.
With that said, even though RV fender skirts seem like they are insignificant, you should still make sure that you invest in them. Get the best RV fender skirts that you can afford. Doing so will not only make your RV look nicer but will also keep the rest of your vehicle pristine.n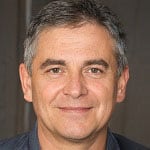 Hi, I am Tom Hank, an RV-er since 2014. Back then, I started without much help. As you can imagine, the struggles are endless. But now, you do not have to begin your adventures knowing next to nothing about RV lives.